Hardware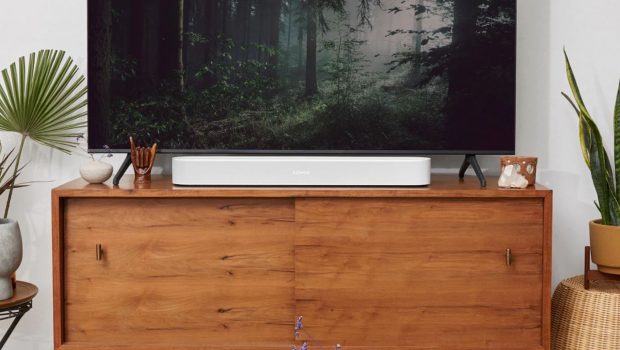 Published on October 1st, 2021 | by Andrew Bistak
Sonos Beam (Gen 2) Review
Summary: The Sonos Beam (Gen 2) >IS< the soundbar you are looking for!
The Sonos Beam (Gen 2): Experience panoramic sound and crystal clear dialogue for shows, movies, and games. When the TV is off, stream music and more from all your favourite services. Control is easy with the Sonos app, your voice, and Apple AirPlay 2. Add speakers to create a wireless surround sound system and enjoy multi-room listening. Everything connects over WiFi.

– Sonos
The next-generation of the Sonos Beam has arrived and while it looks almost identical to the original, there are some subtle design changes such as the polycarbonate grille but where the Gen 2 excels is through its inclusion of Dolby Atmos that creates clear and loud audio, including 3D sound to bring your movies and games to life in your virtual entertainment bubble.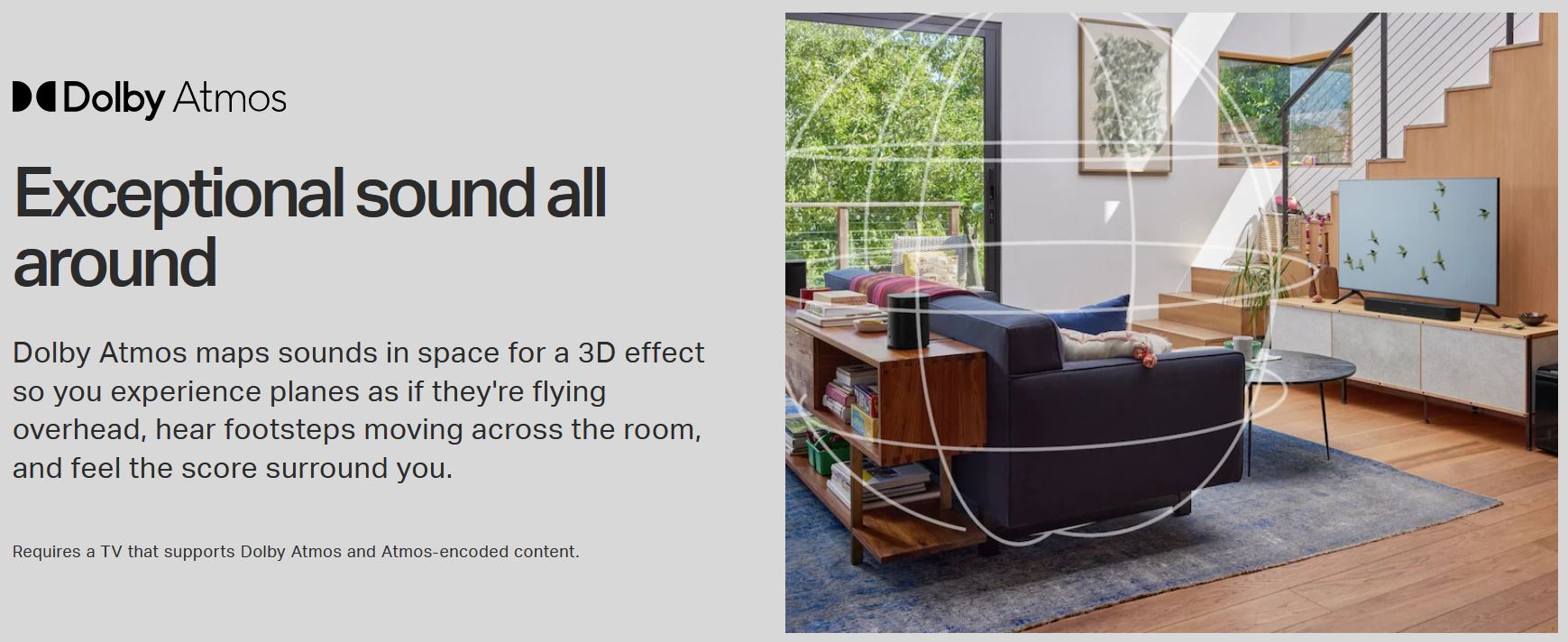 Furthermore, the Sonos Beam Gen 2 is available in two colours that include black and white (reviewed) and its dimensions are 651 x 68.6 x 100 mm with a weight of just 2.8kg that makes it a very compact and portable soundbar. In terms of specifications, the soundbar supports 4 drivers and 1 tweeter with connectivity including 802.11b/g/n/ac, 2.4 and 5 GHz Wi-Fi and AirPlay 2.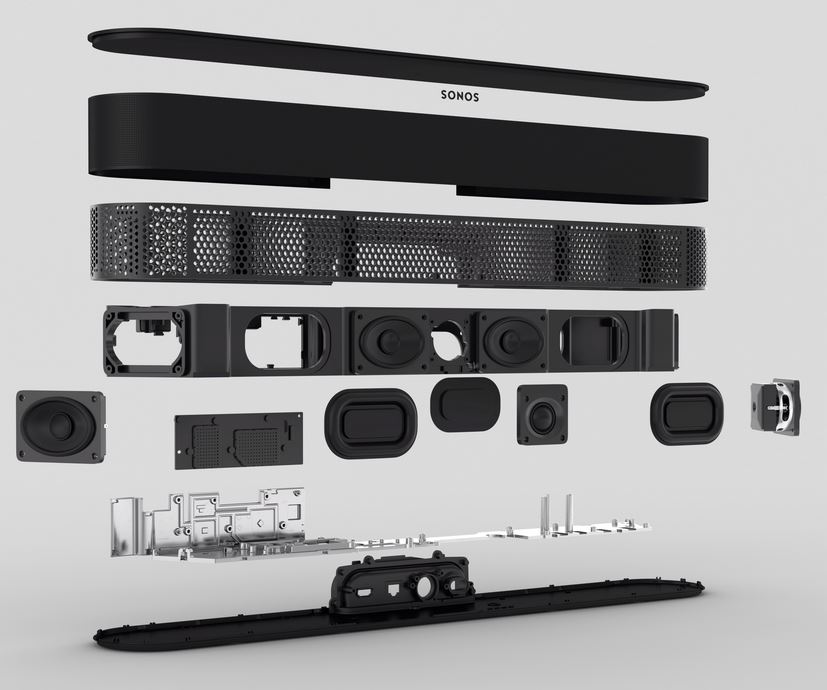 Additionally the Sonos Beam Gen 2 can be wall mounted and its overall stylish design with its contours, subtle in-built touch controls makes the soundbar perfect for any location. While the touch controls work like a charm, you can also use your TV remote control or smart device to control this soundbar while you're sitting back and listening to the wonderfully clear audio produced by the Beam. Speaking of "smarts", it even has Amazon Alexa and Google Assistant compatibility that allows you to control other devices from the soundbar or ask it questions like what's the weather or read the news thanks to its integrated microphone… nicely played Sonos!
Another inclusion with the Sonos Beam Gen 2 is that the latest model now supports HDMI eARC (enhanced audio return channels) opposed to HDMI ARC on the previous model which increases the audio bandwidth and speed that in turn creates a better audio experience, particularly from Dolby Atmos playback. This is a great feature for both gamers and movie lovers as the audio is richer, including preventing lip sync issues. HDMI eARC is also considered the next-gen ARC, however not all TV's support this feature but thankfully our test TV did.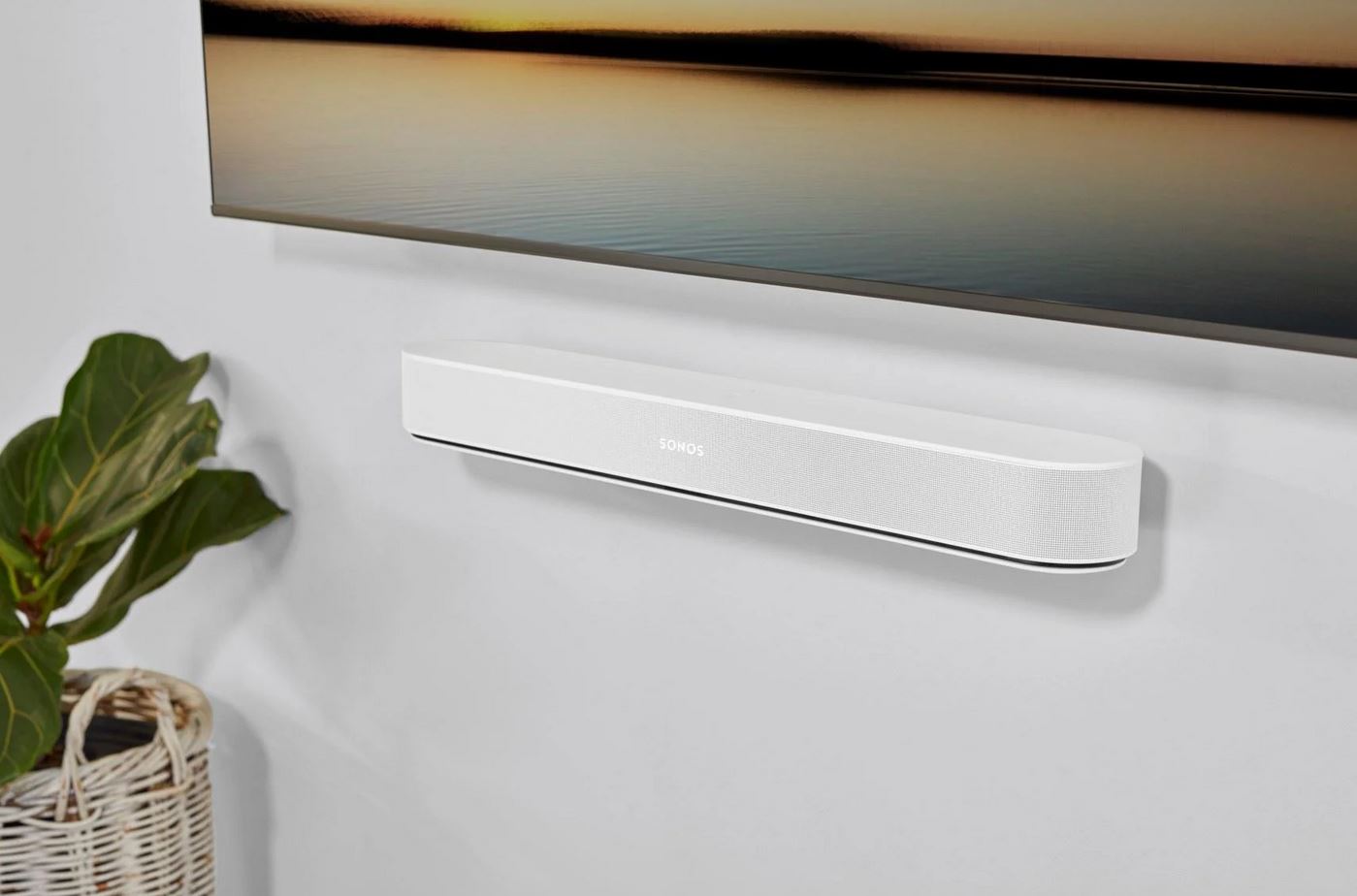 Box Contents
Sonos Beam (Gen 2)
Power Cable
HDMI Cable
Optical Audio Adapter
Documentation
Unboxing Gallery
In terms of inputs, the Beam Gen 2 keeps it simple with just a power connection, Ethernet and a HDMI port which is used for both ARC and eARC. While some older TV's don't have the ARC technology, Sonos include a very clever optical adapter which allows you to use your existing optical port on the TV that is then connected into the HDMI port on the soundbar.
The full list of audio supports on the Sonos Beam Gen 2 include Stereo PCM, Dolby Digital, Dolby Atmos (Dolby Digital Plus), Dolby Atmos (True HD), Multichannel PCM, Dolby Multichannel PCM and DTS (Digital Theatre Sound). In relation to DTS, this will be supported by Sonos later this year.
However to maximise the Beam Gen 2, you do need to install the Sonos S2 app which gives you greater control over the device, not to mention linking it to your existing music streaming services or the excellent Sonos Radio. Sonos Radio is a free internet radio service with access to over 60000 stations.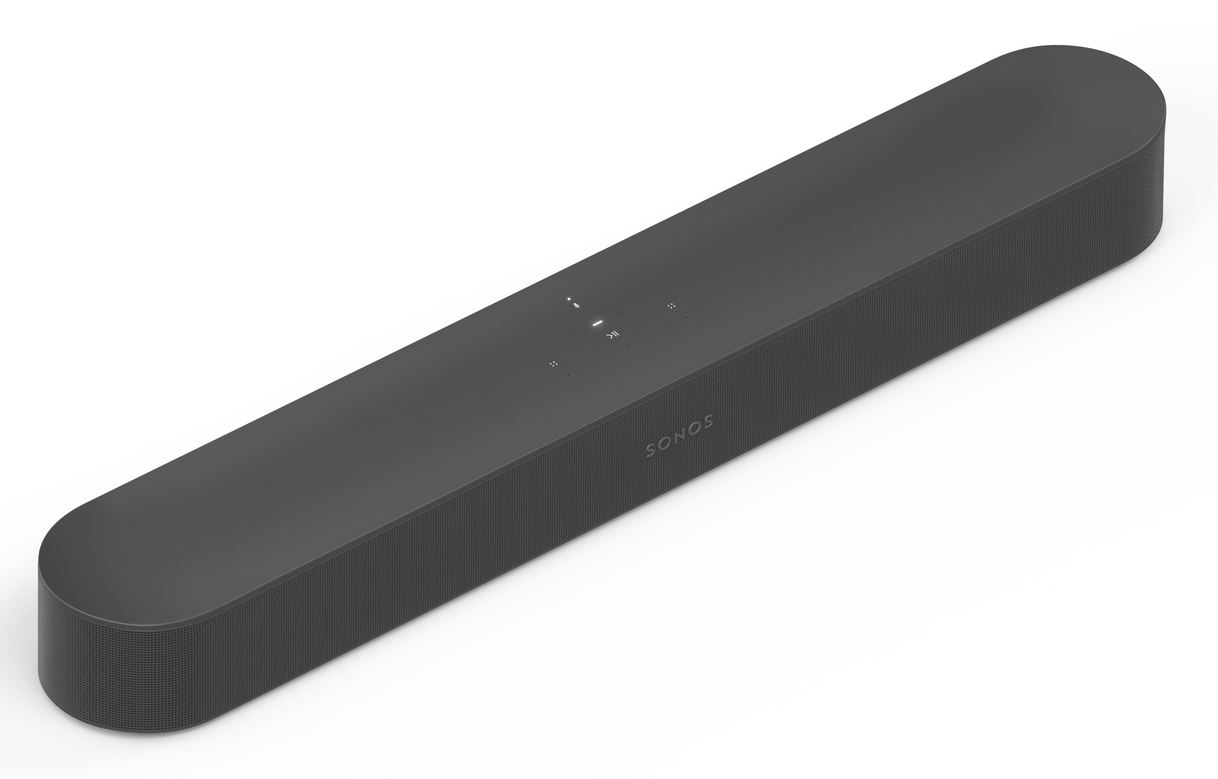 Setting up the Beam is a breeze and once the power is connected and you have connected the soundbar into the HDMI ARC or eARC port, your TV is ready to go, including anything else connected to it like an Xbox Series x or 4K Blu-ray player. However as mentioned, the S2 app takes the soundbar to a new level of smarts and once you have downloaded the app from either the App Store or Google Play, it takes you through a wizard that basically checks the connection to your TV and links it to your Wi-Fi network, including check for updates and setting it up for your room.
S2 Setup Gallery
As the NFC setup did not work on my phone, an alternate connection is done through playing a sound from the Beam and then the S2 app listens to this sound that helps with the connection. After entering your Wi-Fi password, you can then setup additional Sonos sound equipment (e.g. groups) and streaming services such as Deezer. The whole setup just took a few minutes and more importantly, no matter what your IT knowledge is, Sonos make the process quite flawless.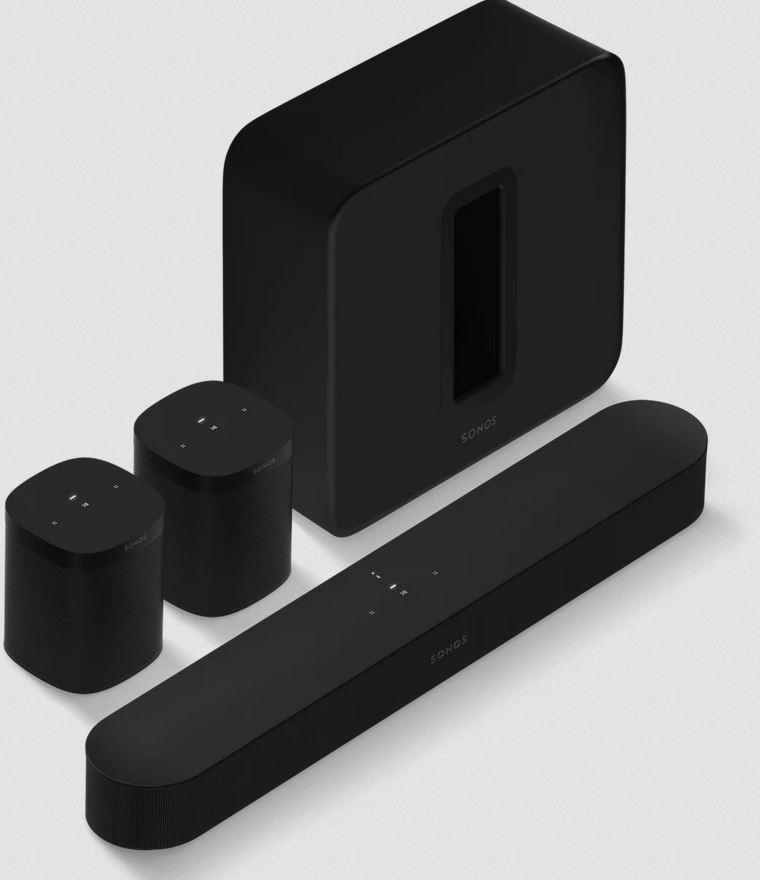 Direct navigation works well on the unit and the touch controls are quite intuitive with a Play/Pause button which work through a single touch, however a longer press will group it with other Sonos products. There is a microphone touch button that allows you to activate the voice assistant and there are four dots on both side of the controls which is for volume up and down. Lastly you can swap tracks by swiping from left to right or right to left from each of the four dots (see image below).
Once the device has been tailored to your room, you're ready to experience some extremely clear and pure audio courtesy of the Beam Gen 2. iPhone users also get an exclusive feature called True Play which utilises the phones microphone to perfect the setup for your room. Additionally iPhone users get to use AirPlay 2 so you can literally stream directly from this smartphone.
For testing the soundbar, we used it through our Xbox Series X that supports Dolby Atmos and checked out the 4K versions of 1917, Raiders of the Lost Ark, Avengers End Game and Tenet that all sounded spectacular thanks to the high quality drivers and tweeter which produces a fantastic range. It was like having your own personal (although minified) cinema.
The battle sequence in Avengers Endgame felt like you were in the middle of the battle as The Avengers fought Thanos and his army. Christopher's Nolan's Tenet which is a loud movie in its own right was quite a unique and immersive experience because of the emphasis of the audio in this film. What about the 3D Audio with Dolby Atmos? I must admit that the technology used by Sonos does crate a faux directional sound experience that is more noticeable with those blockbuster films and as a result becomes a much more engaging experience as the audio is somehow distanced from the TV.
I also tested out Netflix and Disney+ and the soundbar didn't miss a beat when it came to audio quality or flawless lip syncing. Another feature for movies is speech enhancement that is activated via the app and makes the dialogue clearer which is great for films that may have too much action happening.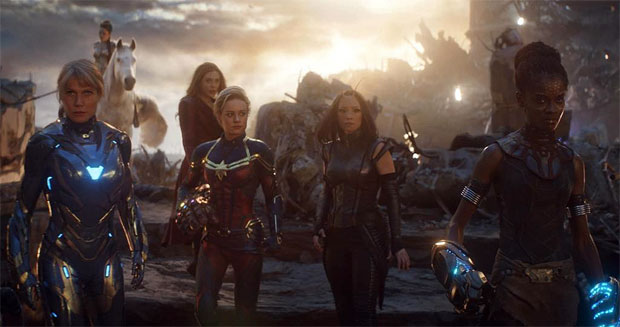 Gamers will also appreciate the audio on the Beam Gen 2 that mirrored the sound quality of films and titles such as Call of Duty: Black Ops, Gears 5, DiRT 5, Borderlands 3 and Star Wars Rogue Squadron produced excellent levels with a healthy rumbling of bass to help teleport you into these virtual worlds. The gun battles of Black Ops sounded like you were in the middle of a war and the Swarm from Gears 5 sounded hideously frightful. Furthermore and as expected, music streaming services produced clear and distorted free audio with no issues whatsoever.
For Dolby Atmos music streaming, at present only Amazon Music Ultra HD will support this feature and hopefully the other services will join that will offer music lovers lossless audio up to 24-bit / 48kHz. In terms of loudness, the Sonos Beam (Gen 2) can be quite loud, so neighbours or family be warned as the audio gods have spoken, unless you of course enable the Night Mode feature in the app which helps in reducing loud sound effects.

Final thoughts?

The Sonos Beam Gen 2 is an impressive soundbar when comes to overall audio quality and is definitely targeted at those who enjoy both movies and gaming. Additionally music streaming matches that experience and I love the overall simplicity of its setup, design and controls. Best of all, you can take the soundbar to a new level with the free app and if you're looking to upgrade your audio or you are just fed up with your TV speaker, the Sonos Beam Gen 2 successfully gives you a cinematic and concert like immersion.
The Sonos Beam Gen 2 will be available from 5 October with a RRP of $699AUD (October 2021)
Final Thoughts?
For more information, please visit https://www.sonos.com/en-au/shop/beam.html