Interviews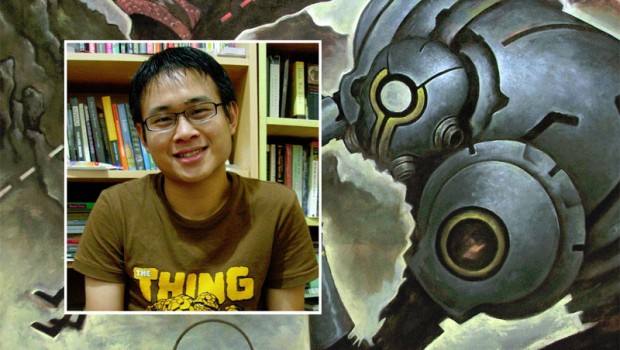 Published on February 13th, 2015 | by admin
Sonny Liew Interview … from Calvin and Hobbes to Lucasfilm and Doctor Fate
Hi Sonny, welcome to Impulse Gamer and I hope 2015 is going well for you?
Hi I.G., thanks for the invite! 2015 has started swimmingly, maybe disconcertingly so…
Firstly Sonny, can you tell us what inspired you to become an artist and what did you like drawing growing up?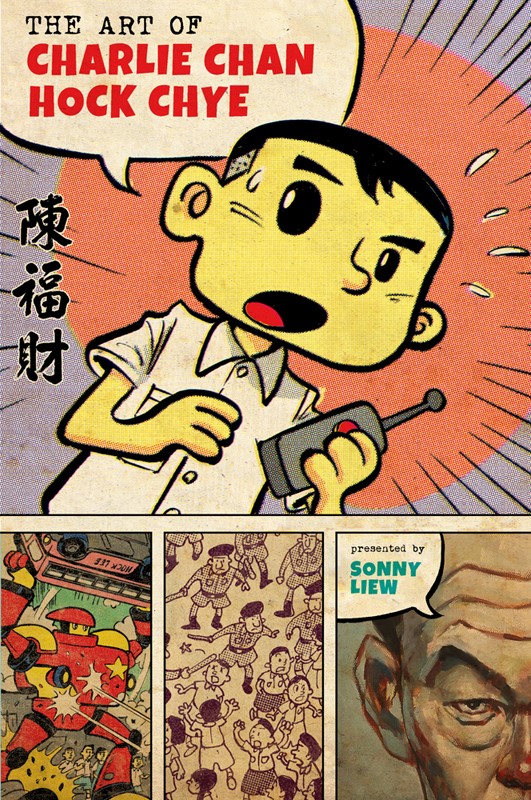 I always liked drawing – or more accurately, copying – me and my sister would copy comic book characters from Mickey Mouse to the Bash Street Kids, Gatchamen to Old Master Q…  I think I has my first inkling of wanting to become an artist looking at the illustrations in roleplaying game books. Something to do with the idea of fleshing out things that had existed only in your mind :)
So how did you become involved in the comic medium?
My first proper comic, meaning one that I got paid for, was for a Singaporean daily tabloid called the Newpaper. I'd got it into my head to write my own strip was back home on summer break from college, and sent in a bunch of (in retrospect really really raw) comics to local papers, and the Newpaper was open-minded enough to pick it up.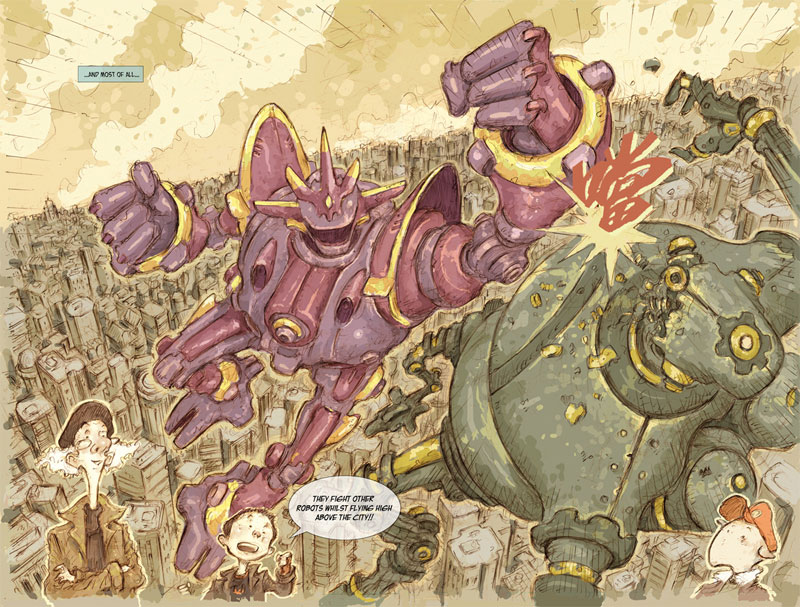 So I did 5 strips for them a week, it was a comic called "Frankie and Poo". The main characters were a man and a polar bear, both bearing Frankenstein's Monster scars and bolts in their necks, usually involved in socio-political discourse. That's when I really caught the comics-creating bug…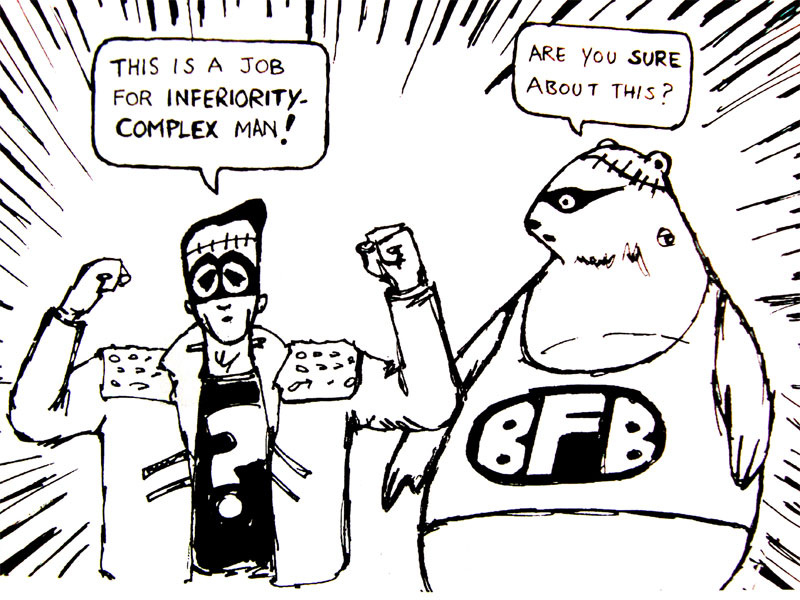 What's your favourite genre of comics and why?
I'll be evasive and say I like the medium of comics as a whole. There's the nostalgia of reading something like Archie or Doraemon, the thrill of the superhero stuff, and the challenges of folks like Chris Ware and Daniel Clowes…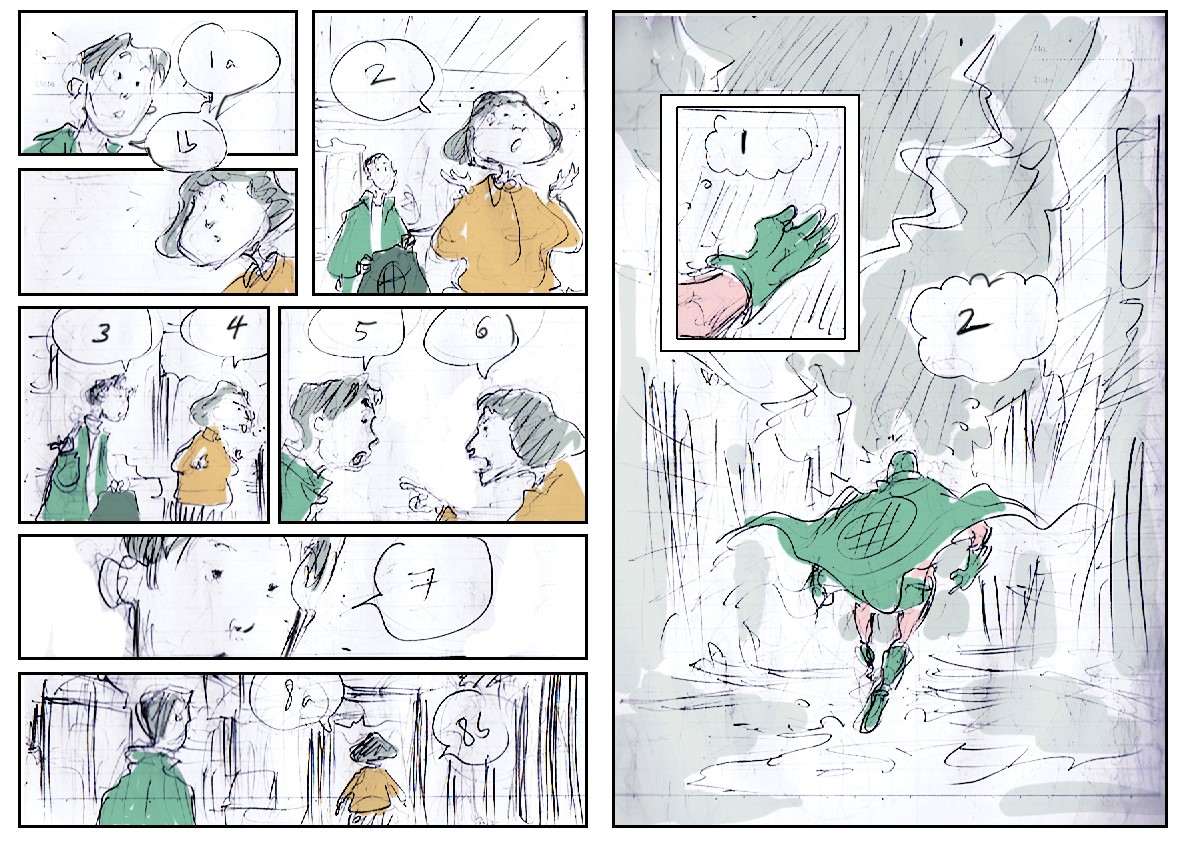 If push came to shove, I'd say I like comics that are able to push the formal boundaries of the medium whilst being entertaining, and if there's a strong visual look as well, all the better. Clowes in most of those senses would be my favourite comics creator. Yoshiharu Tsuge has a strange pull as well, if only because his translated works are so hard to find, every one of them feels like discovering buried pirate treasure.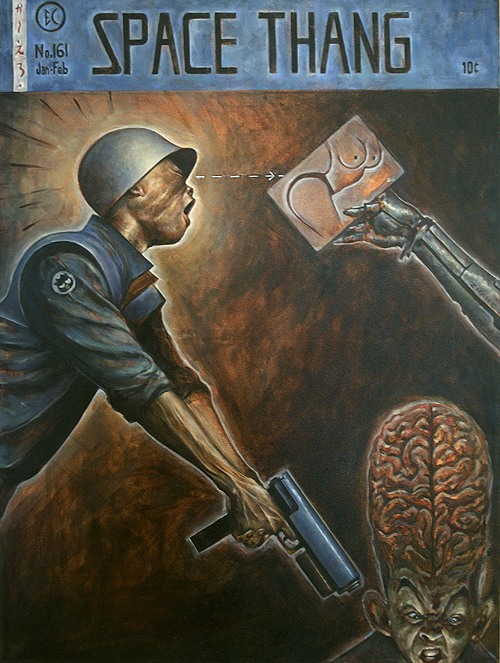 Which titles are you reading at the moment?
Gaaa… the last year has been patchy, comics-reading-wise; I've been caught up with research for projects for most part. I  really enjoyed Vehlmann and Kerascoet's "Beautiful Darkness", re-prints of Carl Buck's Scrooge comics, as well as Fujimoto and Abiko's Doraemon. Recent books I got from the bookstore include Richard McGuire's Here and Shanower/Young's Dorothy and the Wizard of Oz.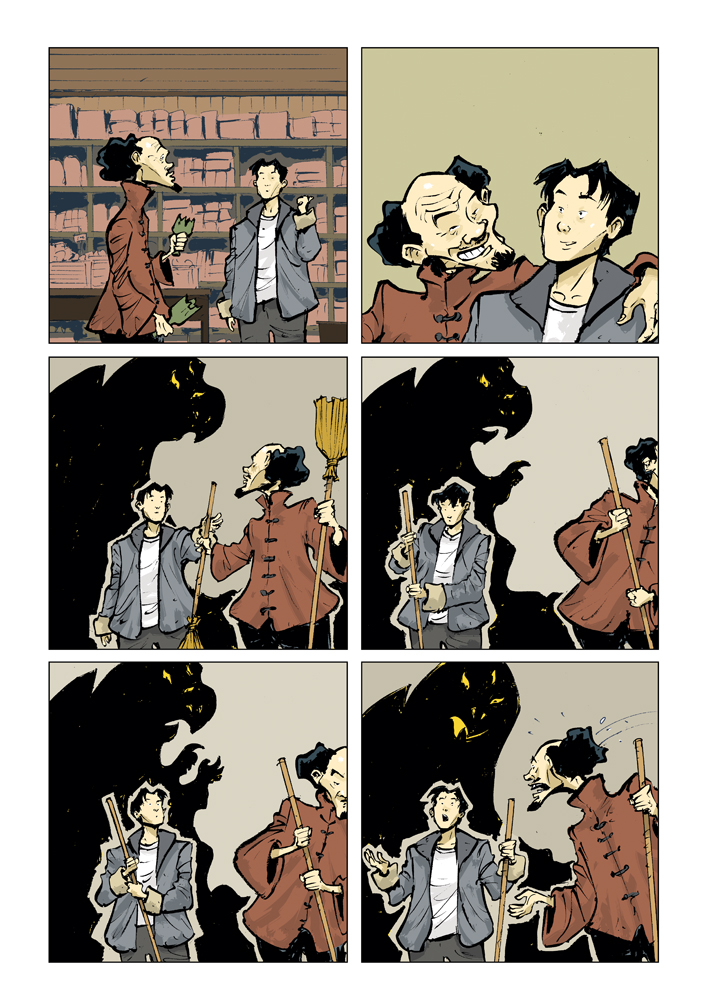 What comic artist inspires you?
It's really going to be too long a list, but just off the top of my head: Clowes, Ware, Watterson, Schulz, Jiro Taniguchi, Tsuge, Chester Brown, Manu Larcenet, Dave McKean, Geoff Darrow, Otomo and Guy Davis…
Can you tell us a little about your own drawing style and what are some of the rewards and challenges as an artist?
Hmmm… I once applied for a position at Lucasfilm, and got a personal letter back saying they liked the work, but felt it was a little too left-of-centre for them; I guess that's not a bad description of it. Probably leaning more towards the cartoony than the naturalistic. I try to stretch and adapt the style a little to the needs of the scripts, though there are limits to that.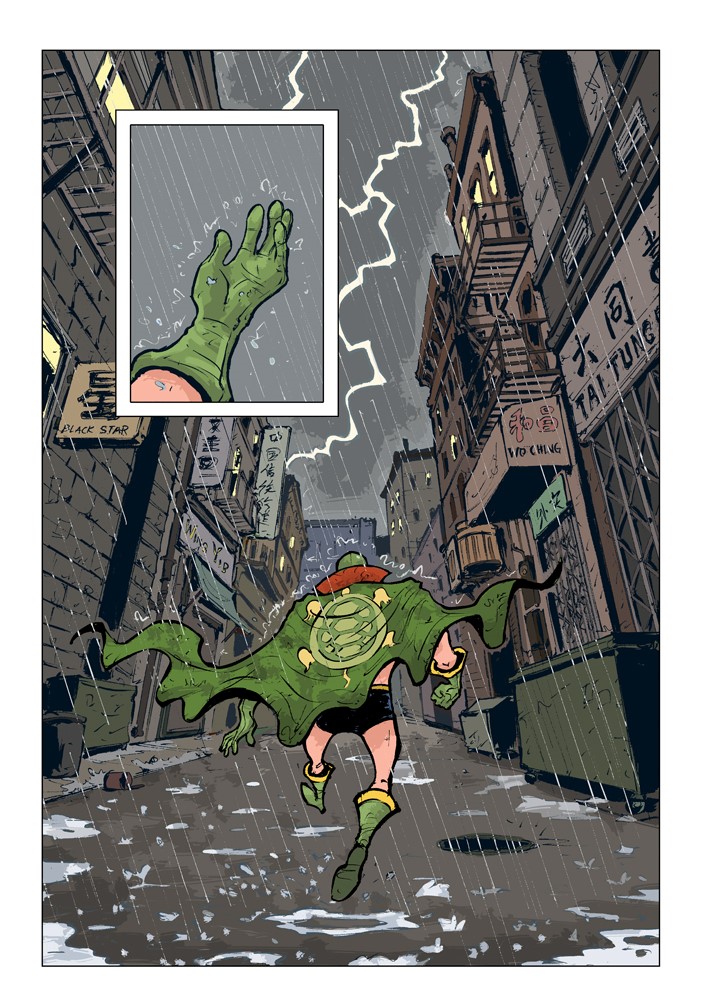 For me, figuring out a career path is maybe the trickiest thing. As a freelance creator especially, there aren't a lot of ready-made structures or signposts to guide your choices. The pull between more commercial and personal work, between one project and another, it's something you have to figure out for yourself, and it's never quite clear how things will pan out, until they do.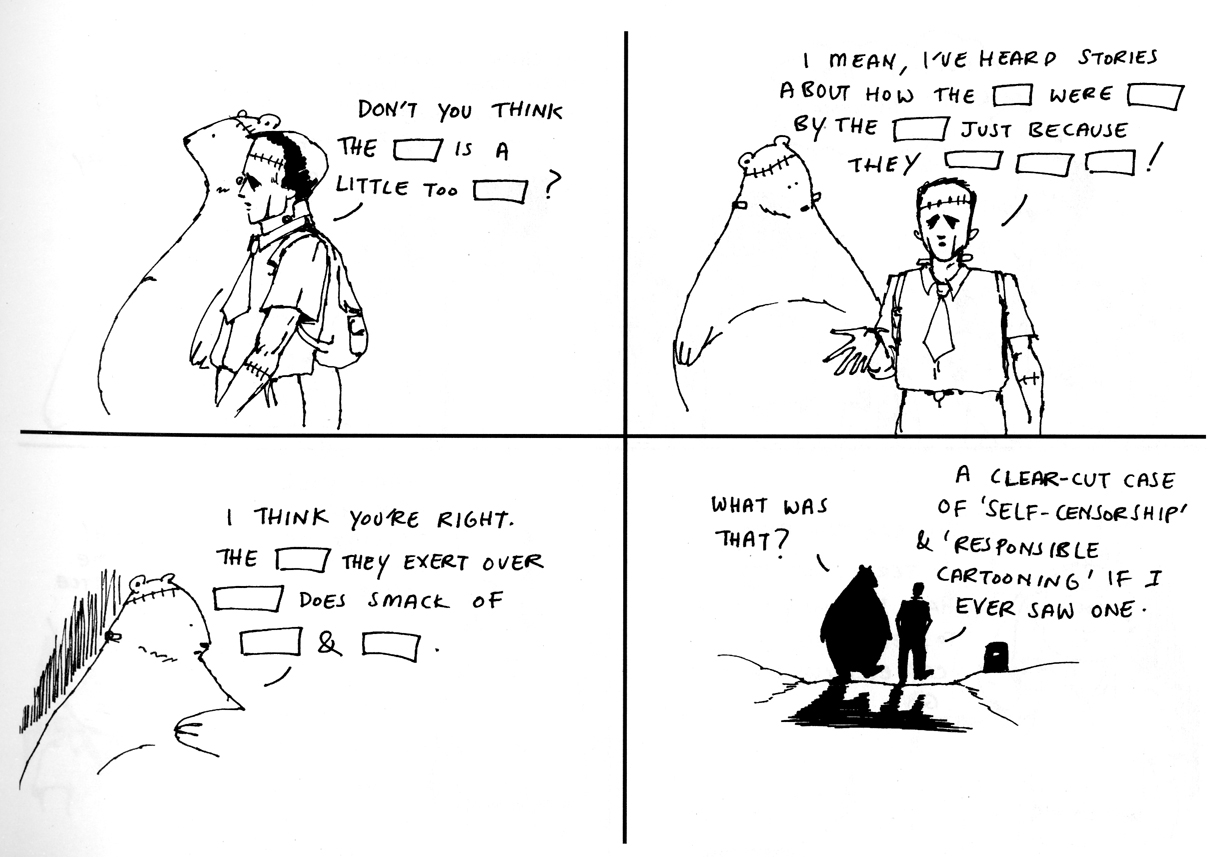 With the US medium of comics, what characters resonate with you and why?
Calvin (of Calvin and Hobbes). He was (is?) such a wonderfully imagined character, a mixture of wilfulness, mischief, wonder and imagination. I think those comics helped me survive the difficult adolescent years. And the fact that Watterson refused to give in to pressures to turn them into merchandise only adds to the magic of those comics and characters.
What about Europe and Asia?
Europe… I really warmed to the protagonist in Larcenet's Ordinary Victories, and I always enjoy the vampires in Joann Sfar stories. In Asia… there's Nobita and Doraemon, whose stories on re-reading had a lot more to them, then the hi-jinks I remember as a child. And Lat and Frankie in Malaysian artist Lat's Town Boy remain favourites.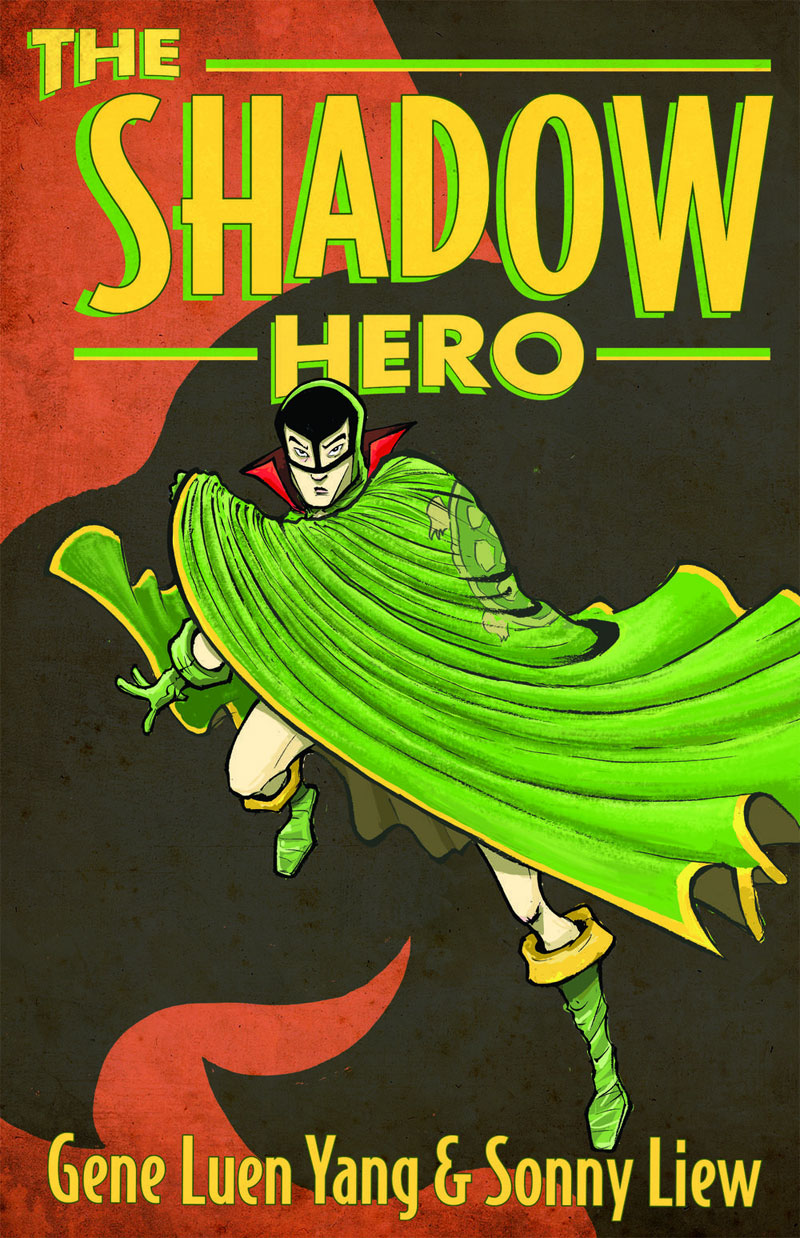 Can you tell us a little about your collaboration with Gene Leun Yang and Golden Age The Shadow Hero?
The team behind the Secrets Identities anthology had put as together on a story a few years back – I think we both enjoyed the collaboration enough to want to work together again. My main concern was to bring enough to the table – Gene's script and thumbnails are so well thought out I could have just redrawn those; but I tweaked the layouts here and there, hoping to give scenes slightly different rhythms, and to justify my presence in the book!
You were also one of the driving forces behind the hit Vertigo Comic, My Faith in Frankie, what did you enjoy about this series?
Oh that was very exciting to do, it was my first proper comic gig, plus I'd been a big fan of Gaiman's Sandman as well. So getting to work for DC Vertigo, with a story involving deities and mortals, was pretty heady stuff. Marc Hempel being a Sandman alumni only added to that feeling :)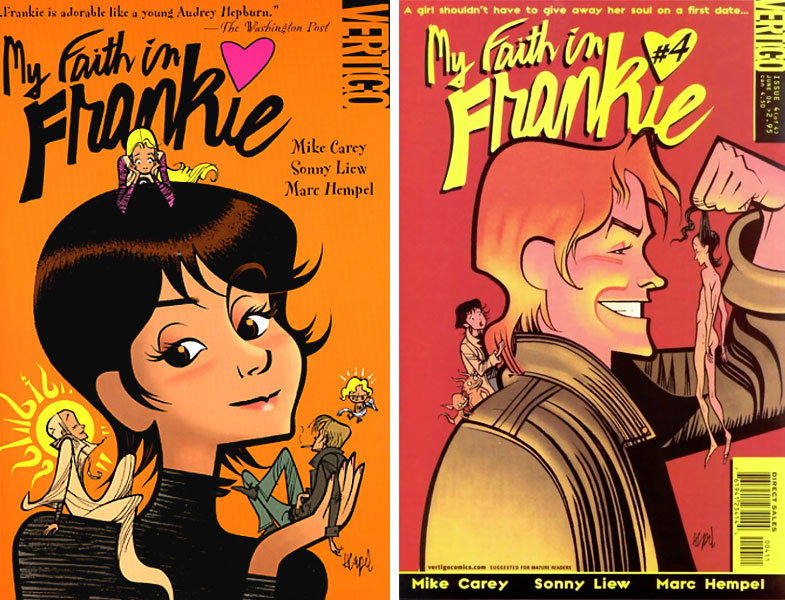 The internet has been abuzz with the massive changes at DC Comics come June with DC Entertainment Co-Publisher Dan DiDio stating that "In this new era of storytelling, story will trump continuity as we continue to empower creators to tell the best stories in the industry". Your name was linked to this new era of storytelling, so what's it like being back at DC Comics?
Actually Gene and I did a short story for DC Vertigo's CMYK anthology just recently; but point taken, this is my first real DC gig. It's a little scary to be honest, I've seen how much fans care about their favourite characters, and how passionately they react against any departures they don't agree with… I know my art style isn't the most mainstream, but hopefully it'll be adaptable to the tone and genre!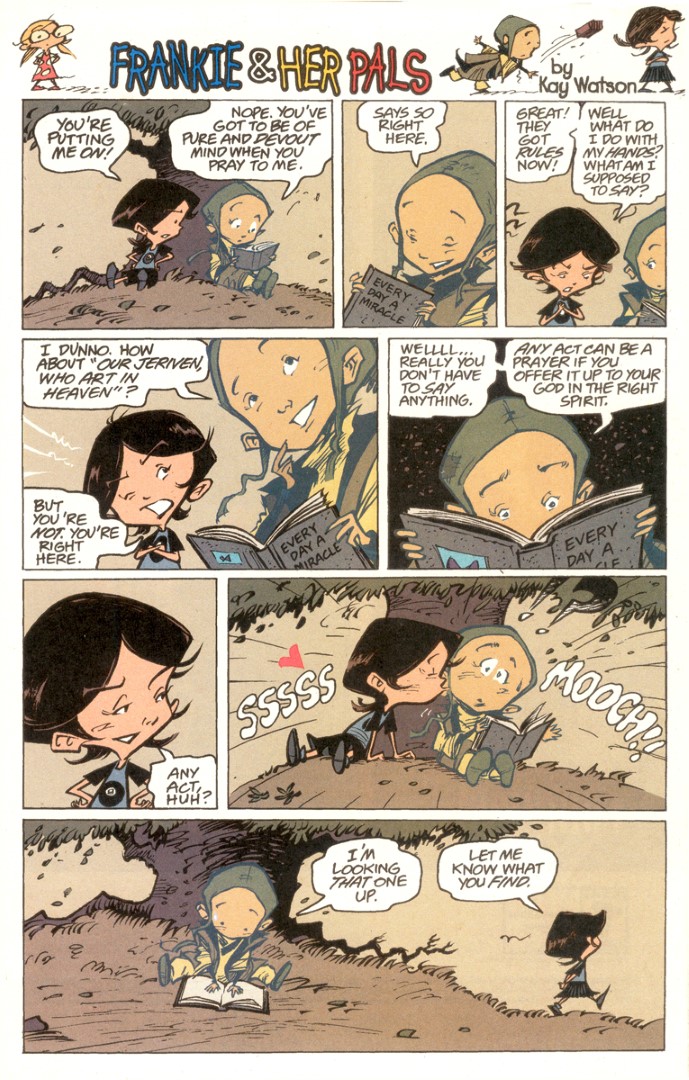 You're currently working with Paul Levitz, a living legend of the comic industry. What are you most looking forward to in this collaboration?
Every collaboration is  a chance to learn something new – how other creators approach scripts, characterisations, structure. With Paul, all the more so, given his track record and knowledge, a living legend like you say… and being my first real superhero series, its going to be a learning experience for sure!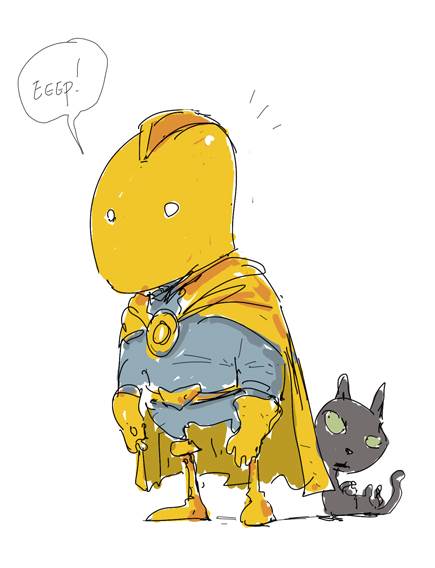 Sketch of Doctor Fate
Were you familiar with the character before accepting your new role at DC and what research have you done?
To be honest, I hadn't heard of Doctor Fate before. But I did some research after Paul got in touch, and Fate really is character with a long and intriguing history; I'm looking forward to adding a little to the mix…
What are you most looking forward to in drawing Doctor Fate?
The Egyptian mythology and art will be an interesing element to incorporate – hopefully we'll be able to do it in a way that's formally interesting without sacrificing flow and clarity.
With so many incarnations of Doctor since 1939, do you a favourite?
I'm afraid I'd have to go with David Tennant as Doctor Who! :p
As the DC Universe heralds a new era and I'm guessing that you're under an embargo about the new Doctor Fate but do you have any hints? You recently released a very cool Doctor Fate picture on Twitter… is this a clue?
Ah no… that was just a quick sketch, no indication at all of what the final version will look like.
Are you going to any conventions this year and if so, which ones?
I'm hoping to maybe do San Diego, but that looks trickier every year, with my penchant for last minute planning… I will be at the Singapore Toys Game and Comic Con for sure though!
Lastly, what else do you have planned for 2015 and where can our readers find out more about you?
Well, the book I've been working on, The Art of Charlie Chan Hock Chye, got picked up by Pantheon Books, so that was probably the most exciting news for me in 2014, given their mind-blowing back catalogue.
However that version won't be out till 2016, but an edition exclusive to Singapore and Malaysia is out in April. A few other things bubbling away, not quite sure what will pan out just yet.
Thanks again Sonny and all the best with Paul and the Doctor… and let's check out some more amazing art by Sonny Liew below!