Events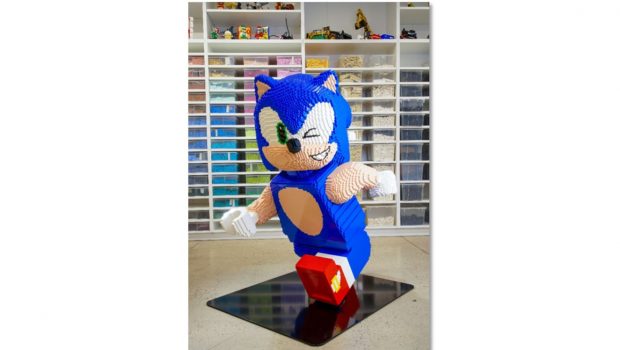 Published on October 4th, 2023 | by Adrian Gunning
SONIC AND BRICKMAN TEAM UP FOR A SONIC SUPERSTARS BRICKTACULAR LEGO BUILD
To commemorate Sonic's appearance as a LEGO® minifigure in the upcoming Sonic Superstars, SEGA has partnered with one of the world's leading LEGO brick artists and only LEGO Certified Professional (LCP) in the southern hemisphere, Ryan McNaught, aka Brickman, to create a life-size LEGO brick model.
Ryan and The Brickman team took 103 hours to create the model and used 25,807 LEGO bricks to bring Sonic to life. The LEGO brick model will be on show for the public at PAX AUS which opens on Oct 6 at the Melbourne Convention Centre. Sonic Superstars will also be available to play at the show where visitors will get to experience Sonic's latest adventure and see the inspiration for Brickman's LEGO creation.
"As an old school gamer, I remember playing the original sonic back in the 90s until our hands hurt from playing too much! So having the opportunity to bring one of our favourite video game characters to life with LEGO bricks is awesome and we can't wait to share it with everyone." Said Ryan 'Brickman' McNaught. "We're all big gamers here at The Brickman, there was no way we would pass up an opportunity to build the iconic Sonic the Hedgehog!"
"Bringing two iconic brands together to create such an eye-catching statue is a fantastic way to celebrate Sonic's enduring appeal across more than just video games." Said Darren Macbeth, Managing Director at Five Star Games. "Brickman has done a fantastic job in bringing Sonic to life in LEGO brick form and we can't wait for gamers to see it for themselves when they join us at PAX AUS to play Sonic Superstars."
Sonic Superstars is launching on the 17th of October, 2023, and fans can receive an exclusive in-game LEGO Eggman character skin by pre-ordering the game for PlayStation®5 (PS5®) and PlayStation®4 (PS4®) consoles, Xbox Series X, Xbox One and the Nintendo Switch™ family of systems starting at $99.99 AUD.
Adventure through the mystical Northstar Islands in this all-new take on classic Sonic high-speed action platforming. Play as Sonic, Tails, Knuckles and Amy Rose and harness all-new Emerald Powers to move and attack in dynamic new ways. Navigate gorgeous, never-before-seen environments solo or with up to three other players and stop Dr. Eggman, Fang and a mysterious new adversary from converting the islands' giant animals into Badniks before it's too late!
To stay current on Sonic the Hedgehog™ news, follow Sonic on Twitter, Instagram, and TikTok, like him on Facebook, and subscribe to the Twitch channel and the YouTube channel.