Comics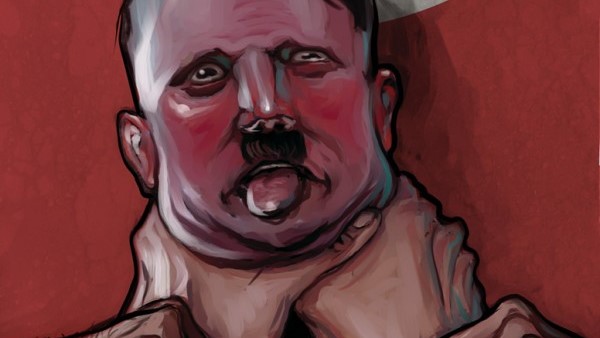 Published on May 9th, 2018 | by Dana Folkard
SON OF HITLER ADVANCED REVIEW
Son of Hitler is a wild historical fiction that dares to explore the uncanny tale of Hitler's secret lovechild. This compelling and adventurous alternate history tale is penned by acclaimed writer Anthony Del Col and talented newcomer Geoff Moore, with art by New York Times bestselling cartoonist Jeff Mccomsey.
The story begins in Dover in 1943, where we see an ambitious British agent named Cora Brown orchestrate an assassination plot, which will see the elimination of the greatest evil of World War II. Armed with top secret intel, Cora makes her way to German occupied France to recruit a young man who is rumoured to be related to Adolf Hitler. Her target is Pierre, a hot-tempered young man who works as a French baker's assistant and who is completely oblivious about his unusual blood relation. After revealing the identity of his father, Cora recruits Pierre for a dangerous mission that will hopefully put an end to the war. What follows is an action-packed adventure, delving into the dark and dangerous world of World War II espionage, conspiracy theories, Nazi-hunting and altered histories.
It's no secret that I'm a sucker for a well-written historical fiction, and there is a lot about this story that I like. I applaud Anthony Del Col and Geoff Moore for delving into this myth and for weaving such an enjoyable and convincing story. Though a work of fiction, stories like this still require large amounts of research, and you really get the sense of this as the story progresses. It's cleverly written with the story and characters feeling well-rounded, developed and researched. In no way does it feel forced or contrived, but rather authentic and built on solid foundations.
The story is fast-paced with a nice balance of tension and humour dotted throughout. Filled with compelling and memorable characters and unexpected plot developments, I found it easy to immerse myself in this chaotic tale and in fact craved for more when the story ended. I was particularly fond of Cora Brown, the plucky young British agent who will stop at nothing to bring Adolf Hitler down. I found the personal conflict she experiences from a direct result of her ruthless determination at the expense of others, and the guilt she feels over the lives lost for her cause to be believable and complex, with her reactions feeling genuine as a result. For me, this makes her quite relatable as a character with obvious flaws, weaknesses, but also strengths.
The art by Jeff Mccomsey is moving and evocative, perfectly capturing the tonal shifts of the narrative. I thought that the art felt well-suited for this story, matching the fast-paced action and more tender moments really well. There are some moments with Pierre where we see him broken and downtrodden, and I really found looking at him to be heartbreaking. I particularly liked the scenes involving Hitler, as there was something about his face and the expression on it that needed no words to describe what he was feeling. Clever drawing. The entire comic is in black and white, which gives it a classic pulp feel and also reflects the era that the story is set.
Overall, I really loved this story and the interesting risks that it took. It's fun, clever and compelling with some completely unexpected developments that left me guessing. If you're looking for a complex historical fiction with a weird and wonderful twist, then look no further.
I'm giving this 5 out of 5 stars!
---
COMIC DETAILS
CREATIVE TEAM: Anthony Del Col, Geoff Moore and Jeff Mccomsey
PUBLISHER: Image Comics
GENRE: Historical fiction
PUBLICATION DATE: June 13, 2018
REVIEWER: Dana Folkard