Events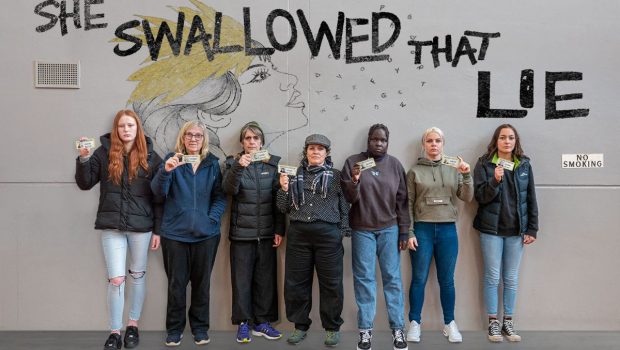 Published on August 2nd, 2022 | by Adrian Gunning
Somebody's Daughter Theatre Company presents She Swallowed That Lie
Somebody's Daughter Theatre Company presents the premiere of She Swallowed that Lie – a unique Australian theatre production created and performed in collaboration with women who have lived prison experience and marginalised youth from regional Victoria. Playing at Chapel Off Chapel from 25 – 27 August, it is the story of eight gutsy women and their life inside prison to life outside, told with a dash of humour and loads of heart.
Weaving original music, dance and song into the storyline, She Swallowed that Lie is an uplifting and inspirational insight into the resilience of these brave performers, uniquely capturing the stories and voices of women who have experienced the cycles that lead to incarceration.
She Swallowed that Lie is centred around the characters of Charlie and Baylee, both of whom are 18 years old and have grown up way too fast and seen way too much for ones so young.  They are heading for a fall. A motley bunch of 'been there, done thats' rally around them hoping they hold them long enough to avoid the system.
Including 25-year-old Alek, who is moving to St Kilda from Geelong to be closer to work but is shocked to learn that barely anyone looks like her and Phoenix, who is trying to rise from the ashes having just been unexpectedly refused parole. Rather than wallow, she is determined to be reunited with her children.
Then there's the elder stateswomen.  Paulie is approaching 60 and has been out of the big house for over a decade yet is still struggling to feel at home, and 64-year-old Therese isn't chasing rainbows she just wants to be let back in. The simple things in life – a home, work and friends – elude her.
"You don't often hear stories like this, they are often thrown to the side, you don't get to hear them and experience the importance of them," said performer Hayley, who with her fellow castmembers and creatives devised the work.
"I was inferior. I was a thief. I was a junkie. I was a whore. I was despised. I disappeared.  I offended and re-offended, and learnt the word recidivist. I am a woman.
When I joined Somebody's Daughter on the inside I had nothing to lose.  Ultimately everything would be gained.  I sat in a circle of women, who just like me had some incredibly sad tale. It was the same grim episode in this real life "Prisoner". A story of pain, self-harm, addiction, sexual abuse and hopelessness.  It was of homelessness and lost children.
…had I have not gone to prison I would never have been introduced to the arts. For once in my life I had people feeling what I felt, and seeing what I saw.  I was able to express my fears, my dreams, my grief and my remorse, yes I had remorse," said performer, Cath.Accompanying the theatre work, is a visual art exhibition showcasing extraordinary works from women currently in Victorian prisons and retrospective works dating back to 2000.
SEASON DETAILS: She Swallowed that Lie
Dates:           25 – 27 August 2022
Times:           Thursday 25 August: 7pm
Friday 26 August: 7pm
Saturday 27 August: 2pm & 7pm
Venue:           Chapel Off Chapel
12 Little Chapel St, Prahran
Tickets:         $30 standard
$12 Concession
$12 Child
$14 Groups (6+)
Bookings::    chapeloffchapel.com.au
Duration:       80-minutes (no interval)
Warnings;     Coarse language & theatrical haze.  This performance is suitable for ages 11+