Films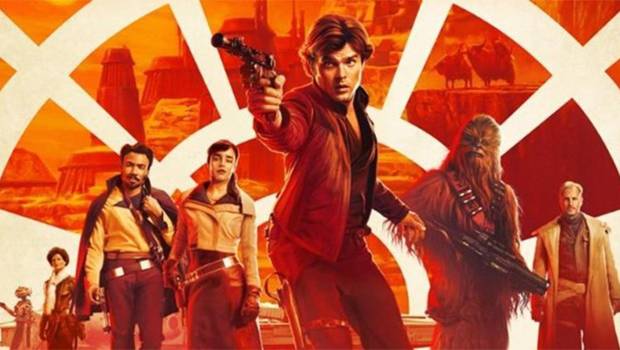 Published on May 23rd, 2018 | by Curtis Mayfield
Solo Review
Summary: If you're looking for an enjoyable way to spend two-hours then Solo is for you as it does tick the boxes of a decent action adventure, however it's just not essential viewing.
Since Disney acquired the Star Wars franchise a few years back we've seen some interesting side stories unfold and flourish which have given fan boys something to cheer for (or complain about) and has definitely kept Mickey Mouse's pockets filled. For example Rogue One filled in the biggest plot hole cosmic fans have been debating about since the 1970s. Now viewers are given another chapter in the Star Wars universe that nobody really asked for.
Solo: A Star Wars Story is a prequel -super fans can figure out where this movie falls into the ever-changing Star Wars timeline- that travels back to a galaxy far, far away where Han Solo is still a baby faced scrappy heartthrob and still a few decades away from becoming the gruffly spoken Harrison Ford version of the hero behind the wheel of the Millennium Falcon.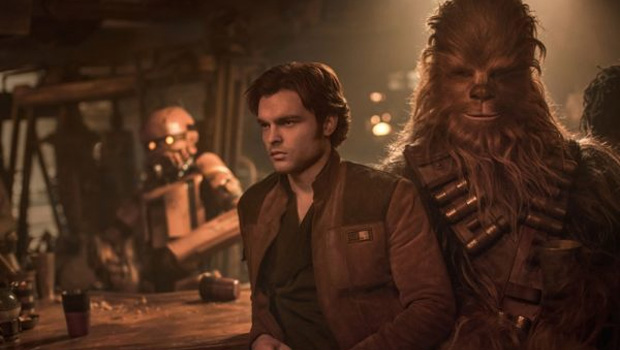 Alden Ehrenreich (Hail, Caesar!) steps into the space-cowboy boots of Han as he quickly shows up on screen along with gutsy girlfriend Qi'ra (Game of Thrones' Emilia Clarke) who is definitely Han's 'ride or die' (look up the lingo in your Fast & Furious manuals). The pair of lovebirds are attempting to escape a slave master in the form of the giant centipede gangster Lady Proxima (voiced by Linda Hunt) and run off into the sunset.
The evil Empire (who else would it be?) of course puts a stop to this and separates the two. Han puts aside his morals and ends up surviving by becoming a pilot for the Empire while Qi'ra sells her soul to work for Crimson Dawn, a criminal syndicate led by Dryden Vos (Paul Bettany with the least amount of special effects on his face to date). Bettany plays into the role of villain quite well as he slinks about his penthouse lair with the qualities of a sophisticated lizard.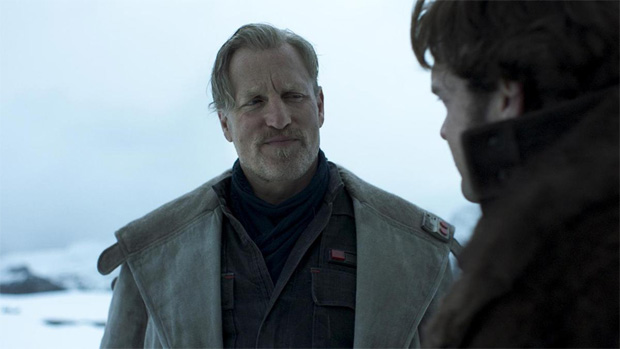 Writers Jonathan and Lawrence Kasdan put Han and friend's into a low stakes adventure that sees Solo teaming up with a ragtag team of thieves led by the spot light stealing Beckett (Woody Harrelson) and Val (Thandie Newton) to stop evil from….blah blah blah. The story is fairly thin and to be honest really boring as director Ron Howard takes us through a safe, paint by numbers hero story that doesn't break much new ground. Sure we get the back stories to some of Han Solo's greatest fables, like how he won the Millennium Falcon in a card game, how he met Chewbacca, the Kessel run in 12 parsecs and other nerdy jargon that's made Star Wars such an interesting world.
But like any great story grandparents tell their grandkids, the true origin is never as exciting as the story itself. Herein lies why Solo isn't the exciting adventure story it could be instead of it being the predictable movie it is. There are definitely great moments though that feature some familiar faces from the one of the trilogies but you'll have to see for yourself. Donald Glover donning the cape of charismatic badass that is Lando Calrissian is a high point of a movie that doesn't go off on the beaten path enough. There are a few attempts at originality though with Lando having a very interesting relationship with his robot revolutionary sidekick L3-37 (voiced by Phoebe Waller-Bridge). The problem is L3-37 may be a new incarnation of movie magic A.I. but there's not much difference between her and Rogue One's K-2SO.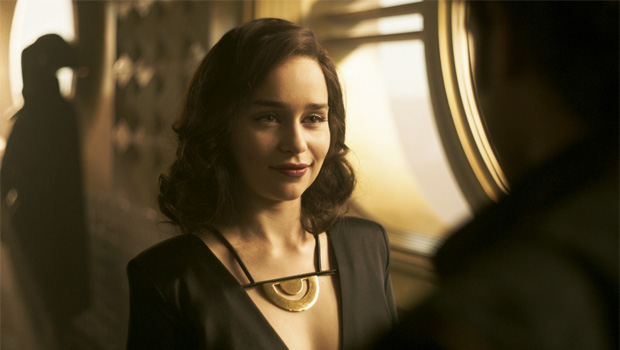 Much like the hiring and firing drama that happened with Ant-Man a few years back, Solo saw its two original directors Christopher Miller and Phil Lord (The Lego Movie and the Jump Street series) being fired from the project due to reported creative differences. One can't help but wonder what this movie would look like under the genius comedic eyes of Miller and Lord but instead we're given the safe choice of Ron Howard who is a legendary filmmaker but may be a little overrated in 2018.
Watching Han and Chewie go on space adventures would have been a lot more enjoyable guided by the guys who made Channing Tatum bearable. Marvel won big by getting weirdo Taika Waititi to resurrect Thor so hopefully Disney will learn from their own lessons and put somebody more daring in the director's chair next time. Overall the movie won't be put at the bottom of the ladder of Star Wars films as it has it's moments of greatness but it doesn't pack enough of a punch for it to be raved on about much like universally loved The Force Awakens or the polarising The Last Jedi. Another complaint comes in the form of the younger golden-hearted Han not exactly matching up with the selfish, older version Harrison Ford brought to life in the earlier films.
Perhaps this is like the Better Call Saul version of a Star Wars character where we witness the beginning of the end of a yet to be corrupted individual. Solo: A Star Wars Story oozes with enough of the franchise's mythology to keep casual fans happy but may not be groundbreaking enough to keep others from leaving at the half way point. It's only been a few months since the last Star Wars movie, which makes it look like Disney is trying to copy their own Marvel formula of flooding viewers with binge-watchable content. This may be the bubble bursting moment for Star Wars unless J.J. Abrams gently lands us back into the wonderful territory that The Force Awakens gave us. If you're looking for an enjoyable way to spend two-hours then Solo is for you as it does tick the boxes of a decent action adventure. It's just not essential viewing as it comes off as yet enough fattened up cash cow that Disney is keeping alive.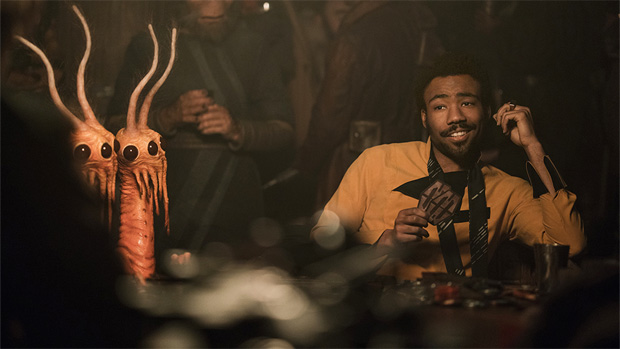 Review information
Reviewed by Curtis Mayfield M-H on May 21st, 2018
Walt Disney Studios Motion Pictures presents a film by Ron Howard
Written by Jonathan Kasdan & Lawrence Kasdan
Produced by Kathleen Kennedy, Allison Shearmur & Simon Emanuel
Starring: Alden Ehrenreich, Woody Harrelson, Emilia Clarke, Donald Glover, Thandie Newton & Phoebe Waller-Bridge
Music by John Powell & John Williams
Cinematography: Bradford Young
Edited by Pietro Scalia
Running Time: 135 minutes
Rating: M
Release Date: May 25th, 2018