Films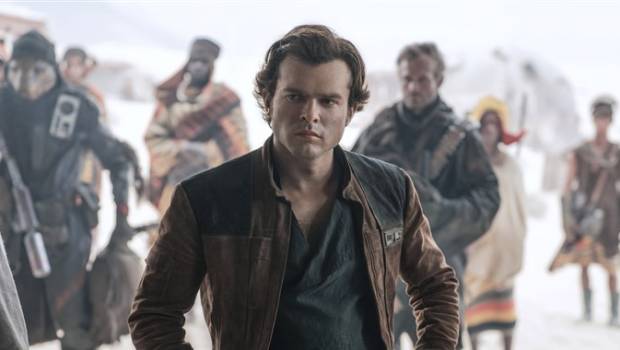 Published on June 4th, 2018 | by Debbie Zhou
Solo: A Star Wars Story – Film Review
Reviewed by Debbie Zhou on the 3rd of June 2018
Disney presents a film by Ron Howard
Producers Kathleen Kennedy, Allison Shearmur and Simon Emanuel
Starring: Alden Ehrenreich, Woody Harrelson, Emilia Clarke, Donald Glover, Thandie Newton, Phoebe Waller-Bridge, Joonas Suotamo and Paul Bettany
Written by Jonathan Kasdan and Lawrence Kasdan
Music by John Powell
Cinematography Bradford Young
Edited by Pietro Scalia
Rating: PG
Running Time: 135 minutes
Release Date: the 24th of May 2018
The origin story of Han Solo in the latest Star Wars episode, Solo: A Star Wars Story, makes for an underwhelming journey for its to-be reckless and sarcastic leading man. While it pays respectable lip service as a heist film that steers into reminiscent and nostalgic factors, it is below the benchmark of the new films produced under Disney Lucasfilm, notably Rian Johnson's The Last Jedi (2017). Johnson's film arguably sparked some of the pinnacles of risks and payoffs that blockbuster filmmaking can achieve in the modern age.
Solo marks a different film from its canon episodes. Even compared to the franchise's first standalone film, Rogue One (2016), the purpose and depth of this story is lacklustre. Drenched in a gloomy, mostly gritty palette (by cinematographer Bradford Young), Han Solo embarks on a series of adventures that answers questions about the mysteries surrounding some of his most iconic attributes, such as how his name came to be and how he first piloted the Millennium Falcon.
Helmed under the safe hands of director Ron Howard (replacing Phil Lord and Christopher Miller), the film delves into these trinkets of truth. The story tracks a young Han (played by the affable Aiden Ehrenreich) as he escapes the planet Corellia. He joins the Imperial Flight Academy, before finally scooping up into Beckett (Woody Harrelson) and Val's (Thandie Newton) plan within a train heist, which sees him land in the Crimson Dawn syndicate.
There are few surprises, and even the biggest plot twists and the constant jumps between locale and genre don't shake things up. Many shoot-outs occur and the jutting, fast-paced action one comes to expect from blockbusters is on display. The biggest is most notably where Han leads a plan to steal unrefined coaxium from the planet Kessel. The stakes are otherwise scant due to the elongated action sequences and uninspired editing that don't induce the sparks necessary to make the sequences entertaining. A level of playfulness is present, but it's apparent that Howard's venture is more about fun than providing true story sustenance or even substantial character development for its leading protagonist.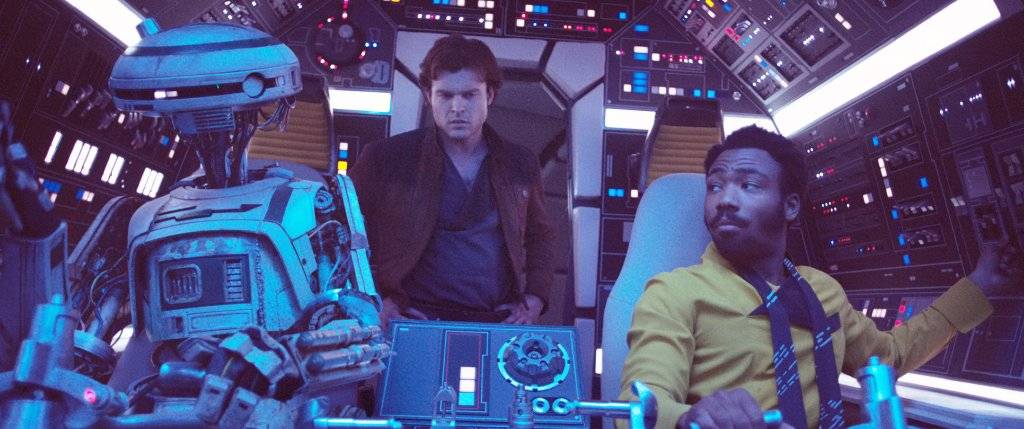 Even Han's romantic relationship with Qi'ra (Game of Thrones' Emilia Clarke) is an unconvincing subplot. Clarke's wooden acting and her alliance to Dryden Vos makes Han's infatuation with her often feel one-sided. Refreshingly, the best new character isn't even human. She takes the form of a droid, L3-37, who insists on equal rights for droids (voiced by Broadchurch's Phoebe Waller-Bridge); and she is a comically cheeky character to boot.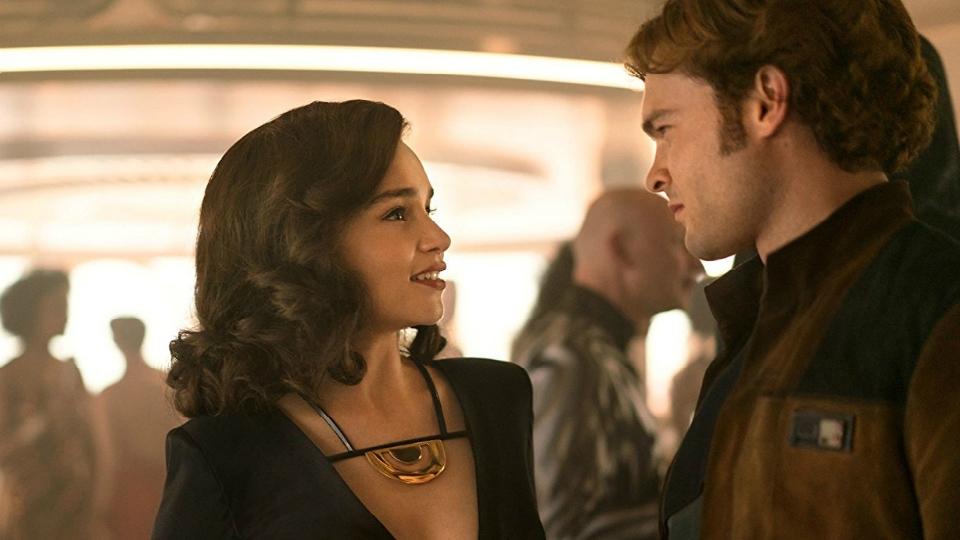 It is no coincidence that the film's standout sequence is when Han pilots the Millennium Falcon during the Kessel run. It is an exhilarating sequence, and the quick cuts feel justified. The scene is deftly crafted and induces a level of excitement that you wish the rest of the film inspired. John Powell's score blasts gloriously in this moment, although at other times it is regrettably downplayed behind the overwhelming sound design. Powell takes John Williams' iconic themes, but infuses them cleverly with his own brass orchestrations that breathe new sounds into the film.
Ultimately, Solo is a middling effort that offers scarcely anything novel to the franchise. Perhaps that wasn't Star Wars' aim this time round. If so, Howard's ordinary but otherwise harmless, enjoyable film provides a solid background to one of the most hailed characters in the Star Wars canon. It's a shame that after the indelible storytelling of The Last Jedi that this one is comparatively a meagre effort.
Summary: It's a shame that after the indelible storytelling of The Last Jedi that this one is comparatively a meagre effort.