Comics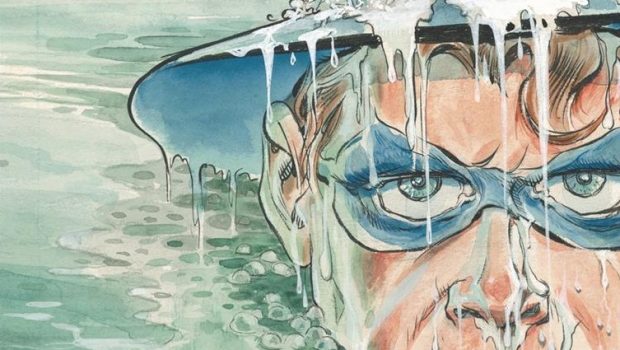 Published on February 22nd, 2017 | by Dana Folkard
SOCIETY OF ILLUSTRATORS TO HOST WILL EISNER RETROSPECTIVE EXHIBITION!
The lasting legacy that Will Eisner (1917–2005) has in sequential art cannot be overstated—he is known as the Champion of the Graphic Novel. His innovative storytelling, layouts, and art on his newspaper series The Spirit inspired a generation of cartoonists, and his turn toward an acclaimed run of graphic novels, beginning in 1978 with A Contract with God, helped pioneer the form. Among the honors bestowed upon Eisner are the Reuben Award, the Milton Caniff Lifetime Achievement Award, the Yellow Kid Award, and multiple Harvey Awards and Eisner Awards—the latter of which were named in his honor.
From March 1, 2017, until June 3, 2017, the Society of Illustrators in New York will host this two-floor retrospective—the largest Eisner exhibition ever in the United States. This exhibit, curated by Denis Kitchen and John Lind, comprises over 150 pieces that include original artwork from Smash Comics (1939); key sequences from his graphic novels including A Contract with God (1978), Life on Another Planet (1983), A Life Force (1988), To the Heart of the Storm (1991), and more than 40 pages of originals from The Spirit (1940–1952) newspaper section. Also included are personal items from Eisner's career, such as his studio drawing board, brushes, and awards.
An opening reception for the exhibition is scheduled at the Society of Illustrators on the evening of March 10, from 7:30 PM to 11:00 PM. Suggested donation of $20 to the Society in support of their programming and exhibitions. Cash bar in the Society's Hall of Fame gallery will be open until midnight.
On April 22, there will be a Gallery Talk led by curators Denis Kitchen and John Lind.
Please visit www.societyillustrators.org for further details and event schedules.
Quotes about Will Eisner's work:
There is no one quite like Will Eisner. There never has been, and on my more pessimistic days, I doubt there ever will be. —Alan Moore (Watchmen, From Hell)
Will Eisner is a national treasure. —Jules Feiffer (The Phantom Tollbooth, Tantrum)
Will Eisner is the heart and mind of American comics. —Scott McCloud (Understanding Comics)
Will Eisner could write and draw in the way that most of us hum or whistle a tune, without conscious effort or inhibition. Story was his music, and pencil and brush his instruments. The universal appeal of Will's very personal compositions made him truly a maestro without peer. —Dave Gibbons (Watchmen, Give Me Liberty)
Will Eisner The Centennial Celebration exhibition catalogue
An oversized hardcover catalogue—Will Eisner The Centennial Celebration—reproduces select pieces from the 2017 exhibitions at the Society of Illustrators (NYC) and Le Musée de la Bande Dessinée (Angoulême), and includes essays by Denis Kitchen, John Lind, and Paul Gravett. It will be released by the Kitchen Sink Books imprint of Dark Horse Books in March 2017.
Will Eisner The Centennial Celebration
176 pages, 10 x 14 inch Hardcover
Text in English and French
ISBN-10: 1506703550
ISBN-13: 978-1506703558
Society of Illustrators
128 East 63rd Street
(between Lexington and Park)
New York, NY 10065
Hours: 10:00 AM–8:00 PM Tuesday, 10:00 AM–5:00 PM Wednesday, 10:00 AM–8:00 PM Thursday, 10:00 AM–5:00 PM Friday, 11:00 AM–4:00 PM Saturday.