Books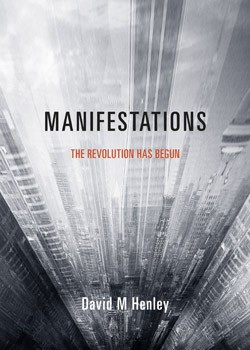 Published on May 7th, 2014 | by admin
Social media turns sci-fi in the new thriller from David Henley
In 2014, the power of social media is undeniable.  In 2159, society is governed entirely by an evolution of the internet called the Weave. It tracks everyone's activity, determines your level of status and implements the ever-changing will of the people.
David M Henley's critically-acclaimed trilogy continues with Manifestations. The Weave has been left reeling after an explosion that devastated the city of Busan. And all the while, the most powerful telepath ever born marches steadily towards world domination, collecting subservient citizens in his wake.
About the Author:
David Henley worked in Australian trade publishing for many years; for the last 10 years he has been growing Xou Creative, a successful design and publishing studio. He has written and illustrated two novellas and one gift book, and is the art director of SEIZURE, a magazine for new writing. 
Praise for The Hunt for Pierre Jnr:
'A science fiction novel full of fascinating concepts and ideas,' – The Australian
'Fast, wired, frightening,' – Courier Mail
'David M Henley is definitely going to be an author to watch out for…a fantastic look at the idea of human prejudice and fear.' – Fantasy Book Review