Films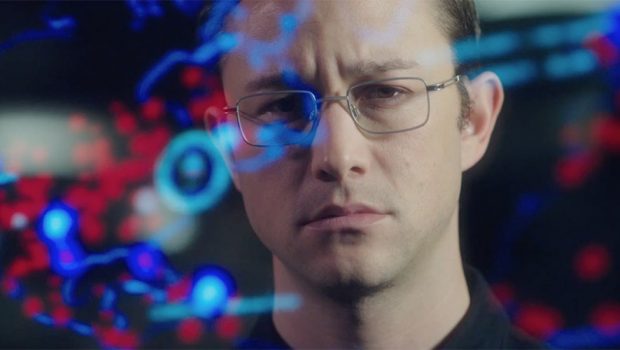 Published on September 24th, 2016 | by Damien Straker
Snowden – Film Review
Reviewed by Damien Straker on the 24th of September 2016
Disney presents a film by Oliver Stone
Produced by Moritz Borman, Eric Kopeloff, Philip Schulz-Deyle and Fernando Sulichin
Screenplay by Kieran Fitzgerald and Oliver Stone
Starring: Joseph Gordon-Levitt, Shailene Woodley, Melissa Leo, Zachary Quinto, Tom Wilkinson, Scott Eastwood, Rhys Ifans and Nicolas Cage
Music by Craig Armstrong
Cinematography Anthony Dod Mantle
Edited by Alex Marquez and Lee Percy
Running Time: 134 minutes
Rating: M
Release Date: the 22nd of September 2016
In dramatising Edward Snowden's challenging story for a mainstream audience, Snowden is a passable summary of not only how he became a whistleblower against the CIA and NSA but also how his fractured relationship with his girlfriend Lindsay Mills encompassed the very issues of surveillance he exposed to the world. Who else but liberal and outspoken filmmaker Oliver Stone to direct the film? He is an open supporter of Wikileaks and the right to freedom of information, and is particularly critical of Barack Obama's decisions to enhance the Bush administration's surveillance techniques, which he deems to be illegal. His view of Snowden is that he is a hero for his bravery to inform people at the expense of his own wellbeing and has said that Obama is a snake that should be turned upon. However, Oliver Stone has not shown this same fire and passion in some of his films recently and some of the rust still runs deep with Snowden. Most of the film is shot in tight close-up shots, and the repetition of the technique reduces the power of the shot selection by turning the film into a claustrophobic drama of talking heads. It is also a long and densely packed film that runs well over two hours; it could have focused on its most interesting narrative staple, the relationship between Snowden and Mills, which is deeper than expected. Instead, the film wobbles between being an interesting and insightful drama of a man's changing political values and a conventional, bloated biopic. Some of the early scenes hold up, such as Snowden's original foray into the army until he broke his leg, which forced him into a computer-based military career path. But the training scenes that follow play out as though Snowden is like Harry Potter in his first year at Hogwarts, as the chosen one finishes an assignment in less than an hour while the rest of the class has barely started. Although Oliver Stone's fire is brave and interesting when Hollywood films are deterred from being overtly political, his outspoken is also symptomatic of the film's overloaded content.
The film works best in the company of two characters rather than the singularity of its title. Joseph Gordon-Levitt has deepened his voice to play Snowden but the characterisation of the role is not consistently strong and often makes Snowden seem introverted and lacking personality. This becomes less problematic once the film introduces Mills, who is played with brisk, upbeat energy by Shailene Woodley (Divergent, The Descendants). Her natural charisma sparks the film with humour and romance and also adds a surprising amount of emotional depth. Their scenes together are the most engaging in the story and could have been the bulk of the film while still exploring the issues of surveillance. Their relationship becomes divided by their contrasting political values, with Snowden resisting to demonise the government's activity as Mills takes a more liberal stance. Furthermore, Snowden's professional life continually filters into their relationship in unexpected and dangerous ways. As he is drawn deeper into the government's web of surveillance programmes, the characterisation grows stranger and more complex; he falls jealous and is paranoid about Mills' home activity, such as looking up other men on the Internet, and his decision to spy on her causes major riffs in their relationship over trust and privacy. The character also compels and aggravates by withholding serious information about his health and becoming obsessive about stopping Chinese hackers. The relationship is a personal and intimate feud over the issues of surveillance and how personal information circulates and unfolds; these through-lines prevent the film from lurching from one life event to another and glorifying its subject, which are common biopic issues. Snowden also works as a thriller or an alarm bell about the nonchalant way surveillance technology is operated. Some chilling scenes feature a layabout, stoner-type, who works for the government and comfortably showcases an arsenal of surveillance tools to Snowden. The character's indifference as he filters through a person's information, cataloguing their contacts for Snowden, is as disturbing as the technology's capabilities. The film argues that these surveillance tactics employ counterterrorism as a façade, masking how they provide America with economic superiority by spying on countries for trade purposes, which epitomises Oliver Stone's dogged critique of the US government by showing surveillance at a personal and national level.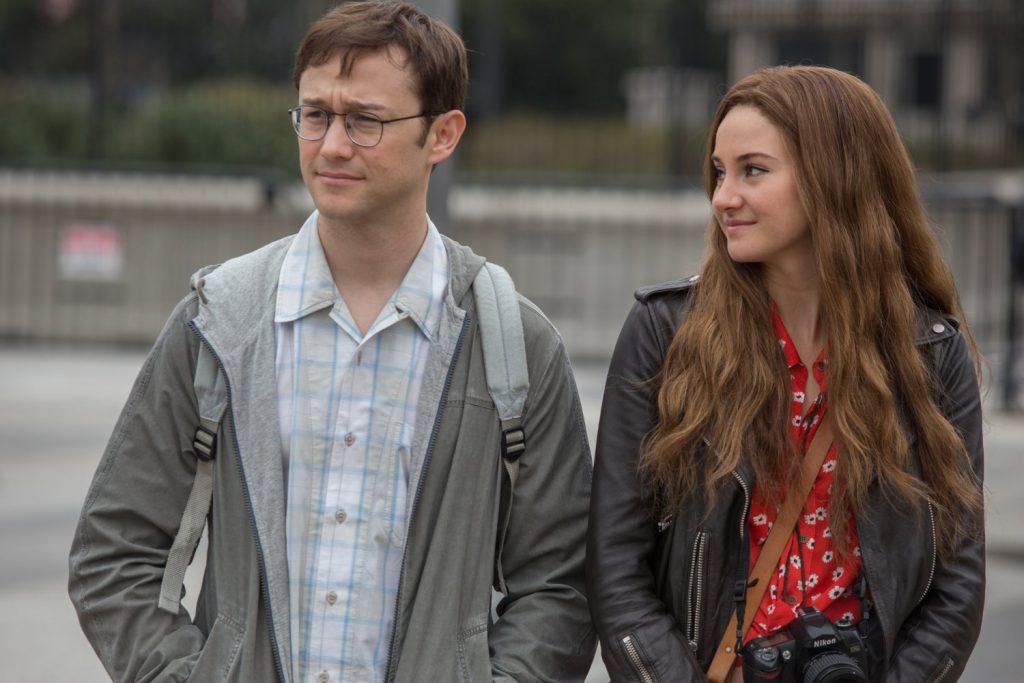 However, finding these personal insights is like sifting through the extensiveness of a newly leaked email dump. It's an uneven film that makes bold but misguided narrative choices that only hamper the narrative. The first of which is a bizarre framing device that sees the film open with and then intercut between the main story a fictionalised version of Snowden's meeting with documentary filmmaker Laura Poitras and the journalists from The Guardian newspaper. This is especially pointless if you have already seen Poitras' powerful documentary Citizenfour, which was utterly gripping because it was real and subsequently, unpredictable. This framing device also reflects how characters and very good actors drift in and out of the story for long stretches with Melissa Leo as Poitras and Zachary Quinto and Tom Wilkinson as The Guardian journalists given few moments to shine. Nicolas Cage desperately claws at the scenery with a distracting cameo, which was mesmerising but also had people laughing at the showiness of his delivery. Rhys Ifans has an impressionable role as an intimidating mentor figure to Snowden and features in one of the film's more memorable images when his face is enormous on a screen, characterising him as a deal Big Brother-like figure. But its Woodley who saves the movie's skin in a big way; her charisma and humanity grows into the personal conflict essential for making the film affecting and to dramatise how damaging these supposed methods of protection are for people as they become more self-conscious and less individual about their lives. That was the movie sitting inside of Oliver Stone's palm and had he looked at surveillance from that angle and culled some of the weaker passages it would have been a stronger film.
Summary: It's an uneven film that makes bold but misguided choices that only hamper the narrative.