Games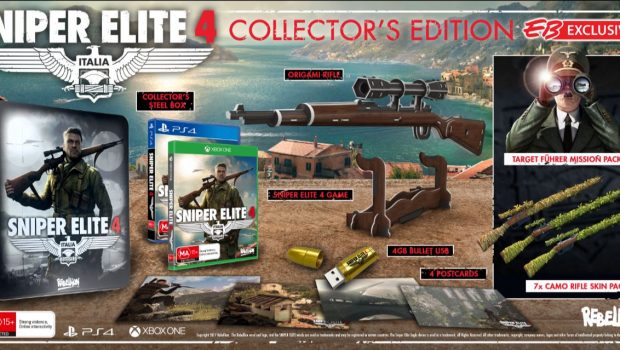 Published on November 30th, 2016 | by admin
SNIPER ELITE 4 COLLECTOR'S EDITION ANNOUNCED FOR AUSTRALIA
SYDNEY, 30 NOVEMBER, 2016 – Five Star Games is delighted to announce the Collector's Edition for Sniper Elite 4, which is available to pre-order starting today for PS4 and Xbox One for $129.95.
Australian Sniper Elite fans will have everything they need to liberate Italy from the Nazis with this incredible Collector's Edition with an Origami Model Rifle, Collector's Steel Box, extra campaign mission, rifle camo skins and more!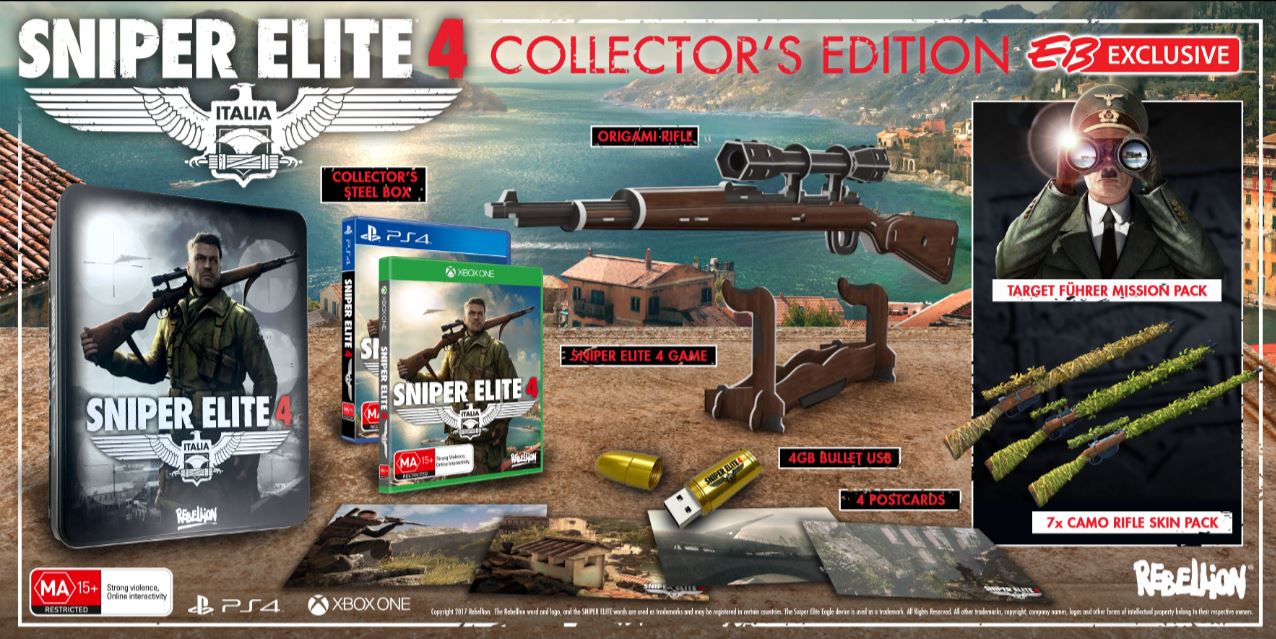 The Sniper Elite 4 Collector's Edition, exclusively available at EB Games Australia, includes:
Full retail copy of Sniper Elite 4
Collector's Steel Box
Karabiner 98k Origami Model Rifle
4GB Bullet Shaped USB
4 Sniper Elite 4 Postcards
TARGET FÜHRER campaign mission
Players will once again set their sights on history's most notorious tyrant in a forgotten corner of the Mediterranean where a secret Nazi U-boat facility threatens Allied shipping. When agent Karl Fairburne attempts to assassinate the base's Commander, he finds his target already dead, executed in person by a shadowy visitor. Karl's mission has changed: TARGET FÜHRER!
Players must destroy the imposing U-boat base and take down Hitler in as many ways as they can in this replayable campaign mission for 1-2 players.
Includes detailed camouflaged sleeves for the game's seven iconic WW2 rifles.
Set in the aftermath of its award-winning predecessor, Sniper Elite 4 is a third person stealth/shooter that continues the series' World War Two heritage by transporting players across the beautiful Italian peninsula, from sun-drenched Mediterranean coastal towns, to colossal Nazi mega structures, daunting forests and giddying mountain monasteries inspired by Monte Cassino.
Key Features
Set across the beautiful and varied environments of 1943 Italy
Largest and most extensive campaign in Sniper Elite history
Levels many times the size of those in Sniper Elite 3
1-2 player campaign, dedicated 2-4 player co-op modes and 12 player competitive multiplayer
Brutal new melee and shrapnel X-ray kill cameras
Sniper Elite 4 is out in Australia on 14th Feb 2017 for PS4 and Xbox One and is available to pre-order now!