Comics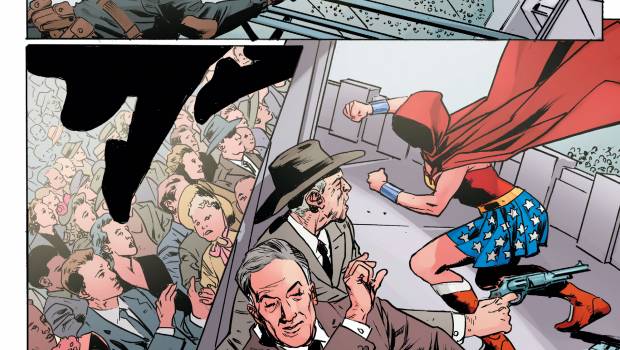 Published on January 21st, 2020 | by Andrew Bistak
Sneak Peek; Wonder Woman #750 — "a Brave New World" by Scott Snyder, Bryan Hitch, Mike Spicer and Tom Nopalitano
Wonder Woman #750 has major implications for the future of DC's first Super Hero!
Wonder Woman #750, on shelves this Wednesday, is an all-star 96-page celebration of the Amazon Princess by longtime favorites and acclaimed new voices! This oversized gem tells tales from Diana's past and present, along with major implications for the future of DC's first Super Hero!
One of those major implications was teased in 2019, that Wonder Woman's legacy precedes all other Super Heroes in the DCU's overarching narrative. A hint at what that looks like can be seen in Wonder Woman #750's "A Brave New World" eight-page story by Scott Snyder, Bryan Hitch, Mike Spicer and Tom Nopalitano.
Today, we give you your first look.
With the publication of Wonder Woman #750, DC returns to legacy numbering for Wonder Woman, gives a glimpse into Diana's distant past, and heads boldly towards the future!
Storytellers contributing to the issue also include Colleen Doran, Mariko Tamaki, legendary Wonder Woman creators Gail Simone, Liam Sharp, Nicola Scott and Greg Rucka returning to the character, and more! Wonder Woman #750 also features pinup artwork by Ramona Fradon, José Luis Garcia-López, Emanuela Lupacchino, Bilquis Evely and Travis Moore.