Games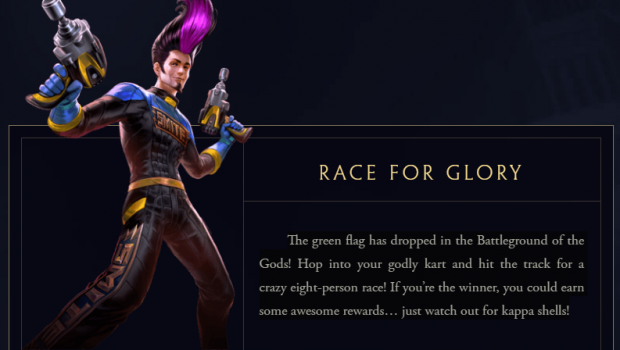 Published on April 13th, 2017 | by Admin
SMITE Takes on Kart Racing in APOLLO'S RACER RUMBLE
Launching today on PC, a brand new Adventure will come to the Battleground of the Gods every six weeks. There's no telling where our next Adventure might take you… Or what legendary experiences and epic rewards await. This week, the green flag has dropped! Hop into your godly kart and hit the track for a crazy eight-person race! If you're the winner, you could earn some awesome rewards… just watch out for kappa shells!
Apollo's Racer Rumble debuts with SMITE update 4.7, playable on PC from today, then Xbox and PS4 April 25 and each runs for four weeks. It comes with two new maps – Elysium Beach and Molten Pass.  Battle around the track using their unique abilities, SMITE relics, and unlock new rewards.
This new SMITE Adventure mode is free to play, and the Racer's Adventure bundle is 10% off while the game mode is active.
SMITE Adventures Website: http://www.smitegame.com/adventures/
Apollo's Racer Rumble Website: https://www.smitegame.com/adventures/apollos-racer-rumble/
Apollo's Racer Rumble Video: https://www.youtube.com/watch?v=RR1LRG3jryI
SMITE Adventures FAQ: https://www.smitegame.com/adventures-faq/