Games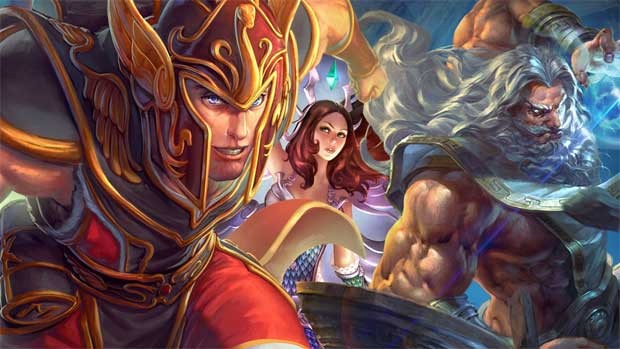 Published on August 9th, 2016 | by admin
SMITE Oceania Pro League Split 2 Finals – Sydney, August 20-21
MELBOURNE, August 9 – After battling in an intensely competitive 10 week league, we now have the top four teams to play off for $25,000 in the SMITE Split 2 live final. Set to put on a show of exciting high level play, the event takes place August 20-21 at the Australian Technology Park in Sydney.
One of the world's top esports franchises, the mythology themed SMITE blends the team-based tactics of traditional MOBAs with a thrilling third-person perspective that emphasizes expert skill shots and pulls players right into the action.
The second of three segments of league matches in a record breaking $100K Oceania 2016 Season, this split is already proving to be the most competitive in SMITE Oceania history. The unstoppable force of 2015, Pandamonium (who went to SMITE World Championships under the name Avant Garde), are currently seeded third going into the event as strong rivals have risen up.
The finals teams in seeding order are Legacy Esports, Incite, Team Pandamonium and Avant Garde.
Most notable has been Legacy. While the squad now wears the badge of one of Australia's top esports organisations, they entered the competition as little known challenger under the name Dead Weight. Captained by Sam "OnlyGoodAtSolo" Wouters, who was the sub player for Pandamonium during their 2015 championship, they quietly and confidently went undefeated until their only loss in week 7 of the season.
In second place are team Incite, captained by Kurtis "Biggy" Davidson. Leading the 2015 runners up team previously known as Dire Wolves, after a shaky start Incite have steadied into a strong squad, scoring split victories over Legacy and Pandamonium. While seeded at third, the reigning champions Pandamonium are still dangerous with a wealth of talent and experience led by Daniel "Rowe" Rowe. Rounding out the top four is the new Avant Garde squad, who have the skills, but haven't shown consistency. Perhaps squeezing into fourth place in the final week of Pro League is a sign of growing form. The semi final playoff promises to be intense.
Schedule
What: SMITE Oceania Pro League Split 2 LAN Final
Where: Oceania Esports Masters, Australia Technology Park, Sydney
When – Match Schedule Saturday August 20 – Semifinals (Best of 3) 9 am Semifinal 1 – Seed 1 vs 4. : Legacy Esports vs Avant Garde 12pm Semifinal 2 – Seed 2 vs 3. : Incite vs Pandamonium Sunday 10:30am SMITE Split 2 Grand Final (Best of 5)
Live Stream: www.twitch.tv/cgtv_smite and www.twitch.tv/HiRezTV More information: $25,000 Winter LAN Final on August 20th-21st at Oceania Esports Masters