Hardware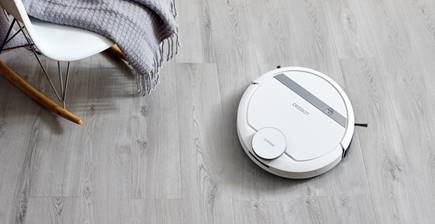 Published on July 20th, 2018 | by Admin
Smart Navi™ Mapping and Navigation Technology Provide Aussie Families with a Time-Saving and Customised Clean
July 19, 2018 – World-leading home robotics innovator ECOVACS ROBOTICS has today launched its latest floor cleaning robot, the DEEBOT 900. Integrating the company's signature intelligent mapping abilities and smart home compatibilities such as voice command and in-app controls, ECOVACS ROBOTICS continues its focus on delivering intuitive, customisable and time-saving products.
Featuring ECOVACS' signature mapping and navigation technology – Smart Navi™, the DEEBOT 900 plans and calculates a highly efficient cleaning path customised to the user's home. Using an interchangeable inlet system to tackle hair, carpets or bare floors, it ensures it achieves a thorough and systematic clean. Giving back more time for Australians to enjoy the outdoors, catch up with friends and family, or free up more time for themselves, the DEEBOT 900's intelligent cleaning modes aims to free users from household chores to do more of what they love.
The DEEBOT 900 makes cleaning as easy as tapping on a smart phone or using voice control, with the DEEBOT 900's compatibility with Google Home and Amazon Alexa. The user-friendly ECOVACS App allows for full remote control of the cleaning process, allowing users to schedule and monitor cleans using a Wi-Fi connection, from wherever they are located – from the other side of the house or the other side of the world.
Knows More, Cleans Brilliantly
The DEEBOT 900 floor cleaning robot features several of ECOVACS' advanced technologies for its more premium robots – Smart Navi™ mapping and navigation technology and Adaptive Floor Sensing. With these advanced technologies, DEEBOT 900 can safely scan, map and plan an efficient cleaning path which adapts to a user's home to provide customised floor cleaning. The robot is also designed to clean both bare floors and carpets following a planned Smart Cleaning Path – moving in a back-and-forth cleaning pattern to efficiently tackle all kinds of mess in various environments and provide a more thorough and systematic clean. The DEEBOT 900's multiple sensors can maximise coverage of the whole living space and all available ground.
The DEEBOT 900's innovative design allows the vacuum inlet to remain closer to the ground for superior suction and more comprehensive, reliable and a more consistent clean. For families with children and pets, DEEBOT 900's interchangeable inlet system has a direct suction inlet which is perfect for hair and pet fur removal, and a V-shaped main brush which is ideal for a deep-reach clean, especially on carpets. Users can try out the new Max cleaning mode with a 70% power increase to remove stubborn dirt, or select the Area cleaning mode to divide their home into several areas and prioritise them for cleaning.
Enhanced Smart Home Experience
Meeting the demands of busy consumers who value productivity, as well as gadget lovers who want easy control and customisation, the ECOVACS App can be used to build maps and draw up to 50 virtual boundaries that restrict the robot to cleaning a specific area, and prevent it from wandering off to restricted areas. With the app's time-scheduling function, users can simply set a time for the robot to clean regularly and choose between cleaning modes, for any time slot of any day for up to ten times a week.
Besides the ECOVACS App, DEEBOT 900 is now compatible with Amazon Echo and Google Home, allowing for more interactions between users and the robot with voice command. DEEBOT 900 also features a voice reminder function to provide real-time reporting and to keep users updated on its working status or problems.
Automatic Charging and Quiet Cleaning
DEEBOT 900's 3000 mAh battery has a 100-minute working time once fully charged. When battery power gets low, the robot automatically goes back to its charging dock to recharge, then returns to the area it left off to continue cleaning so that users can focus on their own work during the whole cleaning process. DEEBOT 900 also boasts a lower level of cleaning noise than most other vacuum robots and conventional vacuum cleaners, with a volume of 66 dB(A) during Standard mode. While cleaning quietly and autonomously, the robot can move safely around using anti-drop sensors to clean around stairs without the risk of falling.
Pricing and Availability
The DEEBOT 900 is available now for RRP $799 at Harvey Norman and Bing Lee.