Games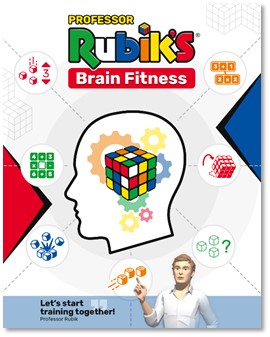 Published on September 17th, 2020 | by Adrian Gunning
Smart gaming with Professor Rubik's Brain Fitness!
Microids announces more details regarding « Professor Rubik's Brain Fitness », inspired by the famous Rubik's® Cube!
Professor Rubik's Brain Fitness, a brand-new brain teaser program inspired by the multicoloured Cube and developed by Magic Pockets will be available on November 12th, 2020 in Australia and Europe, and November 17th, 2020 in the United-States on Nintendo Switch, PlayStation 4, Xbox One and PC/Mac!
The brain fitness software idea originates from the Rubik's® Cube itself, the famous trans-generational entertaining brain teaser we all know and love. Professor Rubik's Brain Fitness offers a rich selection of fun activities to stimulate each and every part of the brain. Memory, logic, focus, math and more, the game will enhance or maintain grey matter's snappiness.
An individual coach will guide you through your journey: Let us introduce you to Professor Rubik! Inspired by the Rubik's® Cube genius inventor Ernὄ Rubik, Professor Rubik will always be by your side. Wise, reassuring and explaining the exercises, the Professor will make your experience as fun as possible while proving daily practice will lead to measurable improvements!
Alone or with friends, take on dozens of challenges in bright Rubik's® Cube colours. Train at your own pace by choosing time-limited activities or mastering more complex puzzles!
Play smart. In solo mode, complete a daily test and follow your progression to unlock new activities. Will you reach 100% of your intellectual power?
Challenge your friends! In multiplayer mode, challenge your family and friends to lively, colourful and friendly games.
With more than 22 activities at release and 4 "puzzle-game" modes that get progressively harder, Professor Rubik's Brain Fitness has everything to become the ultimate Rubik's® challenge and the best partner to all you puzzle lovers!