Games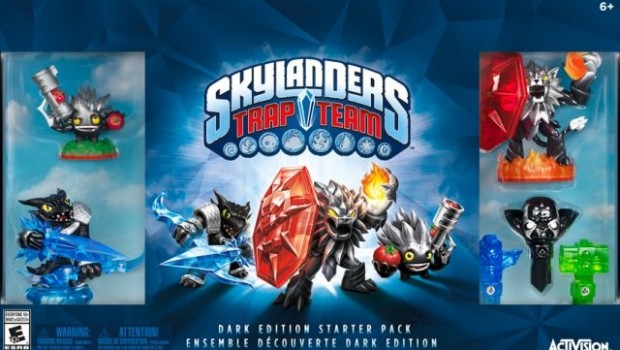 Published on October 3rd, 2014 | by admin
SKYLANDERS TRAP TEAM ARRIVES IN STORES TODAY ON CONSOLE AND TABLET
SYDNEY, Australia – Oct. 2, 2014 – Behold, Portal Masters! Activision Publishing, Inc., a wholly owned subsidiary of Activision Blizzard, Inc. (NASDAQ: ATVI) is pleased to announce that Skylanders Trap Team is officially available at major retailers nationwide today on Xbox 360™ and Xbox One™ video game and entertainment systems from Microsoft, PlayStation® 3 and PlayStation® 4 computer entertainment systems, Nintendo's Wii™ system, Nintendo's Wii U™ system, and a completely unique adventure available on the Nintendo 3DS™ hand-held system.  Today's launch of Skylanders Trap Team also ushers in the complete console gaming experience on Tablet[1], introducing a Starter Pack that supports iPad®, Kindle Fire and Android tablets.
The latest installment of the franchise that pioneered the Toys-to-Life genre is already poised to become one of the top family games this summer. "The Skylanders® franchise was built on a foundation of creativity and innovation," said Eric Hirshberg, CEO of Activision Publishing. "And with Skylanders Trap Team, we're taking that that tradition of innovation to new heights. For the last three years we've allowed kids to bring their toys to life in a video game, and this year, we're letting them reach into the game, and pull characters out into the physical world by letting players trap and play as the villains. Skylanders Trap Team is also the first console game to simultaneously bring the entire AAA experience to tablet devices. Overall, we think Skylanders Trap Team represents our most magical innovations yet. But most importantly, it's just a great game."
Skylanders continues to lead and evolve the category with Skylanders Trap Team by letting fans seek out and defeat the most wanted villains in all of Skylands, pull them out of the game and into living rooms by capturing them in magical Traps. Once they've defeated the villains, players will be able to place a Trap into the new Traptanium PortalTM to capture them. Players can then send villains back into the game where they can play as them to fight for good, reversing the magic. They will also be able to hear the villains inside the Traps, an innovation that truly brings life to toys.
Skylanders Trap Team introduces heroes known as Trap Masters that wield powerful TraptaniumTM weapons used to defeat Skylands' most notorious villains, as well as brand new Core Skylanders characters and reposed fan-favorite Skylanders characters.
Skylanders Trap Team is compatible with more than 175 unique toys from all previous games — Skylanders SWAP ForceTM, Skylanders GiantsTM and Skylanders Spyro's Adventure® — every character also will be able to defeat and trap villains, providing fans more ways to enjoy their collections.
[1] Graphics quality may vary due to device limitations