Games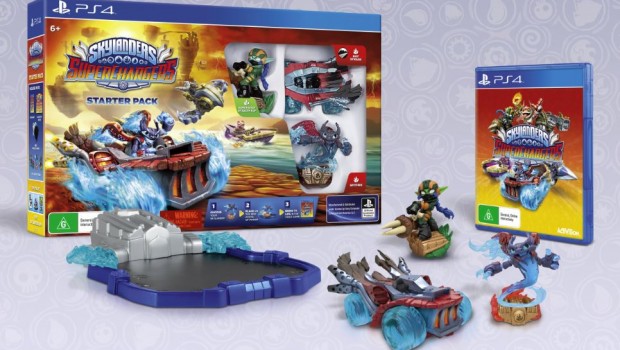 Published on December 7th, 2015 | by admin
Skylanders SuperChargers Release High-Octane Christmas Carol
Taking a break from fighting Kaos' evil army, the Skylanders SuperChargers have released their very own Christmas Carol, accompanied by a festive fuelled sing-a-long video. Join the SuperChargers as they celebrate this most wondrous time of the year, before they get back to doing what they do best, battling Kaos and saving Skylands.
If you're still stuck for Christmas gift ideas, then the Skylanders SuperChargers Starter Pack is ideal for any budding hero of Skylands.
Skylanders SuperChargers takes kids on a wild ride as they drive the mountainous terrains, dive the deep sea environments and fly the big blue skies of Skylands like never before, with amazingly detailed vehicles, many of which feature moving parts that will play in the real world and come to life in the game via the Portal of Power®. Packing some major star power, the game includes two of Nintendo's iconic characters reimagined as Skylanders – Turbo Charge Donkey Kong and Hammer Slam Bowser – available exclusively in Skylanders SuperChargers Starter Packs for the Wii U system, and in Skylanders® SuperChargers Racing Starter Packs for the Wii system and the Nintendo 3DS family of systems.
The Skylanders SuperChargers game experience is also now playable on Apple TV, iPad Air, iPad Air 2, iPad mini 2, iPad mini 3, iPad mini 4, iPad Pro, iPhone 5s, iPhone 6, iPhone 6 Plus, iPhone 6s, iPhone 6s Plus and iPod touch 6. Fans with iPhone 5/5C, iPad 4, iPad 3 and iPad mini can enjoy the full game, excluding online functionality. Voice chat and split screen is not supported on Apple devices.
RRPs are –
• $99.95 – Skylanders SuperChargers Starter Pack
• $99.95 – Skylanders SuperChargers Starter Pack for iPad, iPhone, iPod touch
• $99.95 – Skylanders SuperChargers Racing Starter Pack for Wii
• $89.95 – Skylanders SuperChargers Racing Starter Pack for 3DS
• $119.95 – Skylanders SuperChargers Dark Edition Starter Pack
• $69.95 – Digital Portal Owners Pack
• $19.95 – Individual vehicles toys
• $17.95 – Individual SuperChargers character toys
• $24.95 – Eon's Elite
• $29.95 – Dual Packs
• $39.95 – Skylanders SuperChargers Racing Action Packs