Games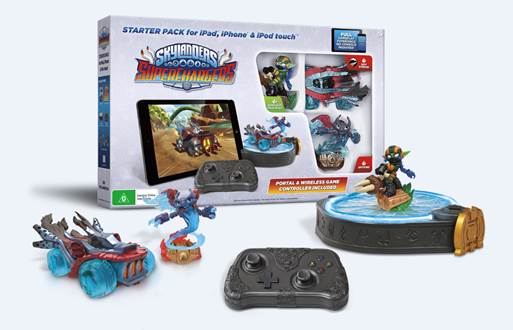 Published on November 10th, 2015 | by admin
Skylanders SuperChargers launches on iPhone, iPod touch, iPad and Apple TV
Sydney, Australia – November 9, 2015 – Activision Publishing, Inc., a wholly owned subsidiary of Activision Blizzard, Inc. (NASDAQ: ATVI), announced today that Skylanders®, the pioneers of the toys-to-life category, will further the company's leadership in the mobile arena with Skylanders SuperChargers' launch on iPhone, iPod touch, iPad and Apple TV.  The Skylanders SuperChargers AAA game experience with console-quality graphics* is now available for compatible iPad, and for the first time ever, select iPhone and iPod touch devices, as well as the new Apple TV. The Skylanders SuperChargers Starter Pack for iPhone, iPod touch, iPad and Apple TV is now available in Australia/New Zealand.
Developed by Vicarious Visions, Skylanders SuperChargers for iPhone, iPod touch, iPad and Apple TV presents even more value to fans with a new save feature using iCloud, offering seamless continuity across the Apple ecosystem. Players can simply log into their iCloud account, and the game will save its progress to iCloud automatically.  Now, fans can enjoy Skylanders SuperChargers with ease and flexibility, starting the game in their bedrooms on the iPad or iPod touch, picking it up where they left off in the living room on the Apple TV and then taking it on the road in the backseat of the family car on their iPhone.
For the first time, Portal Masters can compete in four-person online multiplayer racing or two-person co-op adventure between devices through Apple's Game Center. Players on Apple TV can also engage with others online who are on iPad, iPhone or iPod touch.
"Last year, fans loved how they could play the same incredible game on iPad as on other platforms. This year we are giving Portal Masters even more ways to play their favourite game as we expand Skylanders SuperChargers to Apple TV, iPhone and iPod touch," said Josh Taub, senior vice president of product management for Skylanders at Activision. "Fans are able to play Skylanders SuperChargers on the compatible Apple platform of their choice, whenever and wherever they want."
The Skylanders SuperChargers Starter Pack for iPhone, iPod touch, iPad and Apple TV includes everything necessary for fans to play Skylanders SuperChargers out of the box, complete with exciting racetracks and captivating environments that push the technological and visual boundaries of gaming. The Starter Pack comes with the AAA game, the Portal of Power® with embedded Bluetooth® controller, a built-in stand, two Skylanders SuperChargers characters and a Skylanders SuperChargers vehicle.
Additionally, fans can play digitally without the Starter Pack contents. When playing digitally, they get for free two SuperCharger characters, Instant Spit Fire and Instant Hot Streak, upon download of the app, while in-app purchases unlock digital versions of unique characters and vehicles from Skylanders SuperChargers.  Portal owners can download the app for free, play the first level and purchase the full game digitally.
"Skylanders took the toys-to-life industry one step further when they brought their game to iPad last year," says Laurie Schacht, co-publisher of The Toy Insider. "By bringing this year's game to Apple TV, iPhone, iPad and iPod touch, Activision is enabling fans to play Skylanders SuperChargers in a truly compelling way on the platforms they're on. This is the kind of magic we've seen consistently from the franchise since Skylanders created a brand new way for kids to play with their toys."
Skylanders SuperChargers can be played in a variety of ways:
o   Skylanders Game Controller — Fans can play the game just like the console version using the Bluetooth® portal and toys with the custom Bluetooth® Skylanders game controller included in the Skylanders SuperChargers Starter Pack.
o   MFi Extended Game Controller — An MFi Extended Game controller can be used for iPhone, iPod touch, iPad and Apple TV – a great option for multiplayer.
o   Apple TV Siri Remote — For the Apple TV, when players purchase the Starter Pack, Player 1 can use the Skylanders Game Controller and Player 2 can join in using the Siri Remote for great co-op action. The Apple TV Siri Remote also can be used by players who download the game and experience the first level for free, or by players who buy the full digital version of the game through the In-App Purchase.
o   Touch Controls — For iPhone, iPod touch and iPad, players have the option to use just on-screen touch controls.
Skylanders SuperChargers expands upon the franchise's signature gameplay to introduce vehicles-to-life, an entirely new way for fans to experience the magic of Skylands. The trailblazing innovation of Skylanders SuperChargers is realized when gamers take the helm of powerful, tricked-out land, sea and sky vehicles that are playable in both the physical and digital worlds in a high octane action-adventure videogame.
Skylanders SuperChargers offers a rich story-driven gameplay experience filled with vehicle-based and on-foot adventures, combat, puzzles, mini games, activities and platforming, set within a variety of all-new compelling environments. The game features a brand-new class of heroes that is distinct with fresh moves, powerful attacks and all-new weapons.  Additionally, Skylanders SuperChargers for iPhone, iPod touch, iPad and Apple TV is forward compatible with more than 300 toys from all previous games.