Games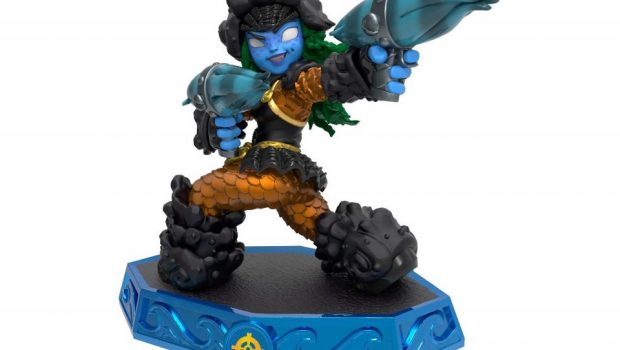 Published on June 23rd, 2017 | by Admin
Skylanders Imaginators Wave 5 Characters Available Now
Activision Publishing is excited to announce the latest Sensei additions to the Skylanders Imaginators collection, Blaster-Tron and Tidepool! Control the latest robotic technology from a distant future with Blaster-Tron or master the depths and shadows of the ocean with Tidepool as Imaginators continue their fast-paced and chaotic combat in the vast and colourful world of Skylands.
Players can also embark on an epic new adventure with the "Lost Imaginite Mines Level Pack" that contains;
A new Sensei, Master Ro-Bow (Tech Element and a Master of the Bowslinger Battle Class)
A Magic Creation Crystal
An exclusive Imaginite Mystery Chest

Expand your gameplay experience and open the Lost Imaginate Mines to experience new adventures and challenges to conquer.
Blaster-Tron and Tidepool (RRP $16.95 AUD) and the Lost Imaginite Mines Level Pack (RRP $39.95 AUD) are available now from Big W and Target.
Blaster-Tron
Blaster-Tron isn't just state-of-the-art technology; he literally is from the future.  When the Skylanders traveled forward in time to stop Wolfgang, they ended up bringing back the renegade robot with hopes that they could learn from his advanced circuitry.  Eon immediately noticed that he had an actual "Good/Evil" switch that had been set to Evil.  After flipping it to Good, Blaster-Tron was completely transformed.  Besides going from bad robot to good robot, he ditched his blaster gun in exchange for a laser sword.  No one knew exactly why, but as long as he was helping out the cause of justice, the Skylanders were happy.  As a bonus, Master Eon noticed that his skill with the blade was second to none, and so he made Blaster-Tron a Sensei for the Knight Class, where he now gives 110% to training his students – which is technically possible because in the future, we figure out how to give more than 100%.
Tidepool
Long before she became a Sensei, Tidepool was an undercover agent for a top secret organization known as the Aqua Marines.  However, one day she was betrayed by her superiors, who were part of an even more top secret organization intent on destroying Skylands.  Using her spy training, Tidepool made it her personal mission to seek out every member of this evil shadow group and bring them to justice.  This did not go unnoticed by Master Eon, who felt that someone of her caliber would be perfect to train new Skylanders as a Sensei of the Gunslinger class.  However, Tidepool was not easily convinced that she could even trust Eon and the Skylanders after being deceived by her last organization.  To earn her trust, she requested that everyone pass a truth test that she would conduct.  Thankfully, all of the members of the Skylanders Academy passed with flying colors… except for Flynn, who insisted that he was 50% Mabu and 50% enchilada sauce.  Tidepool felt that he was 100% meathead.