Games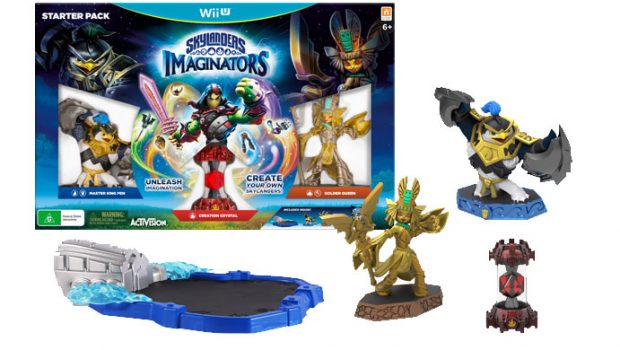 Published on October 13th, 2016 | by Admin
Skylanders Imaginators On Store Shelves Now
SYDNEY, Australia. – Oct. 13, 2016 –  Ready, Set, Create! Skylanders® Imaginators is now available at major retailers worldwide from Activision Publishing, Inc., a wholly owned subsidiary of Activision Blizzard, Inc. (NASDAQ: ATVI). For the first time, Portal Masters can create their own Skylanders, designing the wildest Skylanders imaginable including customising appearance, powers, abilities, names, catchphrases, musical themes and much more. Fans will also enjoy Crash Bandicoot and Dr. Neo Cortex as guest star Skylanders, as well as a new mobile app Skylanders™ Creator and the upcoming Netflix original series, Skylanders Academy.
Developed by Toys For Bob, Skylanders Imaginators empowers players to unleash their imaginations and bring their creations to life in an all-new adventure with puzzles, battles, a compelling storyline and new line-up of heroes and villains.  As part of the Creation Celebration, fans who purchase a Skylanders Imaginators Starter Pack at selected retailers nationwide will receive a fully-playable Kaos toy for free.  Offer while stocks last.
"This year, we're letting fans create the magic of Skylanders by giving them the power to express their imaginations in ways never before possible," said Josh Taub, senior vice president, Skylanders at Activision Publishing. "Skylanders encompasses an award-winning videogame franchise, top toy property and now a new television series Skylanders Academy from Netflix. We're proud that we've created a beloved franchise that has touched fans lives worldwide in so many ways."
The launch of Skylanders Imaginators also ushers in the release of a fun, new mobile app for the game Skylanders™ Creator that lets fans take their creations on the go!  Featuring similar creation tools available in the Skylanders Imaginators console game, players can create Imaginators from scratch or magically transfer their created characters from the console game to the app using special audio technology! The app helps fans to express their creativity and love for Skylanders. Players can simply download Skylanders Creator for free from select iOS and Android mobile devices' app stores.
For the first time in toys-to-life history, fans can immortalise their Skylanders Imaginator creations in physical forms using Skylanders Creator. Some fans can choose to have their creations transformed into Imaginator Cards emblazoned with full colour images of their created Skylanders and fully-playable in the Skylanders Imaginators console game. Fans also can create a customised Skylanders Imaginator T-shirt featuring an image of their very own creation. Availability of these items varies by territory, and not all features are available at game launch.
Skylanders Imaginators is sure to be at the top of kids' wishlists this season. Earlier this year, Skylanders Imaginators won the prestigious "Best Family Game" from the two top videogame tradeshows in the world:   Electronic Entertainment Expo (E3) and Gamescom. The game has also been named on the Toys"R"Us 2016 Hot Holiday Toy List; the Toy Insider's Hot 20 Holiday Toys List; and highlighted as one of Parents magazine's "2016 Best Toys."