Comics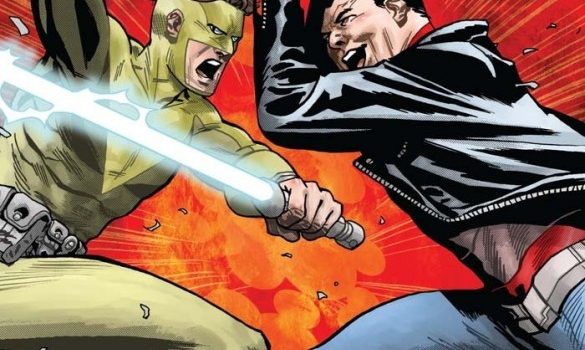 Published on August 18th, 2021 | by Kevin Mwenda
SkyBound X #4 Review
Sea Serpent's Heir: The Shadow in the Sea
Redneck: Appetite for Destruction
Summary: The third story is worth the read setting a solid introduction to Sea Serpent's Heir Book One.
Contain SPOILERS!!!
The Story
SkyBound X #4 starts after Andrea rescues and saves Rick using some alien nanites. "Rick Grimes: Chapter 4" continues the fight with Negan, who wields the powerful Lucille. The creators jump right into the action as Rick and Negan battle each other. Rick with a lightsaber like a weapon, and Negan using his beloved Lucille. Chaos is core to The Walking Dead's storyline as we see zombies finally getting into the Sanctuary. However, there is a twist as we see two of the zombies' kiss and combine to form one giant zombie monster. Like its predecessors, the chapter is well drawn and well balanced with the word bubbles showing what's hanging. And again, there is too much action and little explaining some of the developments happening in the panels. For example, how did Michonne and up in a robot suit?
From my own understanding, SkyBound X #4's second story "Excellence: Potential" seems to explain the war between magicians that changed the world. In the school setting, different kids compare their greatest heroes ever and concluding with the idea that they want to be like the heroes.
The third story "Sea Serpent's Heir: The Shadow in the Sea" is what captured my interest in the whole comic. The story occurs as a dream illustrating a small girl's journey to find her mother. In her search, she comes across various sea monsters, all dedicated to protecting her. The story in itself was catchy leaving the impression that there is something ancient locked insider her. The story is also complemented by great visual design depicting the little girl's dream world. I would like to see more and how her adventure unfolds when Sea Serpent's Heir Book One releases.
There isn't much to say about the fourth "Redneck: Appetite for Destruction", it tells the story of a vampire junkie who used to feed on junkies just after they had gotten their high. As a result, the vampire got hooked on feeding on drugged junkies. The story ends abruptly leaving the reader with a sense of incompleteness rather than suspense.
Final thoughts
I feel that the quality of the SkyBound X series has continued to degrade with each consequent release. The only story that stands out in issue four is the little girl's adventure coupled with its artwork. There is little story exploration in Rick Grimes 2000, and a story that feels incomplete in Appetite for Destruction.
Comic Information
Release Date: July 28, 2021
Publisher: Image Comics
Writers: Mairghread Scott, Donny Cates, Brandon Thomas, Robert Kirkman
Artists: Pablo Tunica, Lisandro Estherren, Khary Randolph, Ryan Ottley
Covers: Charlie Adlard, Khary Randolph, Pablo Tunica