Comics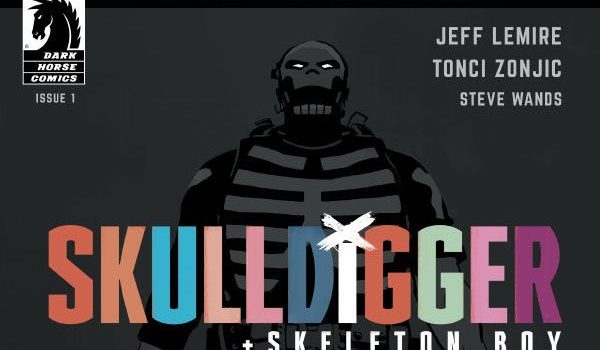 Published on December 11th, 2019 | by Tim Chuma
SKULLDIGGER AND SKELETON BOY: FROM THE WORLD OF BLACK HAMMER #1 (2019) Review
Summary: The Skulldigger and Skeleton Boy origin story. How will things work out?
A young boy recounts how his parents are murdered by a random street thug, only to have Skulldigger turn up and deal out vigilante justice to the perpetrator. While being interviewed by the police afterwards the investigator tries to get the boy to finger Skulldigger as the one who killed his parents but he does not say anything. Across town in a secure mental health facility Grimjim is enjoying is captivity, but plans to escape that night. How are all these characters connected? This will come in due time.
I swear this is almost the exact same origin story as Batman with Spiral City standing in for Gotham. Skulldigger is not a billionaire and the boy is a ward of the state. Most importantly the police are not on the side of the protagonist for once and there is a political background of the candidate for mayor coming out as being a caped hero in his past.
The dialog is very hard bitten and I would not recommend this title to younger readers given some of the violence and themes involved "Look away now son".
While this is pitched as an alternative to other superhero stories, it does seem to have a lot in common. With the success of the series "The Boys" I believe there will be a lot more of these sorts of stories exploring the shades of grey in the vigilante areas of the law.
Nice art style and interesting layout with the story and it does match up to the promise of the cover.
I would recommend this one if you are into superheroes and crime fiction and want something a bit more hardcore.
Comic details:
Writer: Jeff Lemire
Artist: Tonci Zonjic
Colorist: Dave Stewart
Cover Artist: Tonci Zonjic