Hardware
Published on January 5th, 2022 | by Scott De Lacy
Skullcandy Grind Wireless Earbuds Review
What many wouldn't give, to just drown out the sounds of 2021, without cables or the hassle of worrying about battery life or whether their audio device was compatible with their phone, tablet or computer. The Skullcandy Grind might just be one of the best way's to escape.
We got an advanced release of the Skullcandy Grind, model S2GTW, which will be available in stores soon.
Full specifications have not been shown on the Skullcandy website, but you can gleam some of the technical details from the current lineup.
The S2GTW weighs in at around 64g including the charging case.
Sporting the latest Bluetooth 5 specification and would likely be similar to in audio driver spec to the Grind Fuel variant.
Features
Let's breakdown of the features and what they actually mean for you.
Skull-iQ Smart Feature Technology
This isn't just marketing wank! Skullcandy have implemented voice activation that is fully independent of the device. Meaning it wont matter if you are using an Android, iOS device, or even if you are offline. Voice activation simply just works. And yes, its Australian accent friendly!
Over-the-Air Updates
Update earbuds via the Skullcandy App to add new features for enhanced functionality and added value.
This actually is the case, witnessed first hand. Quick and painless and all automatic.
Premium Audio Quality
Experience supreme sound thanks to expertly-tuned acoustic drivers, dual noise-reducing microphones for natural and clear call quality and a noise-isolating fit
If correctly fitted with the right size inserts, then you will truly have a noise reduction experience.
Up to 40 Hours of Battery Life
Listen longer with 9 hours of battery life in the earbuds and 31 hours in the charging case
USB-C Rapid Charging Case
For 10 minutes spent in the case, receive 2 hours of battery life
True Wireless via Bluetooth® 5.2
This simply means that there are no wires! Of course it also means that it uses True Wireless Technology, with Bluetooth 5.2.
Auto On/Connect
Enjoy automatic turn on and pairing with the last device used.
This is spot on automatic connection. The only way this fails, is if you turn Bluetooth off on your device!
IP55 Sweat and Water Resistance
Go on any adventure without missing a beat
This means that the S2GTW has been designed, built and certified against IP55 standards. Meaning it can resist entry of dust into the casing, and has been tested under a water spray test, which has shown that operation still continued.
In simple terms, standard humidity and a light bit of rain wont stop you from listening to music. But don't take them into the pool.
Built-in Tile™ Finding Technology
If an earbud is misplaced, simply 'ring' it from the Tile app.
Tile is a 3rd party app, that once install and agree to the terms and conditions (location data), you can use it to find the missing earbud. That is pretty cool when you think about it.
Unboxing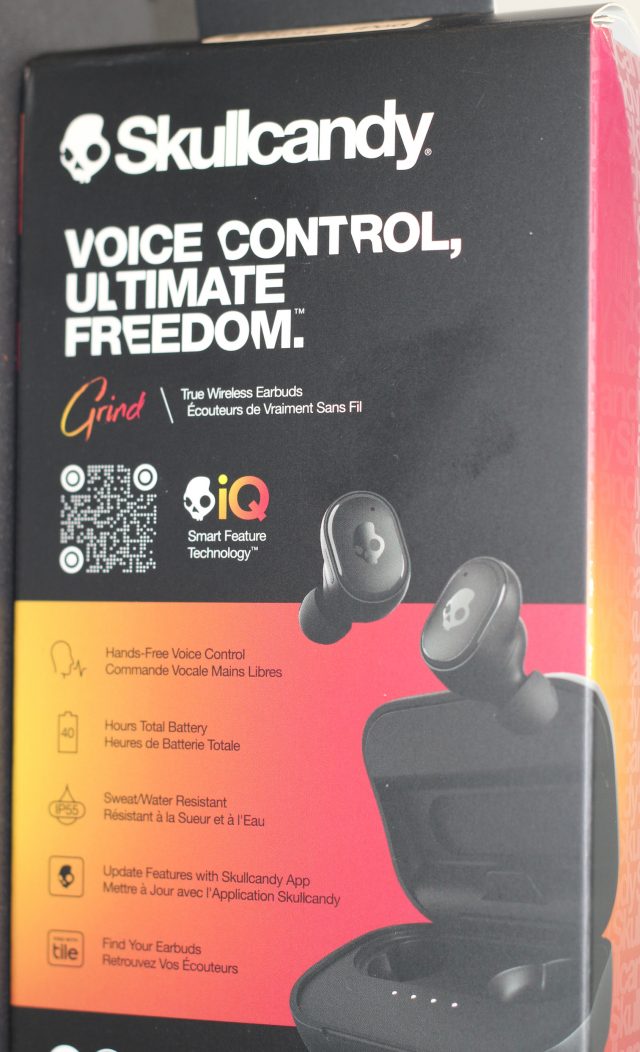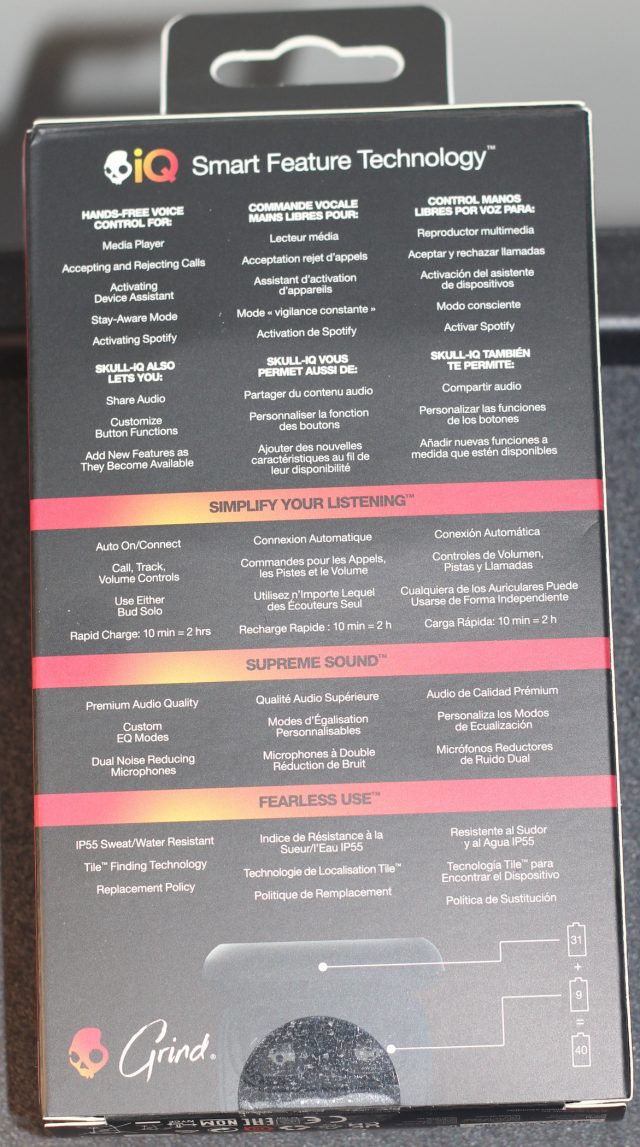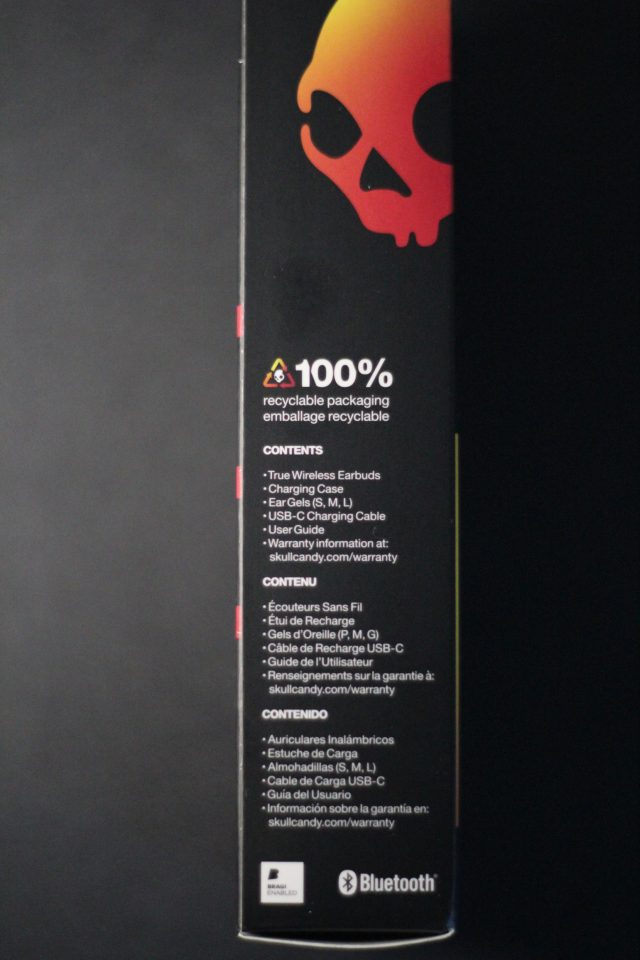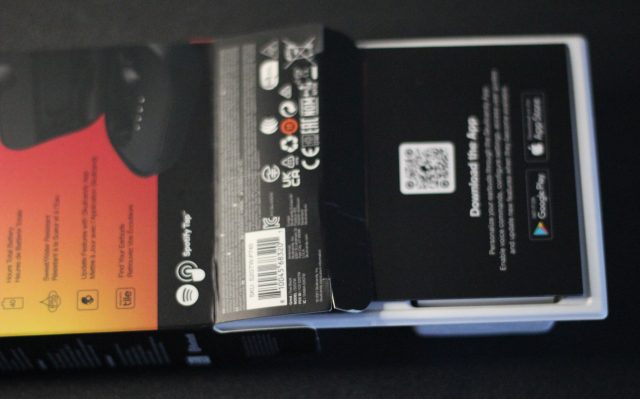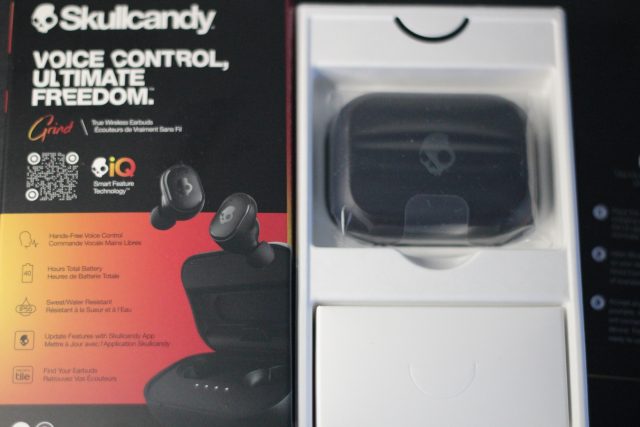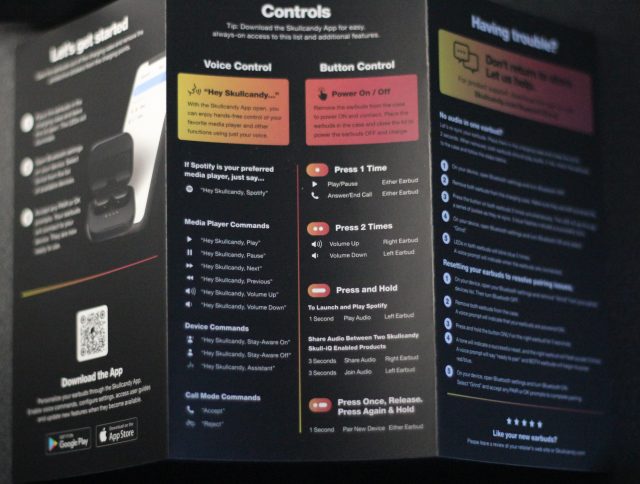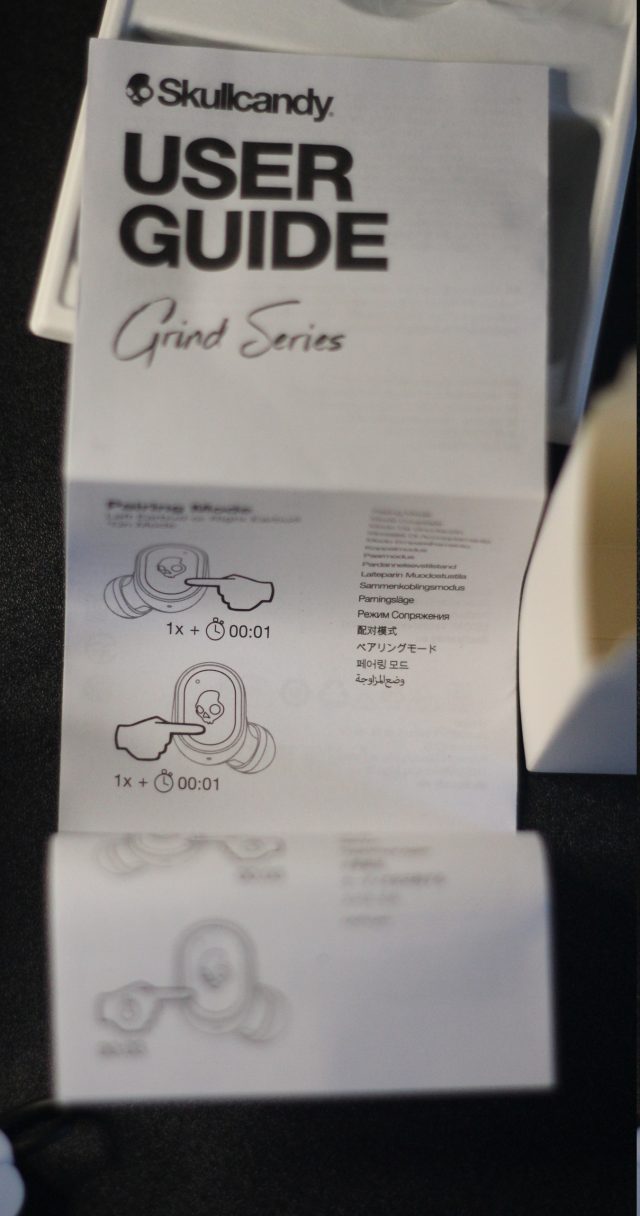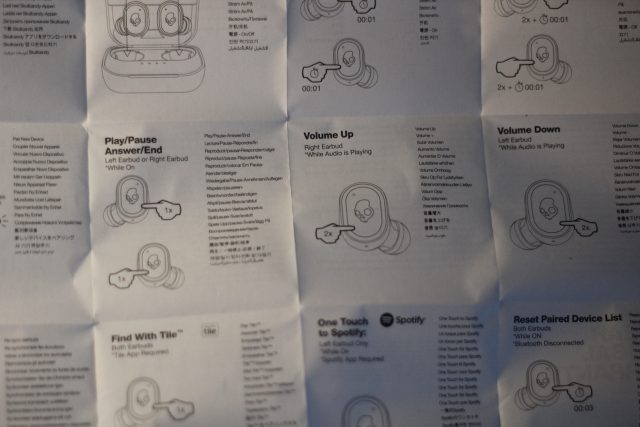 Included are small, medium and large ear inserts, a USB-A to USB-C cable, the quick-start guide, and a full comprehensive guide in multiple languages.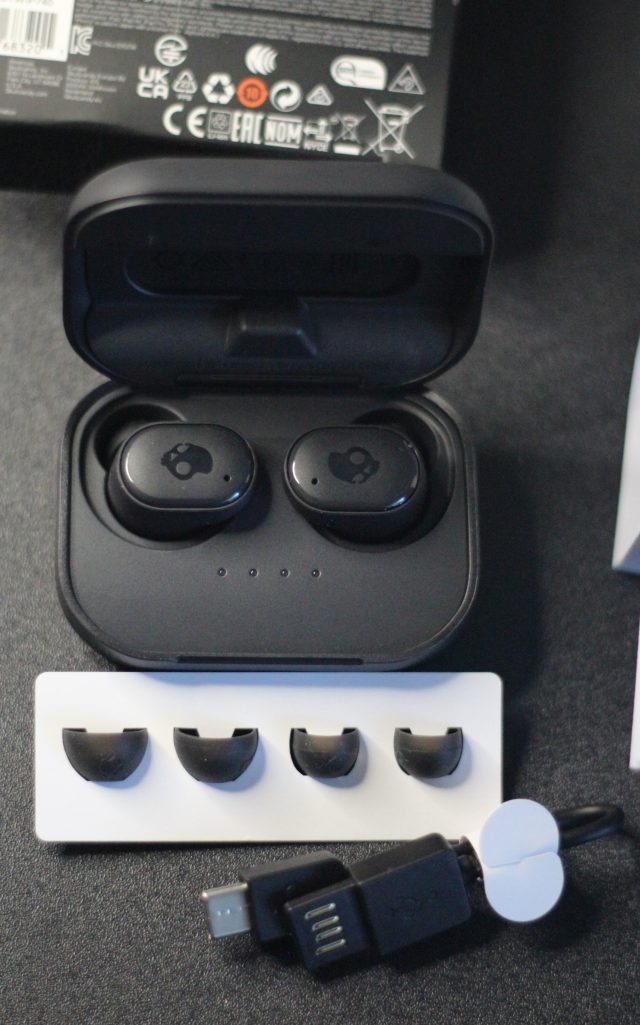 Installing the App
The quick start guide provides a QR code that will jump you straight to the app and in turn the Play Store or iTunes store. It is a little disconcerting to see such a negative trend of reviews for the app, where the most notable criticism is the need to agree to sharing your location.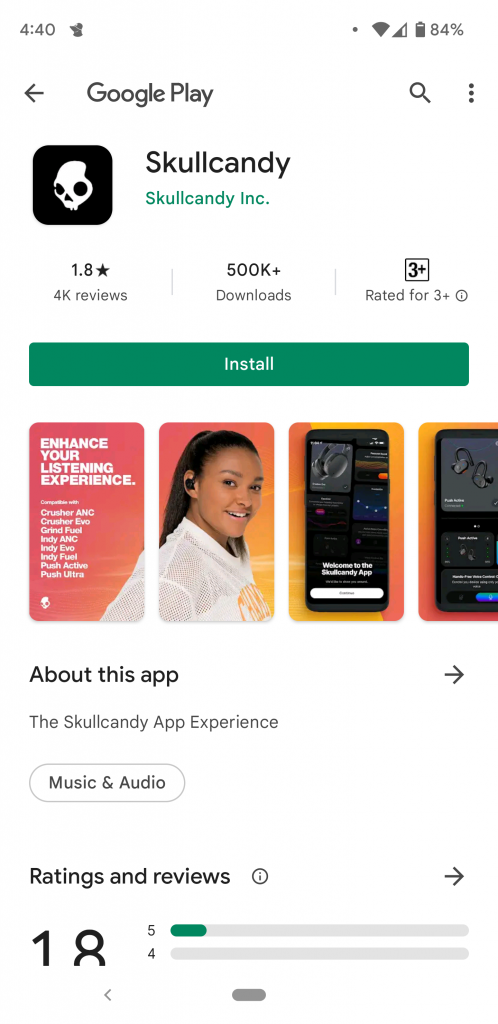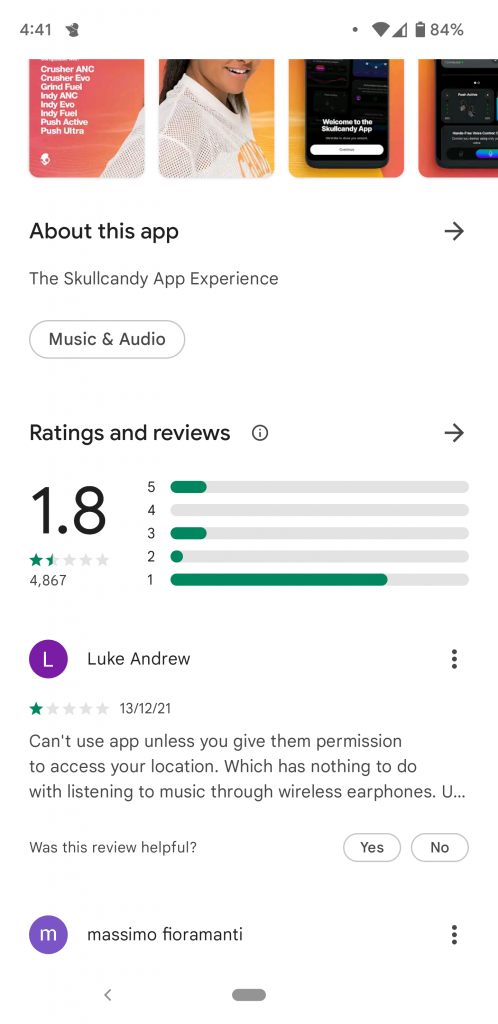 Once installed, the application is quick to find and pair the Skullcandy.
Sure enough the permissions do require location to continue, however the legal write up assures us that you are not being tracked (by Skullcandy), so we press on!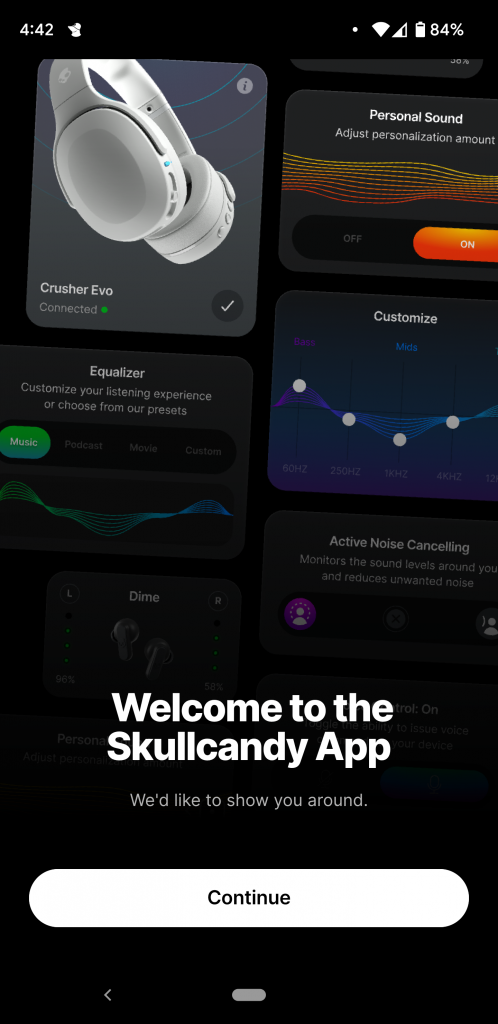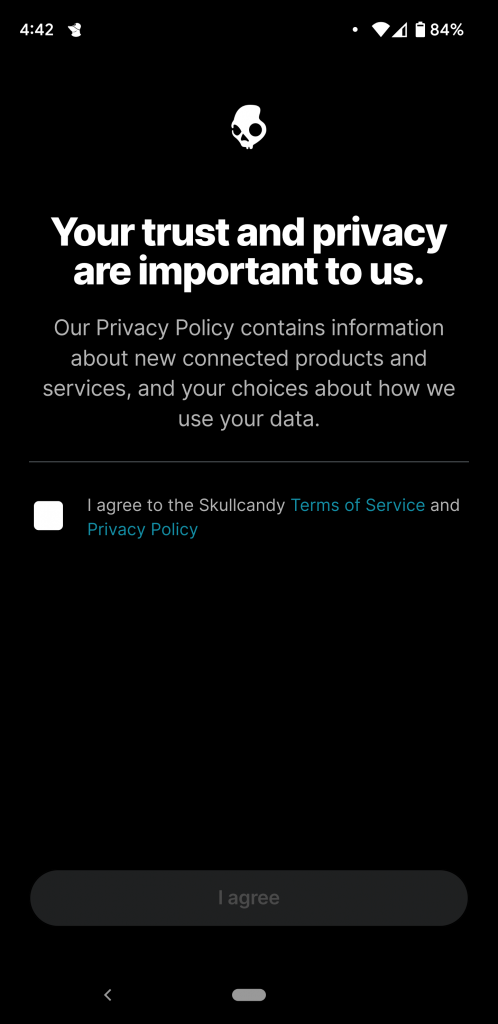 The Skullcandy app runs us through a guided introduction, highlighting various features and the inbuilt instruction guide.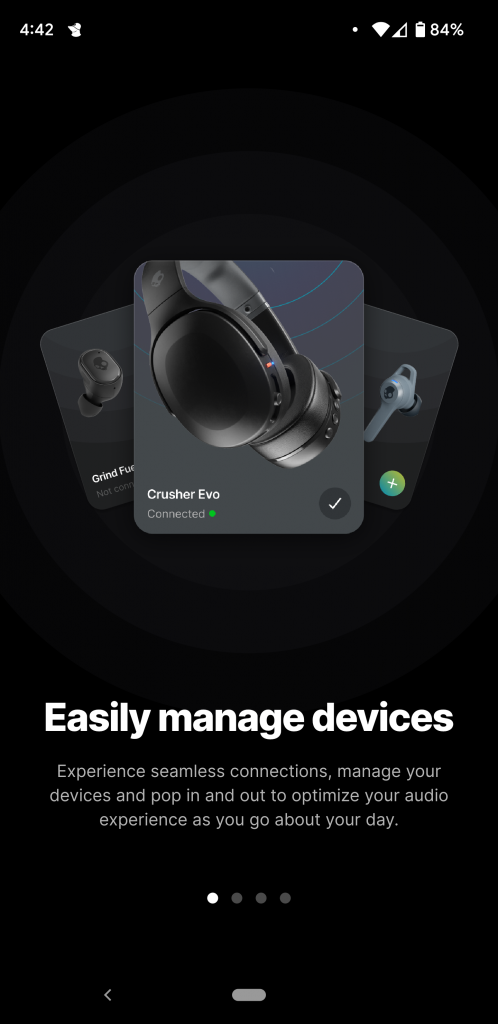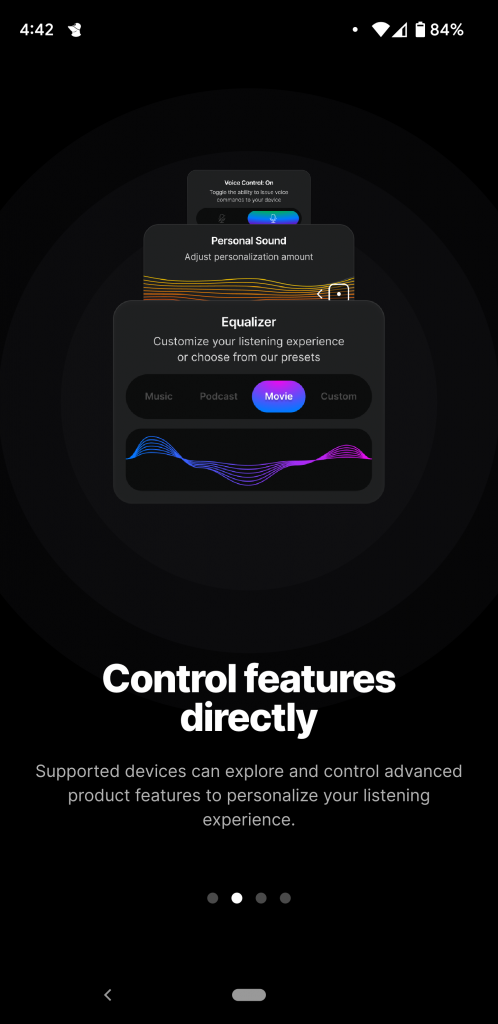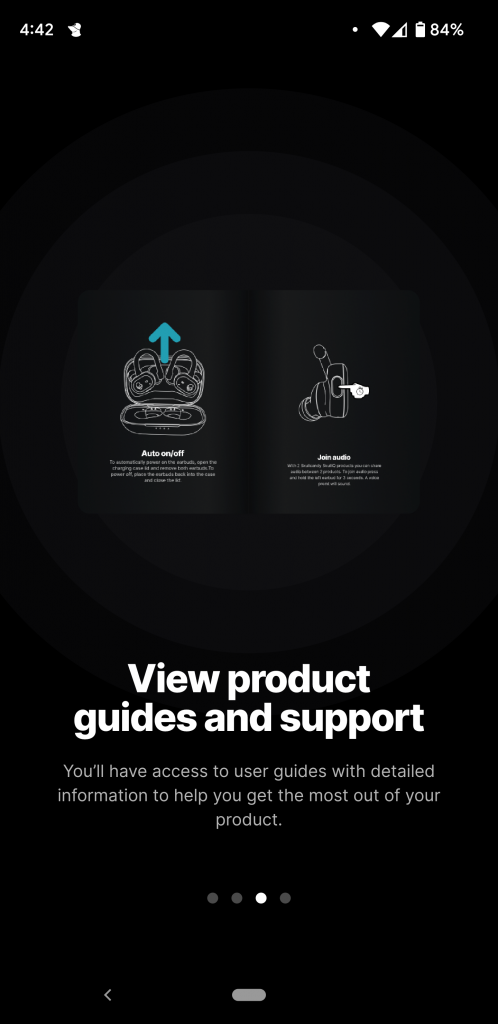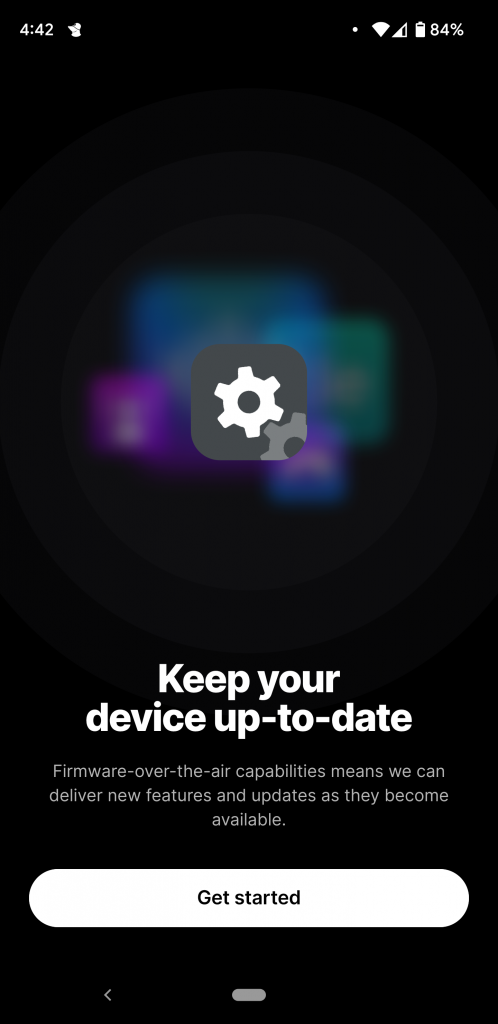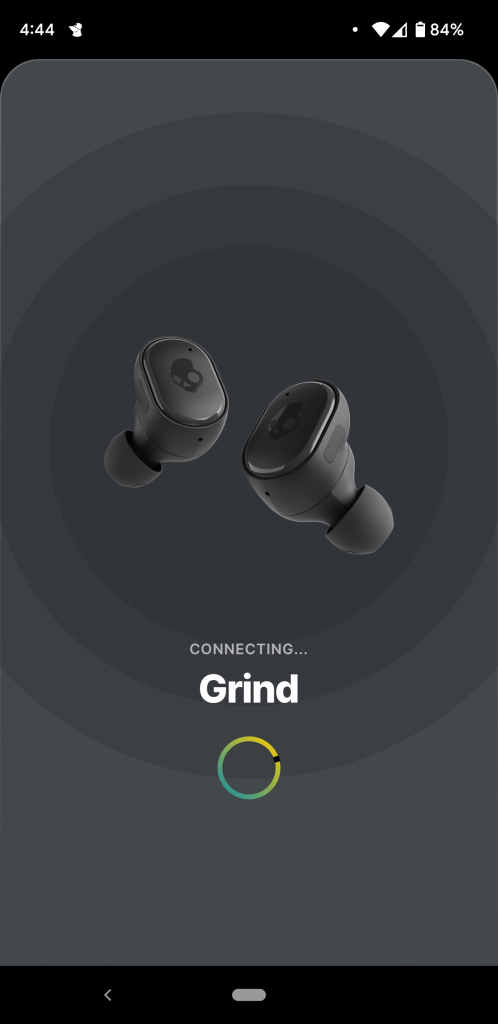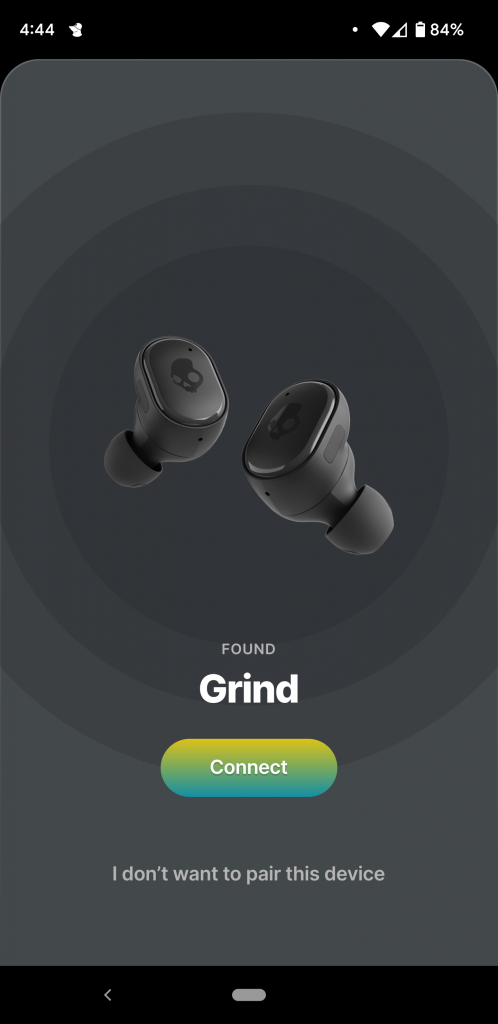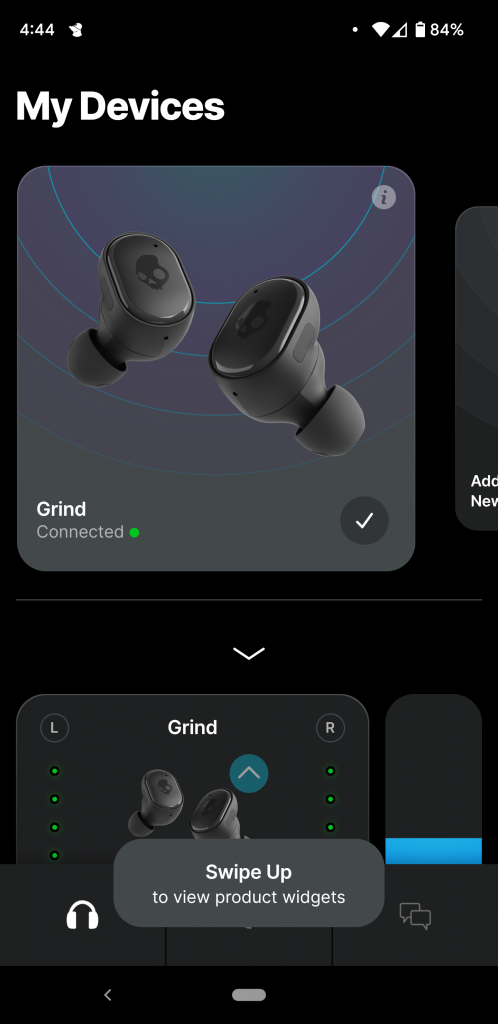 Once installed, the application guides you through the features, prompting you to click into each area.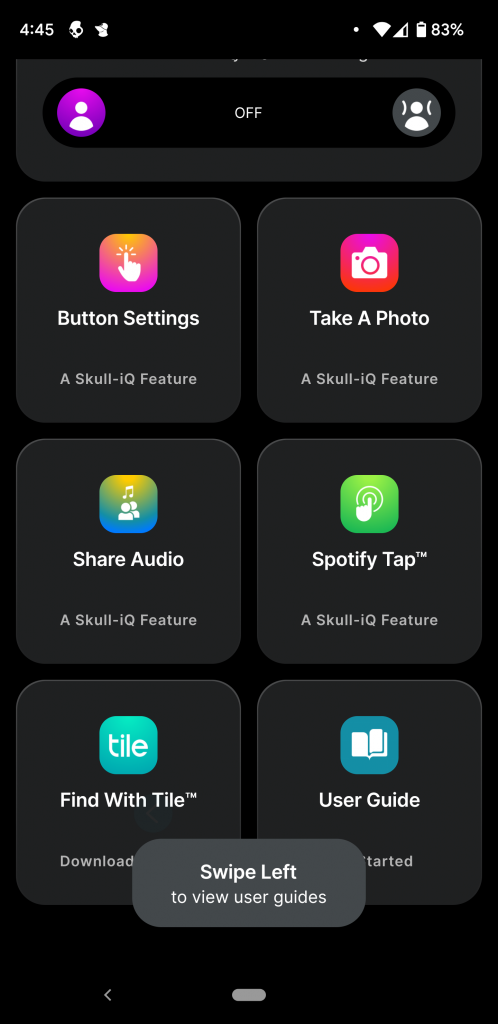 As you can see, there is a full comprehensive user guide included in the application.
Sound quality
It has to be said, the first impression of the sound quality involved the words, "Wholly shit!"
Imagine it, a YouTube video half played on the phone that had some background music in it. Then, putting on the Skullcandy and suddenly being transported into a 3D spatial sound environment with deep powerful, yet perfectly distanced bass and a nice mid tone cutting through on top.
This sound was a complete contrast to the phones speaker, which you wouldn't have known there was bass in the first place. It instantly added a different colouring and tone to the video. All this, is before you install the Skullcandy App.
The Skullcandy App, has four DSP settings that shape the EQ of the audio. Three of these settings are presets for Music, Podcast and Movie, with the fourth being programmable across five points between 60Hz to 12KHz.
The DSP is activated as soon as the app connects to the Skullcandy, so the EQ appears to stay "on" and set to the preset shown in the app. The EQ can dramatically shape the audio quality for good or bad in equal measure. It really depends on the type of music, movie, podcast or audio type you are listening to.
For this testing, the EQ did not provide enough resolution to customise the sound profile that makes it a good fit for an 'all-rounder' profile, and although at times the sound was astonishingly great (for hands-free), it often felt too harsh of an adjustment to the true audio.
Adjusting the EQ for an approximate classic V also did not yield pleasing results in a few songs. Since the EQ seems to stay on, the preference for some may be to enforce a flat-line EQ and allow their favourite music player to provide a more comprehensive dynamic range.
And finally, we must mention delay. There is always the trade-off with Bluetooth audio, also known as Bluetooth Audio Lag, which will inherently introduce a small, yet measurable delay in the audio stream. During YouTube video playback, mostly with talking heads, a good delay of an estimated 20-100ms was noticed, or more precisely, about half to one syllable behind. Why is this? Well, the Bluetooth connection has to contend with signal, bandwidth and interference factors, as well as the overheads for creating a secure connection, in this case, to two devices. The audio must be packaged and sent via your device and decoded and played by the earpieces.
The Skullcandy voice controls & advanced app features and the performance of the phone as well as interference may all influence the perceived delay in a video. Disabling some of these features may reduce the delay significantly. Overall, the good news is that the Bluetooth Audio Lag was not excessive with the S2GTW. However, some things should be noted.
When testing with the Skullcandy app stopped and not running, there was the delay in talking heads on Youtube. When enabling the Skullcandy app and returning to the talking head videos, the delay is heavily reduced or not even noticeable (or existent), which is great. However, there were then audible pops and hard clicks. It is purely speculation at this point, but it would seem that the Skullcandy app may be syncing the audio, at the expense of dropping some data, which is audible as clicks and pops.
If this is the case, then Skullcandy will likely be able to smooth out the clicks and pops via an update. But it also means that they have effectively eliminated discernible audio lag. Incredible.
Phone calls
The audio quality on phone calls is great. The test call response to "How does it sound? Can you hear me fine?" was a resounding yes, it's fine. The voice commands during a call are disabled, so that you cannot inadvertently play music or disrupt your call.
Comfort
As Mahoney said to Hightower, comfort is important!
Comfort is such a personal thing with objects that are inserted into ones ears. Skullcandy provide Small, Medium and Large standard dome inserts and they are soft and supple.
Most people will find the medium size, which already come attached, as being the most suitable but if you are anything like this reviewer, you probably need an inbetween size of small and medium for a perfect fit. It is also not too uncommon for people to use one small/large and one medium or alternate depending on how your ears feel each day.
Picking the right size is not rocket science, but it does not hurt to understand the relationship between a good fit, comfort and how it affects the sound quality. There are plenty of resources on the internet.
During testing, the medium size tips were very snug and resulted in too much suction when pressing the buttons, which kind of hurt. Of course the small ones did not do this, but also felt a bit loose when moving the jaw. Given that you only get one pair of each size, you will need to consider purchasing replacement tips, because at some point they will get nasty and you will not want them anywhere near your ears.
The bulk of the Grind is offset away from the ears and don't at all rub up, press against or otherwise interfere with the ear, the weight is also comfortable.
In a nutshell, the comfort is solely down to correct fit and insertion; if this is right, then the Skullcandy Grind will be your best friend in your ear.
Usage and Experience
When taking the earbuds out of the case, and immediately inserting them into your ears, you will hear a pleasant female voice tell you the current battery life of the earpieces. This is such a professional and nice touch.
Enabling the voice activation, Stay-Aware function, or changing the EQ settings all provide an audible acknowledgement.
Using the buttons also have an audible confirmation or tone that is played so that you know what the button did. The non verbal sounds are perfectly done in such a way that that it is intuitive and immediately conveys an understanding of the function or interaction that just occurred.
Although heavily geared for Spotify, the Skullcandy IQ will happily pause and play your Plex video or music, YouTube, or VLC media player. It would seem that any app that Android knows is a media player, will likely work fine with Skullcandy.
You can play and pause with a click of a button, or a verbal command. It makes sense that if you are on the train to work, you perhaps don't want to be saying "hey Skullcandy" and draw attention to yourself.
In practice, the verbal instructions tend to require at least 3-5 seconds between delivery, otherwise they are not accepted, where as the buttons do respond a lot faster. No issues with accent or needing to repeat yourself, even with music playing loudly; Although the noise cancelling is so good you may not be sure you are actually speaking!
One of the understated features, that perhaps Skullcandy should market a lot more (hint hint) is the remote photo feature. Setting one of the spare custom button macros to the shutter button for your camera app, and being able to trigger a photo remotely simply by activating that button combo, is insanely useful. Sure enough, this feature works exactly as intended and immediately without delay.
Charging and Battery life
The specifications say it all! 39 hours of total battery life, are you freaking kidding me? By far this is the feature that has the most utility, well second to the actual hands free speakers itself of course.
Many solutions cannot compare to the level of battery life that the Skullcandy will provide. Consider that your average phone or tablet battery will not outlast the 9 hours of battery that the earbuds will have, let alone the additional 31 hours that case will provide.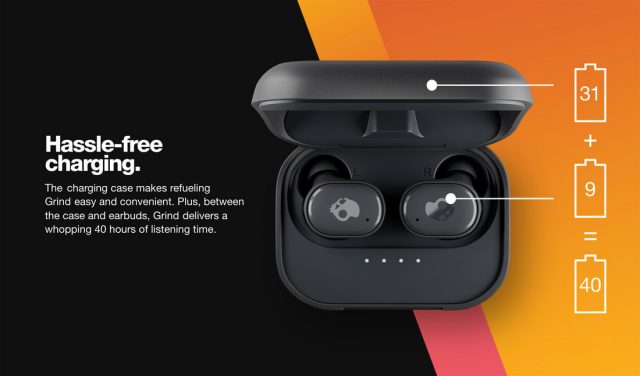 The case, which houses the main battery and charging station, sports a new USB-C connection, however the included cable was a USB-A to USB-C, which immediately came as a concern, because it begs the question, will the Skullcandy Grind not be "fast charge" compatible?
But all fears aside, fast charging is not only possible, it is indeed fast. After several days with these earbuds, listening to music, audio-books and watching YouTube videos, the charge of the case went down to 50% and was able to be charged back up within 45-60 minutes – accounting for some additional charging of the earbuds at the same time. The battery cell also does not overheat whilst charging, clocking in at 36 degrees on the IR sensor.
Simply put, battery life is exceptional.
Final thoughts
The Skullcandy Grind is impressive and comprehensive, with a stack of features that will actually work with any Android or iOS device.
Thinking about what people really want in a device, that ability to work anywhere, any time, with any device, is perhaps the number one priority for most people, aside from the core functions of audio of course. Going further, is the ability to use these features offline, without data. How many people out there use an old phone as their music player for the bike, train or plane trip, so as not to drain their phone battery? Well with the Grind, they can!
Breaking free of the Android or Apple ecosystem, being able to universally connect and control your device by speech, ultimately means that the Skullcandy can work and stay with you, even if you switch from Apple to Android. The Grind can be trusted to pause, play and enable Stay-Aware mode no matter what you are doing, and that is pretty cool.
The sound quality for music and calls is outstanding for such small drivers, and the battery life and charging system is great.
Most of all, the magnetic snap lock of the case is satisfying every time you open and close it, but when you return the earbuds to the case and the magnetic lock takes hold of them, there is a sheer moment of joy each time.
Although it is disappointing to only see one pair of each ear gels; the S2GTW is a standout performer and you should seriously consider it above other alternatives.
Want to nerd out completely? Take a look at the testing papers here and here!
Summary: This Skullcandy Grind wireless earbuds could quite possibly change your life. They are brilliant.