Hardware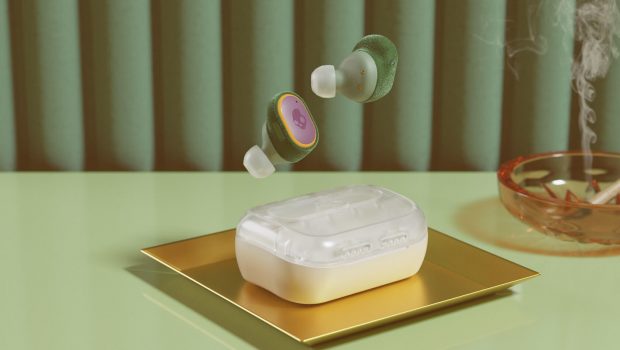 Published on May 9th, 2023 | by Tory Favro
Skullcandy Grind Haze Limited Edition Ear Buds Review
Summary: An affordable, powerful earbud celebrating 420 culture.
Once again, Skullcandy have come to the party with yet another amazing offering, when it comes to looking after your sonic experience! The latest, Grind Haze limited edition are yet another awesome collaboration done by the company that doesn't look as though it's going to slow down any time soon.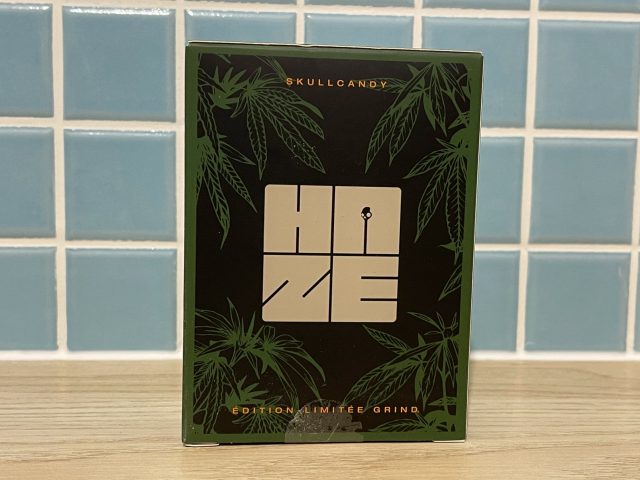 These buds are 420 inspired, and a surprisingly affordable, considering how jam-packed full of features they are.
First things first. The packaging looks sweet with its green and black colour scheme and bad leaves clearly visible all over. It's a very attractive, looking box and will be sure to catch eyes of collectors everywhere. Unpacking the product itself was actually a good bit of fun as the presentation is pretty darn sweet as you can see from my Unboxing photos.
Please bear in mind. I am a reviewer, not a photographer so these are genuine photos taken in my house as I did this! :-)
First, let's take a look at the colour scheme. You've got the green of course, purple, and orange. My first thought was that this would not work well together however they blend seamlessly creating an overall dope (no pun intended) looking product. The outer grain is actually material and does look a little bit fuzzy as you would expect from a bud. It makes the product easy to grip and the tips are exceedingly comfortable and you do have choices of course.
The case is a matted transparent lid with a beige underside. It looks neat and its design will stop any horrendous scratches from showing up. At least I hope so. LED lighting compliments the buds on each side and looks pretty cool.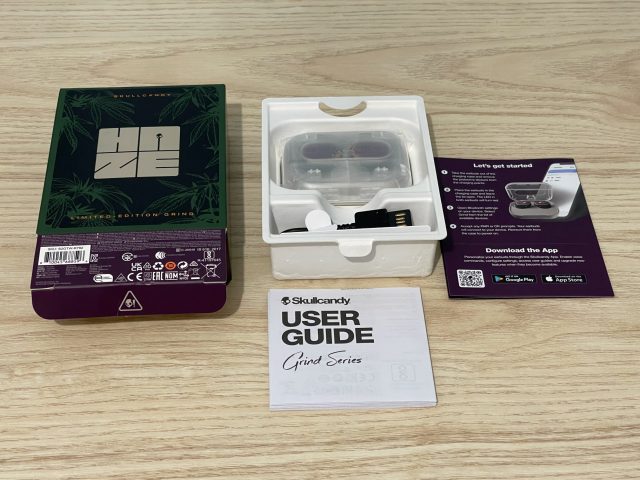 In terms of sound, Skullcandy have not dropped the ball one little bit and they sound as good as you would expect from a company that has really made its bones in this field. If you have not experienced Skullcandy earbuds before, make sure you play with the Skull IQ, which allows you to simply speak the commands to operate the buds as opposed to fiddling with your phone.
These headphones have been made with simplicity of operation in mind, and are a delight as you might expect. Add to that, the fact that they come with a comprehensive app to set it up just the way you want.
The battery life is amazing. Up to 40 hours as long as you remember to take the case along with you. Nine hours if you forget. Nine hours is amazing and should see you through an entire workday rocking on the way you like it. It also does feature a USB see rapid charging solution for 10 minutes charge two hours of battery life. For those of you who, like to exercise, these bad boys will put up with whatever moisture you like out and whatever this guy decides to throw at you. Don't throw yourself in a swimming pool with them on!
If you are like me and sometimes a bit clumsy with your stuff, there is a brilliant tile finding technology built in that you can use to find your missing bud by using the tile app to ring it. It is very effective and works a treat and saved my sanity more than once already during the testing process.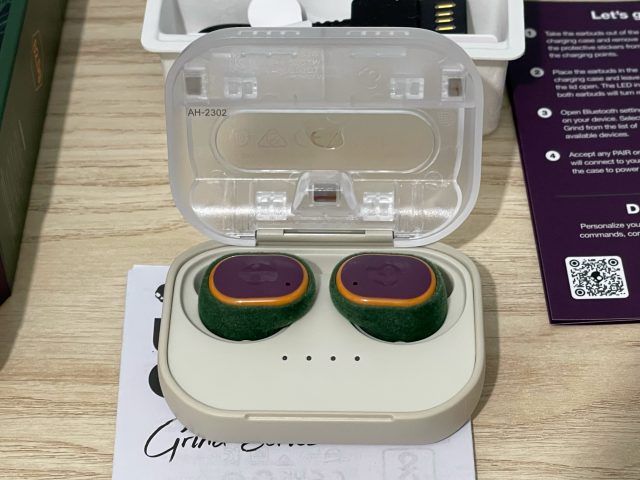 One thing I did like about these, considering they are not at the high-end expense wise is that they hold up beautifully when I was listening to bass heavy hip-hop, with no distortion at the high end of the volume range. They also did mid and high levels beautifully with no lag. I whole thing said and done, they are a great piece of kit to complement your music without breaking the bank. you can pick them up for about $179.95 which is amazing considering the bang for buck you get. The best thing is that with Skull IQ technology, these earbuds should improve as Skullcandy updates the technology in the background. I would recommend them as a fun and funky sonic accessory celebrating everyone's favourite herb.