Hardware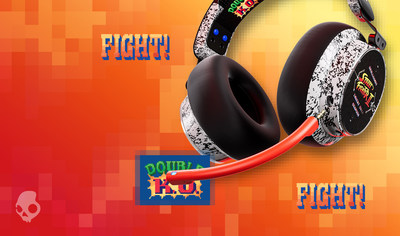 Published on November 4th, 2022 | by Adrian Gunning
SKULLCANDY CELEBRATES STREET FIGHTER 35th ANNIVERSARY WITH LIMITED-EDITION COLLABORATION
Skullcandy, the #1 selling brand in Stereo Headphones1 and True Wireless Earbuds2 under $100, announced today a collaboration with Street Fighter, one of the world's most iconic and best-selling gaming franchises. The Skullcandy x Street Fighter PLYR Multi-Platform Wireless Gaming Headset celebrates Street Fighter's 35th anniversary by blending state-of-the-art audio technology with the signature stylings of fan-favourite Street Fighter II. The limited-edition drop is available for preorder at skullcandy.com.au, for $249.95.
"For many gamers, there are few franchises more iconic than global powerhouse Street Fighter," said Derek Steiner, Director of Global Partnerships at Skullcandy. "In honour of the game's 35th anniversary, we re-designed our all-new flagship PLYR headset to ooze Street Fighter nostalgia. This exclusive drop gives gamers premium features and the immersive sound you can only get from Skullcandy — now, in signature Street Fighter style."
The limited-edition Skullcandy x Street Fighter PLYR headset is loaded with nods to the classic game. The stand-up arcade cabinet's unforgettable grey and black pebble texture is a clear staple, while custom ear cup illustrations are brought to life with a lenticular effect, resulting in low-tech, high-impact "motion graphics." Every detail — right down to the headband fasteners modelled after the original arcade action buttons — was considered.
Skullcandy x Street Fighter PLYR Multi-Platform Wireless Gaming Headset – $249.95 AUD:
Bluetooth 5.2 Wireless Technology – Enables enhanced power management and stronger connectivity to bluetooth-enabled media and gaming devices
Skullcandy Supreme Sound – Unique audio-tuning process enables users to maximise the depth and detail of each sound
Enhanced Sound Perception – A hearing test tunes audio levels to match user's unique hearing needs
Advanced Audio Controls via Skullcandy Software – Compatible with both mobile app and PC software to unlock advanced features and customise button functions
Clear Voice Smart Mic – AI-based technology removes unwanted background noise to enable crystal-clear communications
Mute & Volume Control – Easy-to-reach, on-board controls enable gamers to quickly mute and adjust volume without gameplay interference
Adjustable Suspension Headband – Reduces pressure on top of the head for true, all-day comfort
Up to 24 Hours of Battery Life + Rapid Charge – Headset will charge when connected to select gaming devices via USB-A to USB-C
Built-In Tile™ Finding Technology – If the headset is misplaced, simply 'ring' it from the Tile app
Skull-HQ Software – Available for both PC and Mobile App
Ultra-Low Latency Wireless Transmitter (sold separately) – Available early 2023, the wireless transmitter will enable low latency wireless connection to PlayStation console and PC.
For more information on Skullcandy's gaming collection visit skullcandy.com.au or follow the brand on Instagram and Facebook.