Games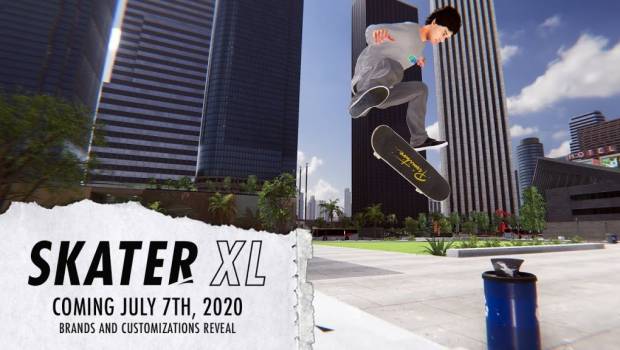 Published on May 6th, 2020 | by Adrian Gunning
SKATER XL COMING TO AUSSIE RETAILERS, 7TH JULY  2020
Easy Day Studios announced today that Skater XL, a game that delivers unparalleled access to skateboarding culture, will be launching on 7th July on PlayStation 4 and Xbox One at Australian retailers.
Easy Day Studios also announced that Skater XL will feature apparel, footwear, decks, wheels and more from top skate brands, including:
New Balance – Numeric Shoes and Apparel
Etnies – Footwear and Apparel
DC Shoes – Footwear and Apparel
Santa Cruz Skateboards – Decks
Vans – Shoes
Primitive – Decks and Apparel
Element – Decks and Apparel
Independent Truck Co. – Trucks and Apparel
Venture – Trucks
Thunder – Trucks
Spitfire – Wheels
Lakai – Footwear and Apparel
ẻS – Footwear and Apparel
Emerica – Footwear and Apparel
Grimple Stix – Decks
Sk8Mafia – Decks and Apparel
SOVRN – Decks and Apparel
Ricta – Wheels
Mob Grip – Grip tape
Bones – Wheels and Apparel
Crupie – Wheels
Grizzly – Grip tape and Apparel
Dickies – Apparel
Old Friends – Apparel
Transworld Skateboarding – Apparel
411VM – Apparel
The Nine Club – Apparel
Skater XL is the first skateboarding game to come to all major platforms in more than 10 years and offers complete physics-based gameplay with total freedom of control and expression. Play as skating icons Tiago Lemos, Evan Smith, Tom Asta or Brandon Westgate on your way to becoming a skateboarding pro or build your own character with unique characteristics and authentic gear from top skateboarding brands.
Create, combine and style tricks as you hit Downtown LA and other iconic California locations where street legends have left their mark. Dive into the digital skate subculture with more than 60 real skate spots connected by block after block of plazas, schools, pools, buildings, car parks and corridors. With a huge modding community that has created thousands of maps, digital skate ezines, personal highlight reels, in-game brands, and tournaments, Skater XL celebrates the creativity and dedication of the skate community.
Skater XL will launch on 7th July on PlayStation 4 and Xbox One at Australian retailers. More announcements will be coming soon for Skater XL – be sure to follow the game on Instagram and Twitter, "Like" us on Facebook, and visit the official website, SkaterXL.com.
Easy Day Studios was founded in 2018 by Australian app creator (Skater) and physicist Dain Hedgpeth, who is now based in Long Beach, California.