Games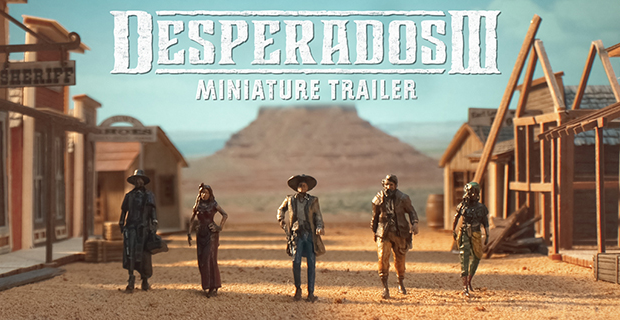 Published on June 7th, 2020 | by Adrian Gunning
Size DOES Matter: Check Out This Special Desperados III Miniatures Trailer
Actions speak more than words, so here is our trailer of real-life miniature action, staged in miniature landscapes, all 3d-printed and handcrafted, and shot on a single desk, which will morph into in-game gameplay.
In other words: Watch real-life and gameplay do the Tango!
Watch the Miniature Trailer: https://youtu.be/UjdpMwFHo_U
The Behind the Miniature-Feature: https://youtu.be/E9tQy7vxSiE
We have more interesting content available for Desperados III:
Watch the Collector's Edition trailer: https://youtu.be/x4fBnVaPvSc
Download the latest assets: http://n.thq.com/dGub30qwfMe
Free Demo available!
You can't wait to try Desperados III for yourself? Well, here is your chance: A free (PC) demo with one level from our story-driven, hardcore tactical stealth game is now available on GOG.com. Check it out and see, if Desperados III will be your favourite game of this summer, when it releases on June 16th 2020.
Get the demo here: https://www.gog.com/game/desperados_iii_demo
Developer Diaries
The series of developer diaries continues, and this time Mimimi Games is discussing innovation in episode number five. Every Wednesday, a new developer diary will be available on THQ Nordic's YouTube Channel. Here are all episodes so far:
Episode one: https://youtu.be/iWPETCElNQU
Episode two: https://youtu.be/iCFX1XbqRQM
Episode three: https://youtu.be/yyCvxz_lcRY
Episode four: https://youtu.be/aXyi0Zjm56M
Episode five: https://youtu.be/U3ezFpTaP4Y
Episode six:  https://youtu.be/XKZU3H22ul4
Desperados III is available for pre-order now on PC. For the early adopters: The Digital Deluxe Edition is available for pre-order for the price of the Standard Edition for a limited time! Make sure to shoot first, and ask questions later.
The physical side of things always gets some love from everyone here at THQ Nordic and has been up and running for quite some time. The Collector's Edition is available for pre-order now and comes in hot at an SRP of $199.95.

Check out our entire vendor's tray over at the pre-order website: https://desperadosgame.com/#order-here