Hardware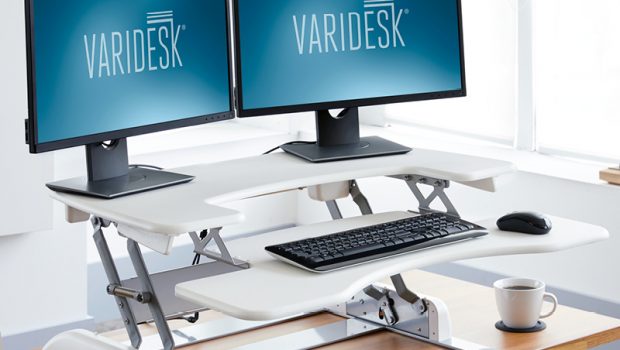 Published on June 25th, 2019 | by Admin
Sittingitis, The New Taboo
Despite numerous health warnings on the negative effects of prolonged sitting, people continue to sit too much. It is known that sitting too much increases the risk of obesity, diabetes, heart diseases, poor mental health and even certain cancers. 78% of office workers feel they sit too much, but only 41% of office workers actually stand for more than 30 minutes per day at work.
The term sittingitis is the new taboo, most people know they sit too much, but the majority do nothing about it. This may be down to work-placed habits and routine leading to sedentary repetition, or the lack of understanding on solutions to break the taboo.
There are a three steps that will help turn an inactive days into active days. These include:
Taking phone calls and meetings stood up. It not only gets your blood flowing faster, it increases your confidence and you'll actually get through the call quicker than taking it sat down.
Have a walk and eat lunch in the open air. Fresh air really picks you up, your step count will increase and that little walk back to the office will help your blood sugar decreases, reducing afternoon dips in energy.
Adopt a standing desk, using a standing desk has been proven to help reduce blood sugar, improve mental wellbeing and reduce the risk of cardiovascular, even more using standing desk for just 30 minutes per day ca reduce your body weight by a staggering 5.2lb per year. When you consider the average office worker gains 12lb on average, it's a good way to burn calories. In-fact if you rotated sitting and standing for a day, you'd burn an additional 50 calories per hour off when stood, so in 4 hours you'd burn off 200 calories, or an amazing 1,000 per week.
Leading the fight on Sittingitis is Varidesk, who offer a range of solutions for every office set up. Each desk come ready to use and needs no assembly, once more they offer a 30 day money back guarantee if you don't like the desk.
The best selling Varidesk Pro Plus 36 which costs $550, simply slots on top of existing desks, instantly converting a normal desk into a standing desk. With a simple and smooth action you'll be change from sitting to standing in under 3 seconds.
For offices with more space the popular Varidesk ProDesk 48 Electric  costing $1095 is stand-alone solution, with three programable height settings and available in a range of stylish finishes it will get you elevated in no time at all.
For more information and tips on how to create and embrace an active workplace visit AU.Varidesk.com