Comics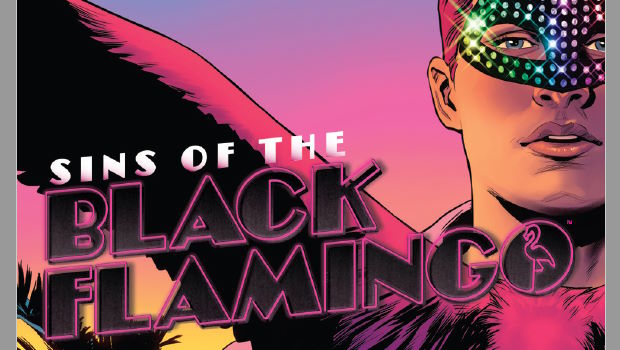 Published on April 17th, 2023 | by Chris O'Connor
Sins of the Black Flamingo TP Comic Review
Summary: Sebastian Harlow, known as the Black Flamingo, steals from the rich and corrupt... but his latest job might just lead him to something he wasn't expecting.
Sebastian Harlow is the Black Flamingo, a flamboyant, narcissistic thief who steals from Miami's wealthy and corrupt occult underground. It's all just a kick for Sebastian until his latest job leads him to something he wasn't expecting… something to believe in!
Writing
I imagine Andrew had a lot of fun writing Sins of the Black Flamingo because it's a lot of fun to read. You have a character who is larger than life… then throw him into situations that provide great opportunities for quips and suaveness. Then there are Sebastian's friends and acquaintances who have varied opinions of the Black Flamingo and his antics. There are some lovely hints that despite his flamboyant, partying attitude… deep down, Sebastian has a heart and in the right circumstances he will lead with his heart… sure all the other times it might be all about appearance and pleasure… but the good intents are there too. I do have a bit of a soft spot for his long suffering friend Ofelia too… her frustration with Sebastian's behaviour is clear but it's also clear that there is a bond there that is not easily broken… despite all apparent challenges to it. Before I get to the art… I love the "excuse" for the glittery mask.
Artwork
From the cover to the back page… stunning all the way. That cover image with the sparkly mask that you'd almost swear is glittering as you look at it… what a way to draw people in. It's not uncommon for covers to be far more detailed and striking than the panels within, understandably too as you want to catch potential readers attention but you also want to put your comic out in a reasonable span of time. In the case of Sins of the Black Flamingo… the art on the inside is the same as on the cover. The same clean crisp line work, the absolutely stunning colours that bring all the panels to life and imbue them with energy.
Final Thoughts
Sins of the Black Flamingo is a fabulous fun comic that provides something a bit different to the main stream and does so with style and arguably heart. Sebastian Harlow is a fantastic anti-hero… sure he rubs some people the wrong way, burns bridges, is mostly focused on himself… but given the right circumstances and he can really come through and do the right thing.
Grab a copy if you love a bit of occult action with theft and dance parties thrown in for good measure.
Publisher: Image Comics
Writer: Andrew Wheeler
Artist: Travis Moore, Tamra Bonvillain
Cover Artist: Travis Moore, Tamra Bonvillain
Genre: Occult, Crime, Humour
Format: 124pgs FC, TPG
Release Date: 19th April, 2023