Comics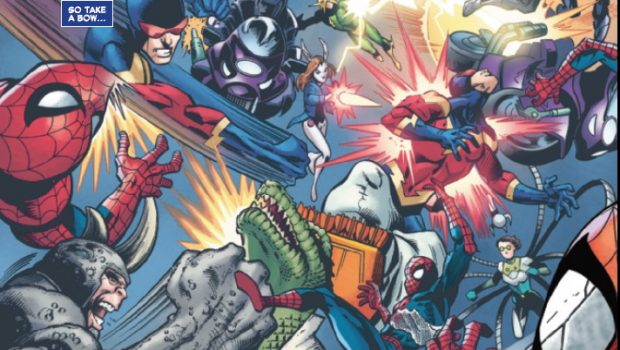 Published on September 5th, 2021 | by Tim Chuma
Sinister War #4 (2021) Review
Summary: Maybe not the best place to come into this storyline but you can still follow it. One for Spiderman fans as you get to see a lot of the bad guys he fought in the one place.
Kindred has taken control of the Sinister Sixes and now all 36 of them are trying to fight Spiderman at the same time. This fight has been going on for some time and this is meant to be the end of it. When Doctor Octopus finds a way to through off the mind control of Kindred he gives Spiderman an out go track down Kindred.
This is another one where it is best if you have read the previous ones in the story, but coming into it from this part it is mostly action so you can just roll with it.
There certainly are a lot of characters involved in this episode and if you are a fan of Spiderman already you would get more out of this. With the amount of crossover stories these days it is good to still find short series that you only have to follow one character to get all the parts of the story.
I would recommend this one if you are a fan of Spiderman and it seems more old-school in its approach so might suit more casual fans of the series.
Comic Details:
Writer: Nick Spencer
Penciler: Mark Bagley
Cover Artist: Bryan Hitch
Publisher: Marvel
Published: September 01, 2021