News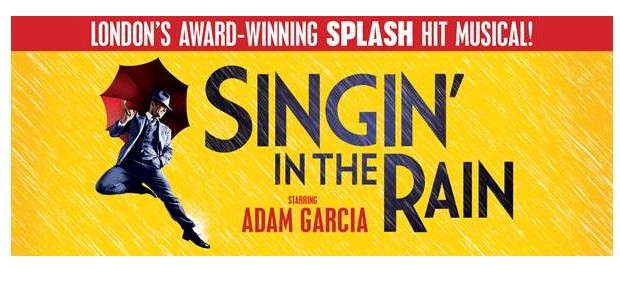 Published on May 20th, 2016 | by admin
SINGIN' IN THE RAIN SPLASHES INTO MELBOURNE TO THUNDEROUS APPLAUSE – FINAL TICKETS JUST RELEASED
Opening to thunderous applause on Saturday night, the splash-hit West End stage production SINGIN' IN THE RAIN is now playing at Melbourne's Her Majesty's Theatre with final tickets released today. Hailed by critics and audiences alike, this extraordinary production of SINGIN' IN THE RAIN starring the charming and charismatic Adam Garcia, Jack Chambers, Gretel Scarlett and Erika Heynatz is playing in Melbourne until July 2 and is not to be missed.
★★★★★ "Even the rain can't stop this bountiful tap-dancing beauty from glowing brightly in the streets. This latest production is a brilliant and vibrant explosion of bliss, laughter and formidable tap skills" Time Out
★★★★½ "Superb adaptation of arguably the most iconic movie musical of all time. Every second is packed with bright, buoyant, whip-smart energy…the principal cast are solid gold, a trio who are almost flawless" Limelight
★★★★ "Singin' in the Rain is a visual feast…effervescent and inventively re-imagined stage production of Singin' in the Rain. A spirited and captivating production with vivacious choreography" Herald Sun
Adam Garcia stars in the lead role of Don Lockwood, Jack Chambers as his sidekick Cosmo Brown, Gretel Scarlett as Kathy Selden and Erika Heynatz as Lina Lamont. SINGIN' IN THE RAIN also stars Robyn Arthur, Rodney Dobson, Mike Bishop alongside an incredible supporting cast of 20 of Australia's brightest musical theatre performers.
Produced in Australia by Lunchbox Theatrical Productions, Michael Cassel Group, David Atkins Enterprises and Dainty Group International, the popular musical is thrilling audiences as they experience high-octane choreography, sumptuous sets and costumes and the exhilarating spectacle of rain live on stage!
With the help of 12,000 litres of recycled water, the audience can enjoy one of the most famous dance scenes live on stage, with some leaving the theatre a little wetter than when they arrived!
Set in 1927, it tells the story of the first Hollywood musical, when the silver screen found its voice and left silent movies – and some of its stars – behind. Don Lockwood is a silent movie star with everything he could want – fame, adulation and a well-publicised 'romance' with his co-star Lina Lamont. But Hollywood is about to change forever. There is rumour in the studio of a new kind of film, where the actors actually talk…and sing…and dance. Can Don and the uniquely voiced Lina make the transition and will chorus girl Kathy Selden fulfil her dream of stardom and capture Don's heart along the way?
The stage production of SINGIN' IN THE RAIN is based on the classic Metro-Goldwyn-Mayer film by special arrangement with Warner Bros Theatre Ventures, Inc. Music Published by EMI. Produced by arrangement with Maurice Rosenfield, Lois F Rosenfield and Cindy Pritzker Inc. This production is directed by Jonathan Church, with Olivier Award nominated choreography by Andrew Wright; it is designed by Simon Higlett, with Robert Scott as Musical Supervisor.
With high-energy performances, a superb score and a joyous story, SINGIN' IN THE RAIN showers you with everything you could wish for in a hit musical.
SINGIN' IN THE RAIN playing in Melbourne until July 2. Followed by seasons in Sydney, Brisbane, Adelaide and Perth.