Comics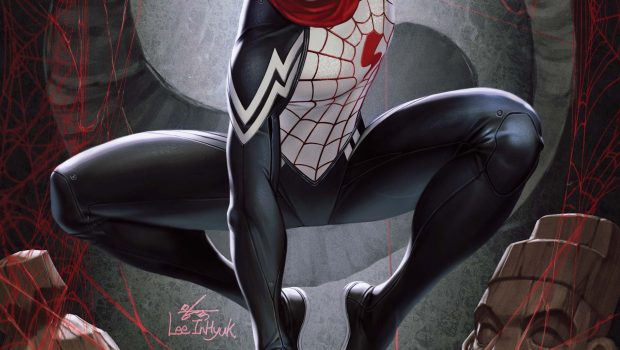 Published on January 28th, 2022 | by Kevin Mwenda
Silk #1 Review (2022)
Summary: Great debut for the new writer, while introducing a new mysterious villain with its first issue. I really enjoyed reading the comic and cant wait to see how the villain and Cindy's existential crisis are explored in the coming issues.
SPOILERS included…!!
Brief summary
Silk (2022) #1 debuts many things including a new writer to the series, Emily Kim, a TV writer who makes her debut in comics through this issue, and a brand new mysterious villain who we are yet to learn of their powers, backstories, and abilities. Emily is joined by artists Takeshi Miyazawa and Ian Herrin who have appeared in other comics like Ghost-Rider, Runaways, and Ms. Marvel, and letterer Ariana Maher.
The story
Cindy Moon, the protagonist of the story shares the same powers as Spiderman, having been bitten by the same spider that bit Peter Parker (what are the odds of that happening though?). Silk (2022)#1 starts off with the discovery of an ancient temple in South Korea, setting the series in a mysterious tone. The next set of pages and panels introduce the reader to the current situation in Silk's city where she is fighting against criminals. In this instance, we also learn of her soaring social media popularity, which gets in the way of Cindy's fighting crime.
Silk (2022) #1 continues the previous trend of the comics where in various instances the reader gets a view of Cindy's thoughts as she confronts her role and place as a superhero while juggling working as a journalist. The first issue also introduces the villain of the series, taking the form of a witch who drains the life of people, hence making them old. The comic ends with an ominous tone, with the witch's claim that she needs a lot more of "life's energy".
Final thoughts
As a new reader to the series, I found Takeshi and Herring's artwork and colors respectively to be a nice change from what am used to in other comics. The action sequences are well-illustrated, making it easy to follow the events happening on each of the panels. These combinations are also factored into differentiating between Cindy's thoughts and actual dialogue. Besides this, the first issue ends in a cliffhanger that has left me wondering how the Silk (2022) #1 creative team expounds on the mysterious witch figure.
Comic information
Release Date: January 19, 2022
Writer: Emily Kim
Letterer: Ariana Maher
Penciler: Takeshi Miyazawa