Films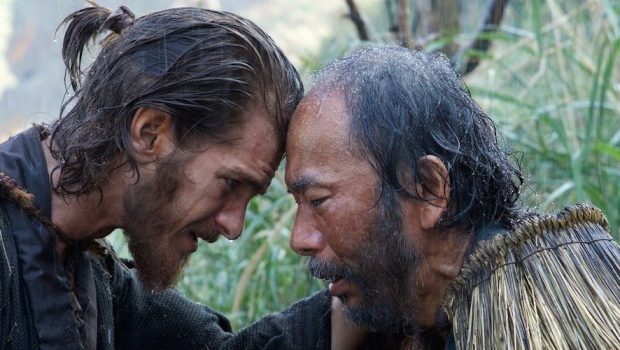 Published on February 15th, 2017 | by Damien Straker
Silence – Film Review
Reviewed by Damien Straker on the 15th of February 2016
Tranmission presents a film by Martin Scorsese
Produced by Barbara De Fina, Randall Emmett, Vittorio Cecchi Gori, Emma Tillinger Koskoff, Gaston Pavlovich, Martin Scorsese and Irwin Winkler
Screenplay by Jay Cocks and Martin Scorsese, based on Silence by Shūsaku Endō
Starring Andrew Garfield, Adam Driver, Tadanobu Asano, Ciarán Hinds and Liam Neeson
Music by Kim Allen Kluge and Kathryn Kluge
Cinematography Rodrigo Prieto
Edited by Thelma Schoonmaker
Rating: MA15+
Running Time: 161 minutes
Release Date: the 16th of February 2016
The new Martin Scorsese film Silence is a disappointment. It's said to have undertaken a thirty-year development, which also describes the film's sluggish pacing. The film aims to resolve something that's clearly kept the world awake: Scorsese's own test of faith, evoked by his Italian-American upbringing and his decision not to become a priest as he originally planned. Life goals change, but so do political and spiritual attitudes, meaning a "crisis of faith" narrative makes Silence seem old fashioned and dusty; it's the type of story that would have been popular to explore in the 1960s under spiritual directors such as Ingmar Bergman. In fact, 1966 is when the film's source material, Shûsaku Endô's novel, was published. That's not to say that faith isn't still important to some people in Western society, but characters asking if God exists might be at odds with how people look at faith today.
This is more the pity because the setting of 17th century Japan, where two Jesuit priests are tasked with spreading the word of God, is an enticing setting and premise, potentially rich in history and texture. There was also early hype surrounding the film with news that Daniel Day Lewis was to feature in a key role, only for him to wisely withdraw from the project. To be fair, the film is   incredibly beautiful in the first half due to the painterly photography provided by cinematographer Rodrigo Prieto, whose wide framing of the mountains and hills doubles as the empty conversation between the priests and God. There's also some atmospheric scenes where the main characters travel across lakes in small boats that are sucked deep into the mist ahead of them and a scene at night where a village is scarcely lit by the fire of a group of flaming torches.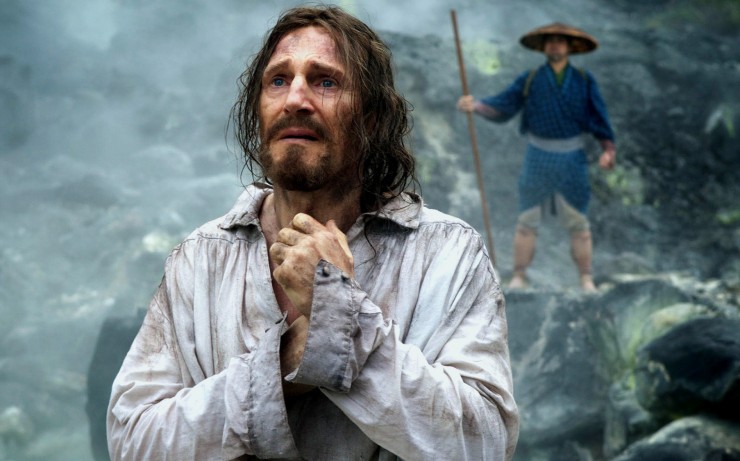 However, the naturalistic photography of the landscape works against a sluggish screenplay authored by Scorsese and Jay Cocks. The script follows two priests, Rodrigues (Andrew Garfield) and Garrpe (Girls' Adam Driver), who are sent on a Heart of Darkness-style mission to find Ferreira (Liam Neeson), a Kurtz figure who has gone rogue in Japan—a place that will execute anyone practicing Christianity. They need to investigate if he has surrendered his faith. The priests' journey sees them involved with peaceful Japanese people who are secretly wishing to undertake the sacraments of Christianity and defy the dangers of the oppressive Buddhist regime. Rodrigues and Garrpe are forced to shelter themselves in a tiny hut to avoid being seen and captured, which leads to boredom and claustrophobia.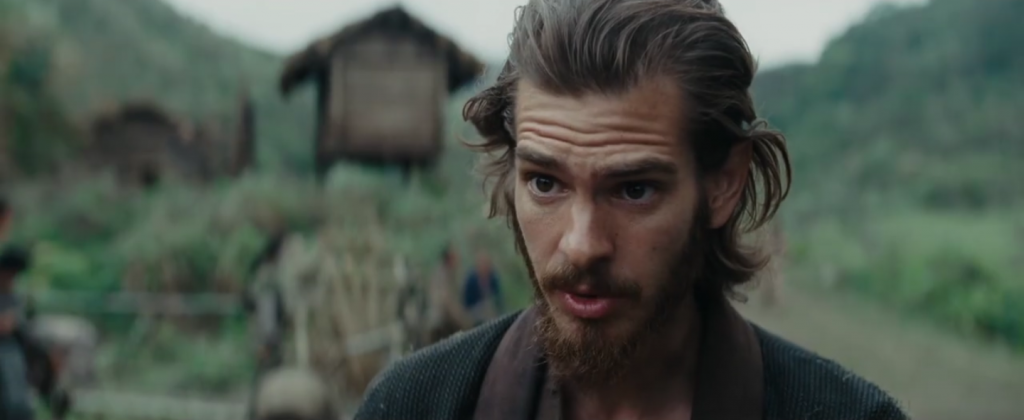 The disappointment about the film's action, searching for Ferreira as a symbol of whether Christianity is relevant and the existence of God himself, is the undernourishment of the characters and the lapses in realism. Rodrigues and Garrpe are never in conflict with each other or at least not long enough to build tension, personality and to sharpen a contrasting set of values. Garrpe, despite the brutal physical deterioration of Adam Driver, disappears from the movie for a long stretch, which highlights his superficiality in the narrative. Similarly, Rodrigues' emotions are parroted through an intrusive voice over. How ironic to call this movie Silence when the characters never stop talking long enough to allow the images to resonate alone. It's also questionable to cast physically unsuitable actors like Neeson and non-Portuguese ones in the lead roles who, like the charismatic Japanese actors, speak in English instead of a native dialect with subtitles. Female characters are also irrelevant to the narrative, which further typifies the story's rust.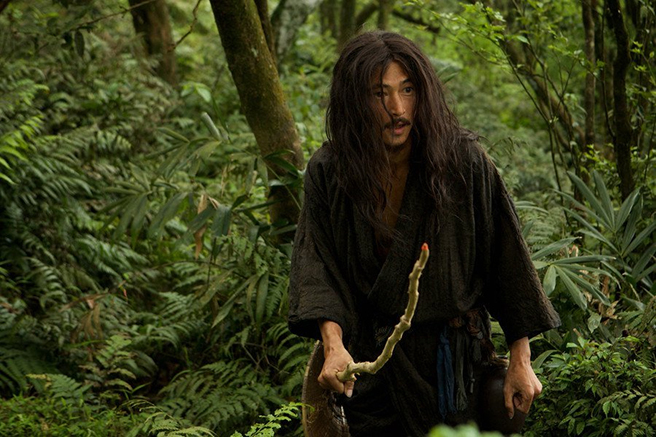 Additionally, the film's moral dilemmas are shaped through repetition, which blunts the story's impact. One of the film's few memorable side characters is Kichijiro (Yôsuke Kubozuka), an obvious Judas figure. Each time he is captured he denounces his faith in Christ through the action of stepping onto an image of Jesus. The subtext is that some will deny God, not because they don't believe, but out of self-preservation. Stepping onto the image of God is repeated multiple times using side characters of little resonance. With each event, the number of prisoners enlarges and the violence increases. It's as though Scorsese believed that the brutality could counter the repetition. These episodes are filmed with us sharing Rodrigues' perspective as he hides on cliff faces, watching if the Japanese prisoners are faithful to Christianity rather than partaking in the action, which adds to the audience's emotional distance. The stakes are raised as the deaths build through torture; however, Silence's remoteness results from Scorsese's political goals. The narrative is inert and Rodrigues' character arc is faint. The indulgent two and a half hours fakes a shift in his values and his inner life (see: relationships) is never seen, only hazily referenced in a closing denouement. His unshakable grip on Christianity is too integral with Scorsese assuring himself of his own faith.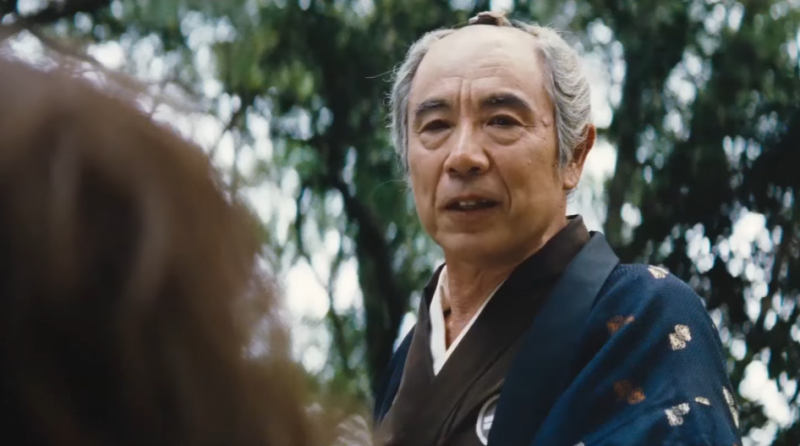 The film does offer glimpses of intrigue. A character at the end of the film tells Rodrigues that the Japanese do not want Christianity because it's not their culture. This conversation is echoed in the perspective of the film's Japanese villains, who outline the simplicity of the dilemma to their prisoners: denounce Christianity and they will live. The results though are shown to be brutal and violent. However, colonialism is a story angle sent adrift. The belated conversation about Christianity's separation from Japan is diluted by us having already seen characters grip their faith before death. What's the revelation then? The same could be asked of the film's final image of an object inside Rodrigues' hand. This is typical of the film's narrowness and makes Silence one of the director's lesser films about obsession. Despite the doubt that lingers in Rodrigues' voice over, the repetition of the narrative means there's no true reversal in the story and that any change is belated. Scorsese is indulgently using an epic setting and a historic period to assure us that he's still a believer. How relieved he'll be knowing we're all sleeping a little easier now.
Summary: Scorsese is indulgently using an epic setting and a historic period to assure us that he's still a believer. How relieved he'll be knowing we're all sleeping a little easier now.