Games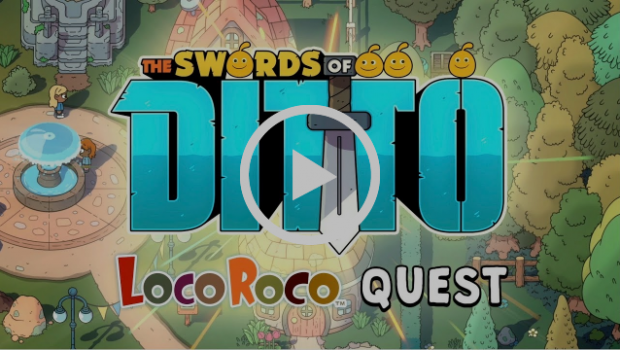 Published on March 28th, 2018 | by Admin
SIE and Devolver Announce LocoRoco / The Swords of Ditto Mashup
Independent developer onebitbeyond, SIE Studios Japan, and Devolver Digital have revealed a PS4-exclusive LocoRoco crossover quest in The Swords of Ditto. The upcoming adventure RPG / roguelite hybrid is available to preorder now on PlayStation 4 and PC with 20% off the A$23.95 price up until the April 24 launch [http://theswordsofditto.com].
The special quest will task intrepid adventurers with entering a secret cave and wrangling up all the loose LocoRocos while defending themselves from the classic Moja Troop baddies. Complete with familiar music, sound effects, and even singing any triumphant heroes will find themselves with a truly worthy reward!
The Swords of Ditto creates a series of unique, compact adventures for a new hero every 100 years in a seemingly never-ending struggle against the evil Mormo. Players will awaken as one of the chosen adventurers and wield the legendary sword of the land through a dangerous and ever changing overworld, diabolical dungeons, secret lairs, and ascend Mormo's tower to face off with the evil witch herself. Retrieve powerful new toys, slap on perk stickers, and complete side quests to fill out your inventory as each new run is different from the last. The only constant is the sword itself as experience and power gained for the sword in each adventure carries over to the hero's successor. Take down Mormo and the world is a happier, brighter place but failure puts Ditto and its poor citizens into a dark, crumbling version of their world. Make this journey alone or invite a fellow champion for local cooperative play on both PlayStation 4 and PC.
The Swords of Ditto developer onebitbeyond was created by former creative director at Curve Studios Jonathan 'Bidds' Biddle and boasts a roster of top game development veterans thrilled to work on their first project together. Based out of London, onebitbeyond have been working on The Swords of Ditto since late 2015 and will be demoing the game at PAX East 2018 in April.
The Swords of Ditto arrives on PlayStation 4 and PC April 24. Excited adventurers can follow the game's progress and latest news as theswordsofditto.com or @onebitbeyond on Twitter.