Comics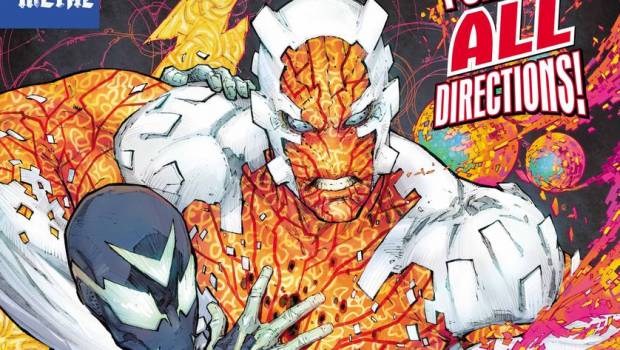 Published on May 16th, 2018 | by Keagan Morgan
SIDEWAYS #4 REVIEW
Step out with Sideways
Summary: An interesting character with an even more interesting supporting cast.
Sideways is DC's newest teenage hero trying to find himself in a busy world. That's not saying this is an overly emotional or cliche story of someone who's lost in life and finding his or her path. What it is saying is this is your every day teenager who seems a little confident in himself and is actually a bit of a show-off most of the time, especially with his new "rifting" powers. And these dynamics make for a fun time.
If you haven't been keeping up, Derek is going through the trials of high school and seems to have found something of a passion in live streaming his adventures and antics as Sideways (his alter-ego). He was given powers to rift through space and time given what unfolded in DC's Metal event (recommended to the highest degree, plus you can see the true origins of DC's "New Age of Superheroes" which Sideways was launched from).
Of course, we can't expect someone like Derek to be wholly mature with these powers, and his simple immaturity has caused problems in these first few issues already. In fact, in issue #4 we see Sideways try to apprehend a villain who looks like he came out of an episode of Dragon Ball Z (and I'm meaning that as a compliment, by the way). Replicant, as he is called, was able to absorb powers of not only Sideways but also Hot Spot's, who was battling Replicant when Derek arrived at the scene.
Replicant's name speaks for itself, so you can probably hazard a decent guess at what transpires in the battle. But looking at the bigger picture, if Hot Spot, Ernie (Derek's friend/girlfriend), his mother, and Tempus Fuginaut (a pretty cool character that we should continue seeing more of) are the "circle of friends" or acquaintances that we can expect to keep popping up, I almost believe their stories and what they add to the Sideways arc is almost as interesting in their own rights as Derek/Sideways himself. Which, is a significant thing because it's not every day a supporting cast of characters are lined up with such strength as I think these are.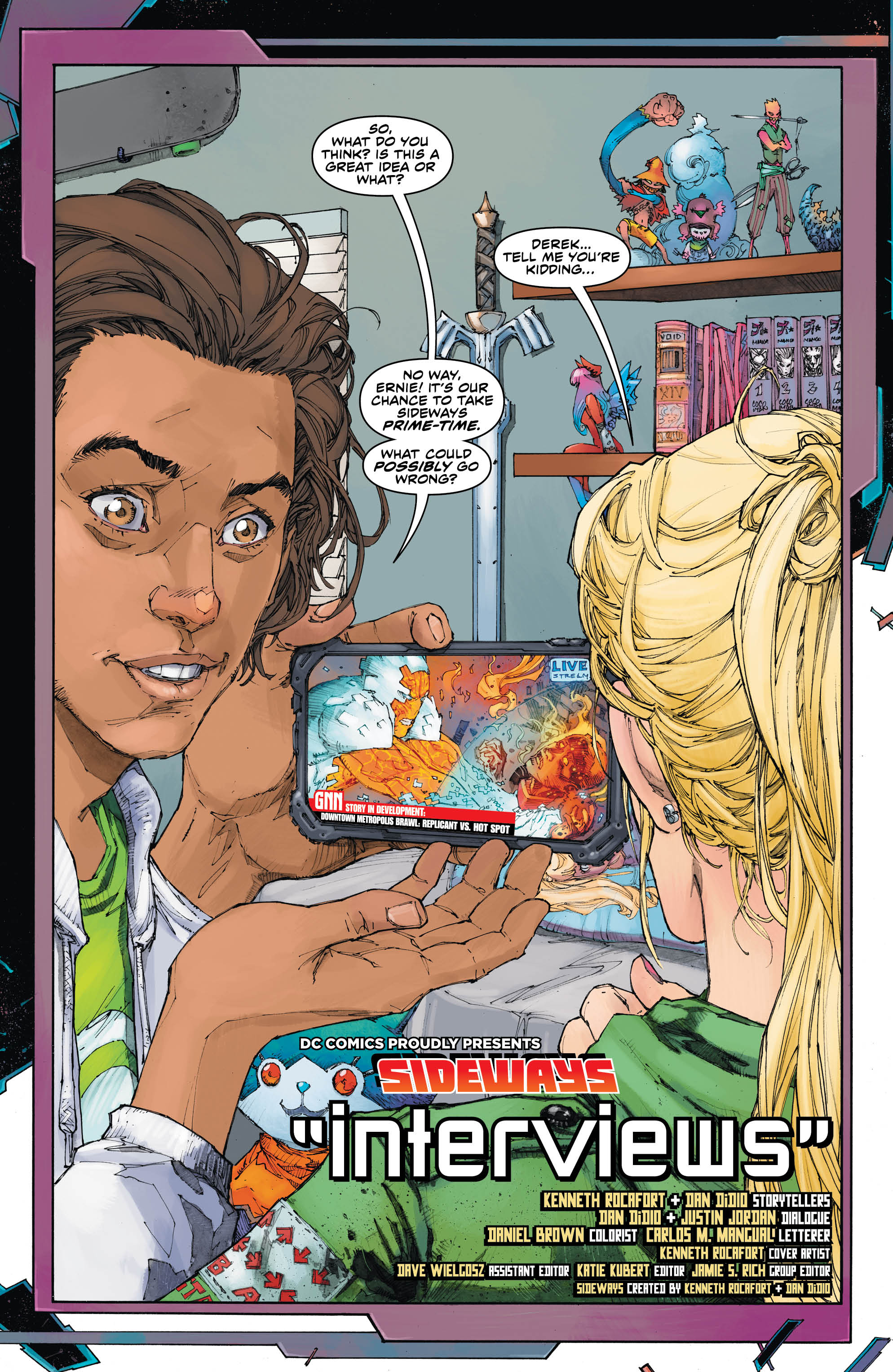 The ongoing story by Dan DiDio, Kenneth Rocafort, and Justin Jordan remains intriguing enough that I don't see how people will want to drop this title any time soon. Sideways has much potential and has already been compared to Spiderman in some senses (pun intended). And in no way should that be deemed a negative for this character and the larger story unfolding. Rocafort's and Daniel Brown's art and colors are healthy and match the tone of what Sideways is trying to accomplish: offer a fun and vibrant character with matching storylines. So, in that regard, I found no issues with the styles or palettes.
Derek has lasting power and I believe this is a title that needs more exposure for not just all DC fans in general, but the younger audiences as well. I think there can be many relatable moments for the current crops of high-schoolers and those of similar ages. Here's to hoping Sideways can keep up his "going live!" streams for all of us to tune into. Check it out and see what you think!