Films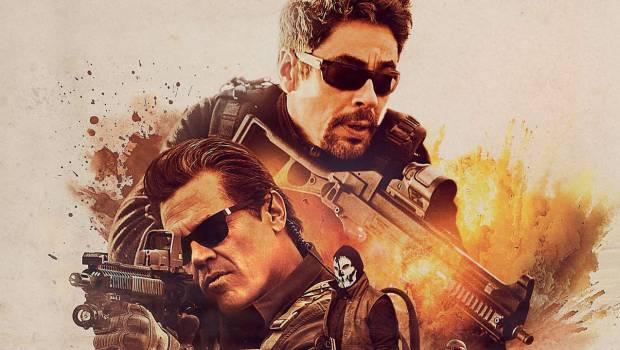 Published on July 7th, 2018 | by Damien Straker
Sicario: Day of Soldado – Film Review
Reviewed by Damien Straker on the 7th of July 2018
Roadshow presents a film by Stefano Sollima
Produced by Basil Iwanyk, Edward L. McDonnell, Molly Smith, Thad Luckinbill and Trent Luckinbill
Written by Taylor Sheridan
Starring Benicio del Toro, Josh Brolin, Isabela Moner, Jeffrey Donovan, Manuel Garcia-Rulfo and Catherine Keener
Music by Hildur Guðnadóttir
Cinematography Dariusz Wolski
Edited by Matthew Newman
Running Time: 122 minutes
Rating: MA15+
Release Date: the 28th of June 2018
Sicario: Day of Soldado is interested in the troubling practices the US government undertakes to combat its political adversaries. This thematic goal ensures that Soldado, like its predecessor, isn't entirely confined to the rhythms of the action genre. However, as an engaging emotional experience that asks us to care about a character, the film is almost unwatchable and a sizeable step below its predecessor.
The success of 2015's Sicario (Spanish for hitman) rested dominantly on the shoulders of Emily Blunt's character, Kate Macer. It was a brilliantly conceived part and performance. Macer was an FBI agent who was deliberately kept at arm's length by her male superiors. They exploited her to help them plot an off-the-books assassination of a Mexican cartel leader. To the audience, Macer echoed the feelings of confusion one senses in their bones as they unravel the webs of deceit spun by corrupt government bodies.
The film was atmospheric, bleak and terribly violent, but Macer was its clear point of empathy. She was an honest person in a pit of corrupt cops and bureaucrats, and provided moral levity to the conflict and the disorientation. Now she's absent from the sequel. We're asked unjustifiably to sympathise with the two men who repeatedly obstructed and cornered her. Who thought that this was a good idea today? The two men are also far less interesting without her and difficult to love.
The bleak characters and the lack of a moral centre does not make Soldado a more realistic experience. There are 'movie plots' abound, abrupt changes of heart, impossible physicality, and a preposterous ending that telegraphs another sequel. Excluding Macer is itself an artistic and political gamble that backfires horribly. Realistic or not, a good movie needs an identifiable hero to whom we can identify. In an era where strong political leadership is scarce, the value of dramatising believable heroism itself increases too.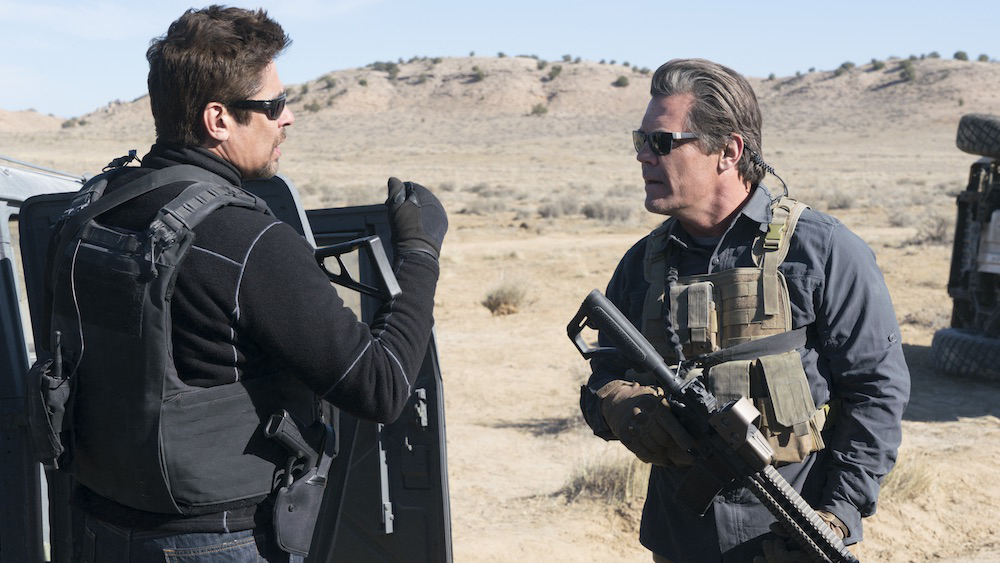 As a mirror of today's grim politics, including the US immigration crisis, Soldado's early scenes are problematic and distasteful. A group of Mexicans immigrants are seen crossing the US border at night. They are pursued by the police and targeted with a spotlight. One of the men throws himself onto the ground. He proceeds to detonate a suicide bomb. The scene immediately undermines the film's realism because it is out of touch with how many immigrants are simply journeying to the US for a better life and to escape persecution.
The sequence that follows dramatises a terrorist attack on US soil inside a supermarket. This scene is again fearmongering and marks a disappointing dramatic angle from the film's accomplished screenwriter, Taylor Sheridan. He wrote the terrific crime-caper Hell or High Water (2016). Similarly, a press briefing where the Secretary of Defence says the US will come down hard on the terrorists emulates Trump's 'fire and fury' speech about North Korea. These scenes signpost the movie's dreary, self-serious tone and square-jawed jingoism, the seriousness of which is undermined by quiet sniggers.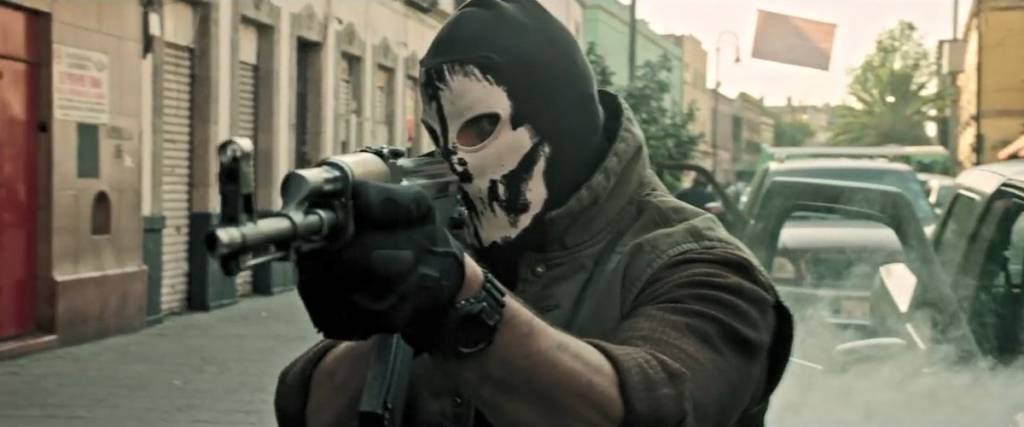 Josh Brolin and Benicio Del Toro reprise their roles as the Department of Justice agent Matt Graver, and the hitman Alejandro, respectively. They are the two men who refused to answer Macer's questions in the original movie. The film's first assignment is an impossible one: attaching us to Matt as the central character. Consider this early introduction of his person. Matt interrogates a terrorist suspect and assures him he won't be waterboarded. Instead, he unveils a satellite video of the man's house. When the man refuses to answer his questions, Matt threatens to murder his family and promptly calls in an airstrike. Its apparent as to why Matt doesn't exactly exude warmth, which is compounded by Brolin's firm but equally cold acting style.
The plot grows convoluted as Matt is tasked by his superiors, including Cynthia Foards (Catherine Keener, underused), with pitting the Mexican drug cartels against one another by staging assassinations that frame them. Alejandro is his major weapon for this job but he's not much of a sympathetic figure either. The film tries humanising him with a 'hitman with a heart of gold' plot, which seems counterproductive to its nihilistic aims of removing Macer and her moral compass.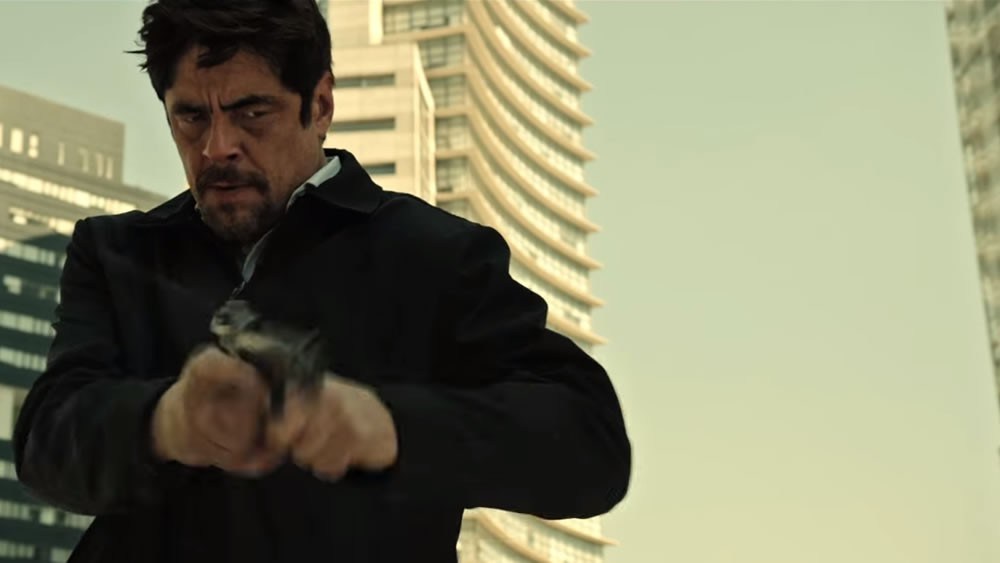 Alejandro is involved with kidnapping a young girl, Isabel (Transformers: The Last Knight's Isabela Moner), and then staging her fake rescue. This is an interesting dramatic situation, and Moner arguably gives the film's best performance. She's an unflinchingly tough kid who never takes a step backwards. Her first scene is a brutal fight in a playground brawl. However, the development between her and Alejandro is haphazard. Nothing aligns them together other than Moner reminding him of his daughter, which is pretty corny in a long line of silly storylines about hitmen discovering they have feelings. A whole film could have been dedicated to exploring this relationship in depth.
Meanwhile, as pressure mounts on Matt and Alejandro's partnership, there's no humanity at stake in their friendship. In the first film, Matt used Alejandro to fulfil a government assignment that also allowed Alejandro to have his revenge on the people who murdered his family. Perhaps their partnership would have been more emotional if they weren't split up in the second half. Time must also be made for a confusing subplot involving Miguel (Elijah Rodriguez), a Mexican teenager who recognises Alejandro in some of the most absurd coincidences one's likely to see this year.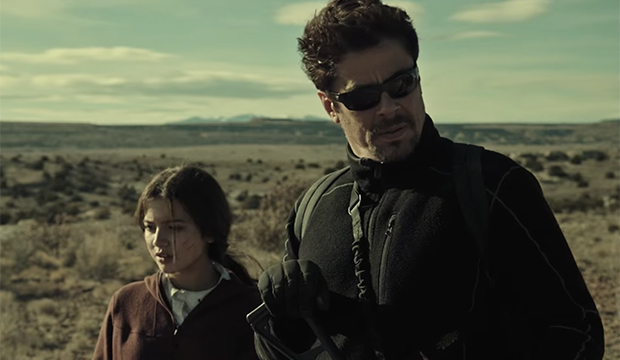 Italian director Stefano Sollima has replaced filmmaker Denis Villeneuve for this sequel. His background is mostly in television, including the Gomorrah (2014) television series. Unfortunately, his technical work doesn't measure up to the original movie. The pacing sags, limping badly into the second hour, and the film lacks the vivid geography of the original. One of the standouts of Sicario was the visual symmetry of Roger Deakin's cinematography. Deakin has been replaced by DOP Dariusz Wolski. The early scenes are framed by Wolski and Sollima in a dull, static way where the characters are sitting down or flat-footed. The lack of music also makes these scenes feel under-directed.
Additionally, the action sequences that were excitingly staged beforehand lack any heat or dramatic tension. The lack of emotional investment undermines Soldado's involvement and counters its concerns about the blurred moral lines between the US and its borders. Some of the film's content is terribly relevant, mirroring current news story. There's a moment where Alejandro and Isabel discuss pretending to be a fake family to cross the lines, which is a ploy that Republicans falsely accused immigrants of undertaking to transverse US borders. Yet it's the failure of Soldado to employ a hero we can sympathise with that nullifies its ideas and makes the film achingly dull to watch no matter how topical or layered it may seem.
Summary: It's the failure of Soldado to employ a hero we can sympathise with that nullifies its ideas and makes the film achingly dull to watch no matter how topical or layered it may seem.