Events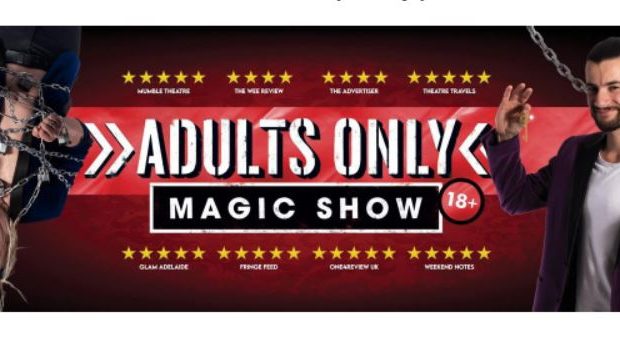 Published on September 30th, 2023 | by Adrian Gunning
Showmen Productions proudly presents: ADULTS ONLY MAGIC SHOW Melbourne Fringe Festival 2023
Showmen Productions, who are comedy magicians Justin Williams and Sam Hume, are headed back to their HOMETOWN of Melbourne with their hilarious 18+ magic show aptly named – 'ADULTS ONLY MAGIC SHOW'. Fresh off a stellar SELL-OUT SEASON at Edinburgh Fringe Festival 2023, Perth and Adelaide Fringe Festival 2023, and the Melbourne International Comedy Festival 2023; get ready for an absolute rowdy night of magic and fun in this absolute, jam-packed ADULTS ONLY spectacular! Magic duo Sam and Justin have toured across the world presenting their unique display of hilariously raucous comedy, mind-bending illusions, stunningly dangerous stunts and just a cheeky hint of nudity;
WINNER – Best Magic Show, Adelaide Fringe Weeklies 2021, 2023
"Adults Only Magic Show is simply the best, most entertaining magic I've ever seen in real life, on TV, or anywhere. The atmosphere they built in the venue, and the reaction from the crowd said it all. This show and these guys are sensational." Lisa in the Theatre ★★★★★
"We have painstakingly put together completely original routines, bringing together a range of disciplines to deliver a show that is sure to leave an impression. We guarantee the people of the Melbourne have never seen anything like this before!" says Showman, Sam Hume.
After it's debut season in Melbourne, 2019; the show has gone onto perform at renowned festivals across Australia and the world, including sell-out seasons as apart of FRINGE WORLD, Adelaide Fringe and the Edinburgh Fringe Festival in the UK. Having completely flipped the script on what you would expect from your typical magic show – replacing the top hats and bunny rabbits with naughty comedy and sex appeal – this is magic like you have never seen before!
"Wildly HILARIOUS, wonderfully confident, and WICKEDLY inappropriate! The perfection in the illusions, sleight of hand tricks and mental games prove just how good this duo is!" THEATRE TRAVELS ★★★★★
"We are talking about Las Vegas quality performance art here. Such is the brilliance of the whole thing. I loved every minute. This is a guaranteed night of entertainment that I couldn't recommend more highly – without a doubt 5 stars!" Mumble Theatre ★★★★★
"If I could give it more than 5 stars I definitely would!" One4ReviewUK ★★★★★
"Magic at its FINEST and FUNNIEST!" FRINGE FEED ★★★★
"Totally blown away… I couldn't believe my eyes! This duo is a force to be reckoned with!" WEEKEND NOTES ★★★★★
Come indulge in this rollicking evening of guaranteed entertainment, and join two of the best magicians in the business in a show that will not soon be forgotten!
Venue: Festival Park – The Bunker Queen Victoria Market, Melbourne VIC 3000
Time: 8:50pm (7:50pm on Sunday)
Preview Dates: Wed 11th Oct, Thu 12th Oct Dates: Fri 13th October – Sun 29th October (No Shows Monday) Tickets: https://melbournefringe.com.au/event/adults-only-magic-show/
Prices:
Full: $29.00 – $34.50
Preview: $25.00
Concession: $27.00 – $31.50
Group 6+: $25.00
Hump Day Discount (WED) : $21.75
Bookings: www.melbournefringe.com.au
Facebook: /AdultsOnlyMagicShow
Instagram: @AdultsOnlyMagicShow
#adultsonlymagicshow