Games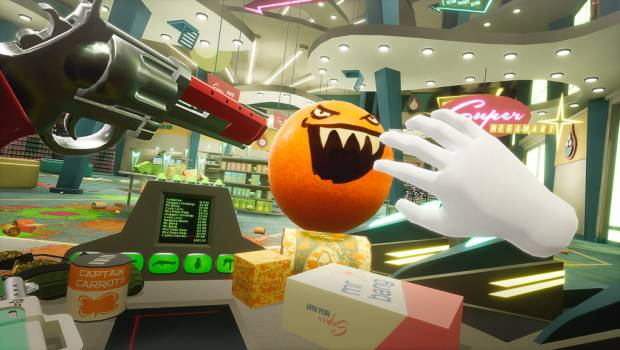 Published on December 20th, 2017 | by Admin
Shooty Fruity Open for Business on PlayStation®VR, HTC Vive and Oculus Rift
A multi-tasking shooter designed for VR and motion controllers, featuring juicy job simulation blended with sweet, high octane gunplay.
Farnborough, UK. (December 19, 2017) — nDreams, the UK's leading purveyor of virtual reality produce, has announced that Shooty Fruity is now ripe for consumption on PlayStation®VR, HTC Vive and Oculus Rift, priced at €19.99/$19.99/£15.99.  Designed from the ground up for VR and motion controllers, Shooty Fruity challenges players to scan, pack and serve across multiple jobs, all whilst firing stacks of guns at mutant fruit.
Featuring unique multi-tasking gameplay mechanics only possible on VR platforms, blast perilous pomegranates, bloody blueberries, savage strawberries, and more hilariously deadly fruit while doing your job.  Progress through your career from a produce scanning, pistol wielding inductee to a Gatling Gun-firing human blender!  Newly revealed content, hot off the Super Megamart conveyor, include the game's third job role – Packing parcels in the warehouse – and the Slow-mo power up, which takes bullet-time combat to a new level of berry-bursting depravity.  In between the numerous shifts, new weapons can be purchased in the staff room, the game's central hub where players can also customize and test their load out, including, automatic shotguns, rocket launchers and more, or check out their high scores on the leaderboard arcade machine.
You can check out the game and the newly revealed features in the launch trailer here: https://youtu.be/qC9JZiCMeRU
"I must admit, nothing is more satisfying after braving the holiday crowds and queues than playing Shooty Fruity and unleashing my rocket launchers on bags of mutant fruit, splatting their overripe assets all over the place," said Patrick O'Luanaigh, CEO/Store Manager at nDreams, "We can't wait to see what new Shooty Fruity employees make of its unique blend of multi-tasking VR-only gameplay". 
You can sign up to your new job by purchasing the game at: