News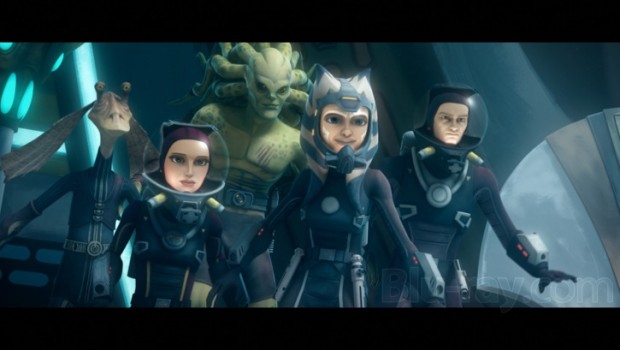 Published on October 8th, 2013 | by admin
The Shocking Final Season of Star Wars: The Clone Wars: The Complete Fifth Season Out On October 30
From Lucasfilm Ltd. and Warner Home Video, Star WarsTM: The Clone WarsTM The Complete Season Five Two-Disc Blu-ray Set Includes All 20 Action-Packed Episodes, 20 Cast and Crew Video Commentaries, and The Jedi Temple Archives, containing test animations, concept art and Deleted/Extended Scenes
Executive Producer George Lucas and Lucasfilm Animation present Star Wars: The Clone Wars The Complete Season Five, coming to high-definition Blu-ray Disc and DVD on October 30th. With action and drama worthy of the big screen, The Clone Wars looks and sounds best when presented in stunning high-definition. The Complete Season Five delivers all 20 episodes, two as director's cuts never seen on TV, and supplements them with a host of behind-the-scenes bonus materials, cast and crew interviews, and deleted and alternate scenes, revealing the magic behind the making of the cutting-edge series.
In its Emmy® award winning fifth season, the gripping Star Wars story moves closer to the grim events of Star Wars: Episode III Revenge of the Sith and several major players face their destinies as the galaxy plunges into darkness. Planets are rocked by revolution, ancient Jedi secrets are explored, and Ahsoka Tano – the spirited Padawan so central to the series – faces a major crisis that will change her forever.
For those wanting to relive every moment of the epic series from the beginning comes the Star Wars: The Clone Wars Seasons 1-5 Boxset. All previous Complete Season sets have been collected here for the first time to form a library of Star Wars: The Clone Wars adventures worthy of the Jedi Temple.
Created and executive produced by George Lucas, the first-ever TV production from Lucasfilm Animation explored the tumultuous time between Episodes II and III, and expanded the scope of Star Wars beyond anything seen in the feature films. Featuring the voices of Matt Lanter (90210), Ashley Eckstein (Her Universe apparel line), Dee Bradley Baker (American Dad), James Arnold Taylor (Johnny Test), Catherine Taber (The Old Republic) and Tom Kane (Avengers: Earth's Mightiest Heroes). The fifth season also features a formidable line-up of guest stars – including Jon Favreau (Iron Man), Sam Witwer (Being Human), Clancy Brown (The Shawshank Redemption), Katee Sackhoff (Battlestar Galactica) and an Emmy® award-winning appearance by David Tennant (Doctor Who).
STAR WARS: THE CLONE WARS THE COMPLETE SEASON FIVE
Street Date: October 30, 2013
RRP: DVD (4-disc) $39.95, Blu-ray (2-disc) $49.95
Run Time: Over 420-Minutes
Rating: M: Animated Violence
Closed Captioned: Yes
STAR WARS: THE CLONE WARS Wars Seasons 1-5 Collectors Edition
Street Date: October 30, 2013
SRP: DVD (22-disc) $199.95, Blu-ray (14-disc) $249.95
Run Time: Over 37 Hours
Rating: M: Animated Violence
Closed Captioned: Yes
Exclusive: Only available from JB Hifi