Comics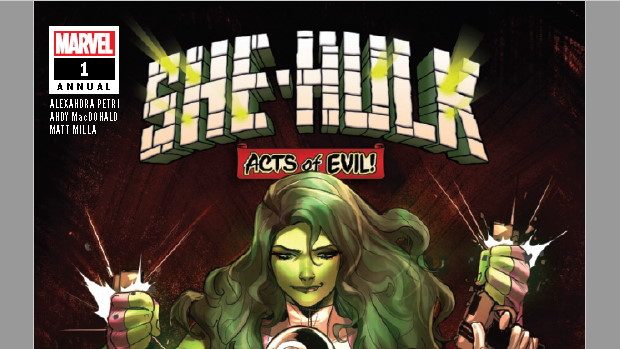 Published on September 8th, 2019 | by Chris O'Connor
She-Hulk Annual #1 Comic Review
Summary: Sometimes you just don't feel yourself... sometimes, if your She-Hulk, that's because you aren't yourself.
Bullseye has been hired to assassinate a target… but there's a catch, the assassin has to be a superhero. Thanks to some extremely advanced scanning technology and a bit of mental manipulation, Bullseye may just be able to achieve his task… that is, if Jennifer Walters (in whatever form) doesn't stop him!
Writing
It's quite a clever plot point to use a character's legal background to present a unique take on the notion of character defamation. Having She-Hulk and her body effectively separated is one thing, but to have Bullseye pulling the strings, so to speak, is quite another. Having Bullseye find it tricky to utilize his borrowed form effectively until he can get used to it is a nice touch too and adds a nice dose of believability.
Artwork
The artwork isn't quite as detailed as some comics, but in this instance I think it helps give the panels a slightly more soft and playful feel… which given the story and the touches of humour, actually works very well. That shouldn't be taken as meaning the art isn't good either… just that it hasn't had as much fine detailing or shading applied to some panels… but again what is used and when I think works very well for the story.
Final Thoughts
It's one thing to manipulate someone externally… but to manipulate them from the inside out… that's quite different. But when the person you are manipulating is She-Hulk… you better be careful because you don't want to make her upset! A fun twist on an interesting concept make this a great read. It's self contained so it's not a long wait to get the full story and that also makes it great for a quick pick up and read when you have a few moments spare. A nice addition to the She-Hulk story catalogue.
Publisher: Marvel
Writer: Alexandra Petri
Artist: Andy MacDonald
Colourist: Matt Milla
Cover Artist: Mirka Andolfo
Genre: Superhero
Format: 33pgs, FC
Release Date: 28th August, 2019