Comics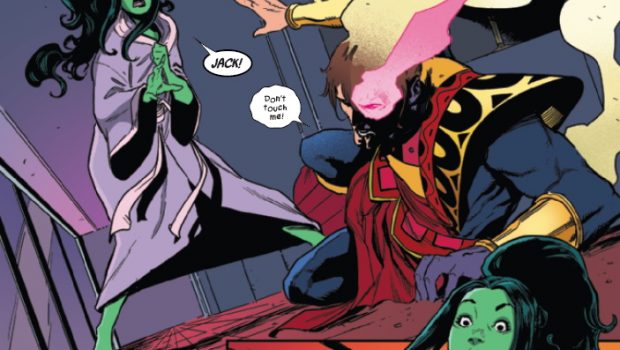 Published on March 6th, 2022 | by Tim Chuma
She-Hulk #2 (2022) Review
Summary: As long as you are not expecting the usual HULK SMASH type of stuff you should enjoy this one.
After turning up out of the blue and collapsing, She Hulk's former partner Jack of Hearts explains what he remembers happening to him as everyone thought he had died in an explosion as he was so unstable he could not contain the nuclear reaction that his body was giving off.
Even though he claims not be hungry, thirsty or tired he drinks a lot of water, eats all of the food and falls asleep and She Hulk definitely thinks something is strange. Meanwhile whoever revived Jack of Hearts has found out he has escaped containment and is upset.
I did enjoy She Hulk going into her job including helping an ambulance through traffic on her commute. Her boss doesn't even bat an eye when she turns up huge and green. In this instance She Hulk is like Banner Hulk in Endgame where she keeps her intelligence and gains strength when she changes.
Although there is not as much action in this one I am still enjoying the story and it does not have the exploitative angle that the older versions of this story or any of the stories that were written by men seem to have in the bad old days.
I would recommend this one again if you are a fan of the character and it is not too bad to pick it up here since they are still establishing the main plot at this point in the story.
Comic details:
Writer: Rainbow Rowell
Penciler: Roge Antonio
Cover Artist: Jen Bartel
Publisher: Marvel
Published: March 02, 2022