Comics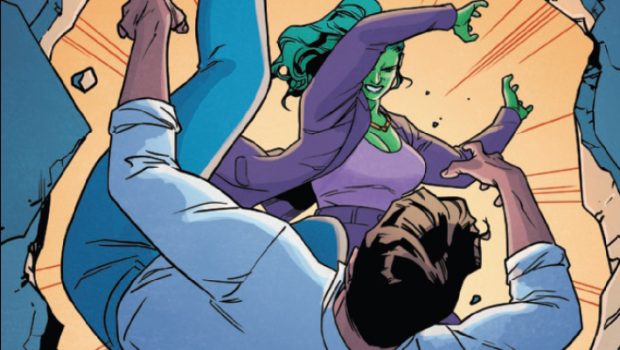 Published on July 3rd, 2023 | by Tim Chuma
She-Hulk #14 Review
Summary: While not action-packed this one does keep the story going along and gives Jennifer some more romantic opportunities.
Jennifer Walters gets grilled by the Fantasic Four as to what happened between her and the Scoundrel who seems to have gone missing. Returning back to the office she finds her boss tying up the assistant with a Hulkbuster rope which she confiscates. Jack finally calls her back as he is in the Marshall Islands soaking up radiation. Much to her surprise the Scoundrel turns up in his spaceship outside her apartment and invites her in for wine and cheese. He really has a thing for her, but the reason he wanted to see her makes her throw him through a wall.
More of an instalment that moves along the storyline without really doing that much. This series does seem to have a few of these due to it being more character driven than the usual super hero comic.
I would recommend this one if you are a fan of She-Hulk and want to see her in more romantic situations.
Comic details:
Writer: Rainbow Rowell
Penciler: Andres Genolet
Cover Artist: Jen Bartel
Publisher: Marvel
Published: June 28, 2023