Comics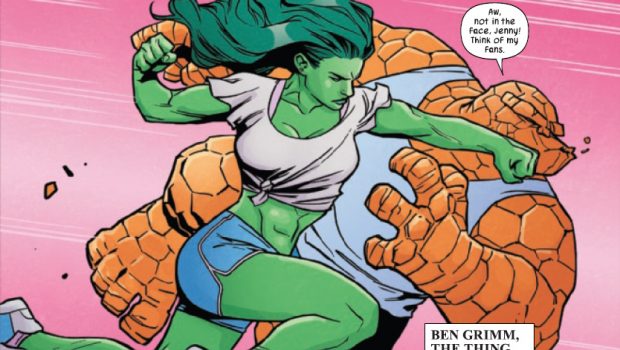 Published on March 26th, 2023 | by Tim Chuma
She-Hulk #11 Review (2022)
Summary: A fun reset to this series and worth sticking around for future instalments.
Jennifer Walters and Titania finally get to do their fight club as promised way back in issue one of this series with Ben Grimm and Volcania. Luke Cage and Danny Rand have just come down to watch as they do not want to fight the mayor. Jennifer's date night is interrupted when she is called away for a job and she interrupts a mysterious thief who can actually match up to her. Who is this powerful new foe?
This was a fun entry in this series and a good refresher after it got a bit muddled at the last story and attempted to do  a fourth-wall break. Not sure if the fight club is going to make regular appearance but it was fun to see it at least once.
Having a new enemy come in is interesting as in this version of the story even the heroes and villains know each other well enough to make a regular appointment to fight.
I would recommend this one if you are a fan of this character and I enjoyed the cover to this one also. There has not been bad cover art for this series yet.
Comic details:
Writer: Rainbow Rowell
Penciler: Andres Genolet
Cover Artist: Jen Bartel
Publisher: Marvel
Published: March 22, 2023