Comics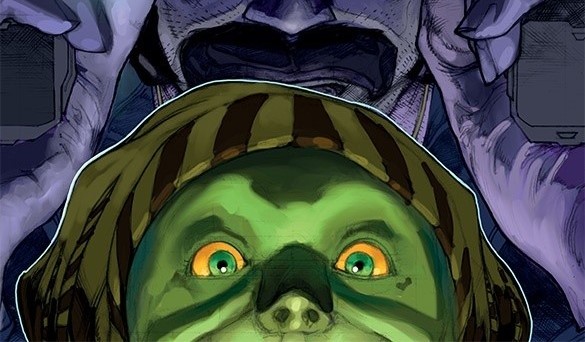 Published on February 20th, 2019 | by Dana Folkard
SHARKEY THE BOUNTY HUNTER #1 REVIEW
Summary: Sharkey is a bounty hunter who is after the biggest bounty of his career.
Mark Millar joins forces with artist Simone Bianchi to bring us Sharkey The Bounty Hunter, an exciting new sci-fi action series from Image Comics. Sharkey and his ten-year old partner, Extra-Billy, are bounty hunters who traverses the universe in search of their next criminal target. Lucky for Sharkey and his kid accomplice, it just so happens that the biggest bounty of their career just cropped up.
The story begins on a "total shithole" of a planet called Tefi-8. Seated at a seedy bar and enjoying a stiff drink is Sharkey, a rakish and charismatic bounty hunter who is currently on the job. After bagging himself his latest bounty, he settles in for a night of fun with a cyborg woman who wishes to become a security vehicle. Yep, you heard me right. Their fun, however, is interrupted by the arrival of a small green child named Extra-Billy. He claims that Sharkey arrested his uncle, leaving him homeless and without any family to take care of him. Poor wee Billy needs to be taken to his home planet, which is unfortunately located on the other side of the universe, 300 light years away. He pleads with Sharkey to take him home, and with the pressure of his lovely lady friend, Sharkey agrees to do so. Interestingly, his new partnership happens to coincide with the arrival of a brand-new bounty, a hell of a bounty, a once-in-a-lifetime bounty. Sharkey is now on a mission to capture the most wanted woman in the galaxy with Extra-Billy in tow.
This is simple, sharp and punchy storytelling done right. Sharkey is a character I immediately like, finding him to be a self-assured daring cad with a flare for swashbuckling action. I get the feeling that Sharkey likes to project a nonchalant image of himself with his sarcastic wit and undeniably charismatic charm, however, I believe that deep down he is a big softie with a sense valour and compassion. This is evident with the choice he decides to make regarding Extra-Billy's plea for help. Their dynamic is great and made me laugh-out-loud multiple times. The whole bachelor adopting a child scenario inevitably results in entertaining developments and hilarious dialogue. I'm looking forward to seeing their relationship evolve over the course of the arc, as compelling character development is one thing that Mark Millar always delivers on.
I also want to talk about the setting and overall tone of the story. The mood is immediately set with the seedy alien bar on a backwater planet, delving us into a gritty adventure filled with all sorts of unsavoury alien degenerates…hell yes! There is a sense of the squalid lowbrow future mixing with high tech science that we see in a lot of cyberpunk stories. I love settings like this, finding them to be diverse, compelling and highly immersive, providing me with that little bit of escapism I want out of a sci-fi story.
The art by Simone Bianchi is very good. I really like the character designs that we see, especially with some of the background aliens and passing characters Sharkey encounters. Many of these designs come together to create an otherworldly feeling, which is exactly what you want with a setting such as this. There is never a dull moment on the page, with every inch of these panels filled with wonderful details. Bianchi's shading and inking makes everything feel very moody and atmospheric, and this coupled with the use of cleverly framed panels makes for a very engaging visual narrative. The colouring is really quite lovely, framing the entire story in a moody, yet colourful palette. Nothing is the colour you'd expect it to be, with blue and green skinned characters, dusky pink interiors and yellow explosions. There is also a nice sense if light, with many of the scenes unfolding in a neon-like glow.
Overall, I highly enjoyed the introduction to this series. I have a feeling this comic is going to be a killer.
I'm giving this issue 5 out of 5 stars!
---
COMIC DETAILS
CREATIVE TEAM: Mark Millar, Simone Bianchi and Pete Doherty
PUBLISHER: Image Comics
GENRE: Science Fiction/Adventure
PUBLICATION DATE: February 20, 2019
REVIEWER: Dana Folkard