Comics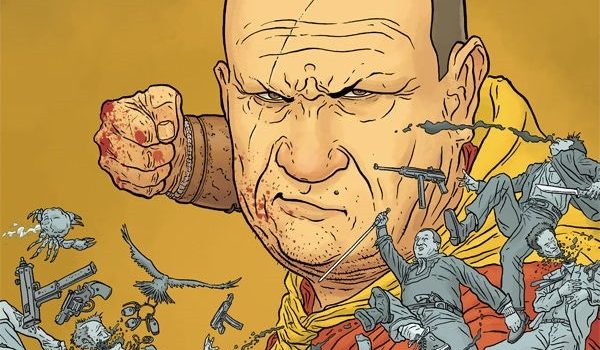 Published on April 12th, 2017 | by Dana Folkard
THE SHAOLIN COWBOY: WHO'LL STOP THE REIGN? #1 REVIEW!
Summary: The Shaolin Cowboy is back and just as epic as ever!
Geof Darrow's Shaolin Cowboy is back and just as hectic and absurd as ever! Strap yourself in for a wild ride filled with blood-spattered shenanigans, chaotic adventures and old enemies hell-bent on revenge. With beautifully detailed art, high impact violence and bucket-loads of absurdity, this is one story that'll leave you craving for more!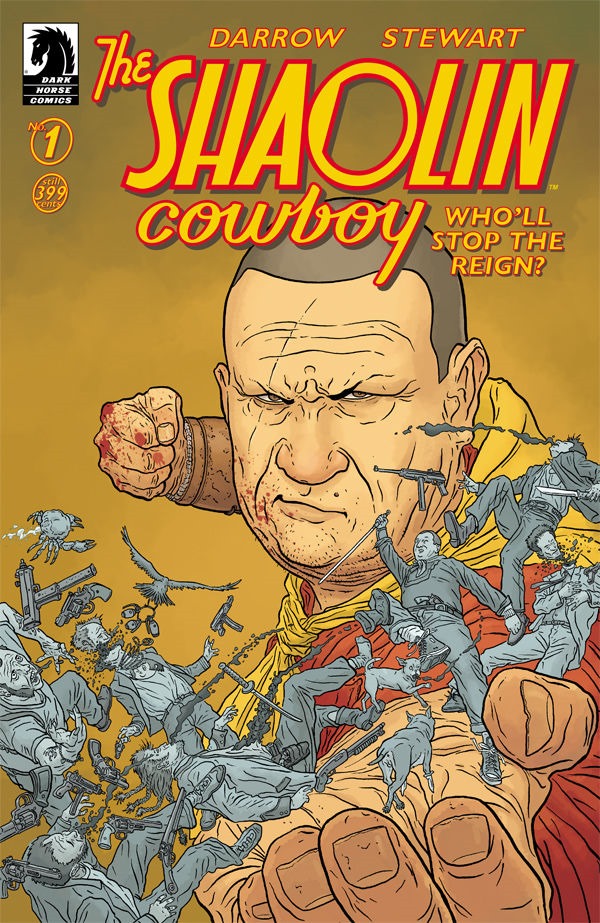 Post-zombie slaughter, this issue begins back at the site of the epic carnage, with festering bodies torn and hacked apart and strewn all around the landscape. Some wise-cracking vultures are eyeballing the "international smorgasbord" below them, noticing the fresh body of the Shaolin Cowboy among the naked, bug infested corpses…they are always naked, what's with that? Out cold and severely injured, and slipping in and out of consciousness, he has visions and flashbacks reminding him that he needs to unblock his damaged chi paths so that he can heal and replenish his energy. After restoring his axis, the cowboy stumbles across the desert at a steady pace until he is abruptly interrupted by the mighty Warden Duyu, who demands to drag his soul to hell for judgement. So after an interesting encounter involving phantom swords and a dead raccoon, the cowboy continues on his path, unscathed., however, with an old nemesis desperate to get his claws on him for revenge, this temporary respite may not be for long!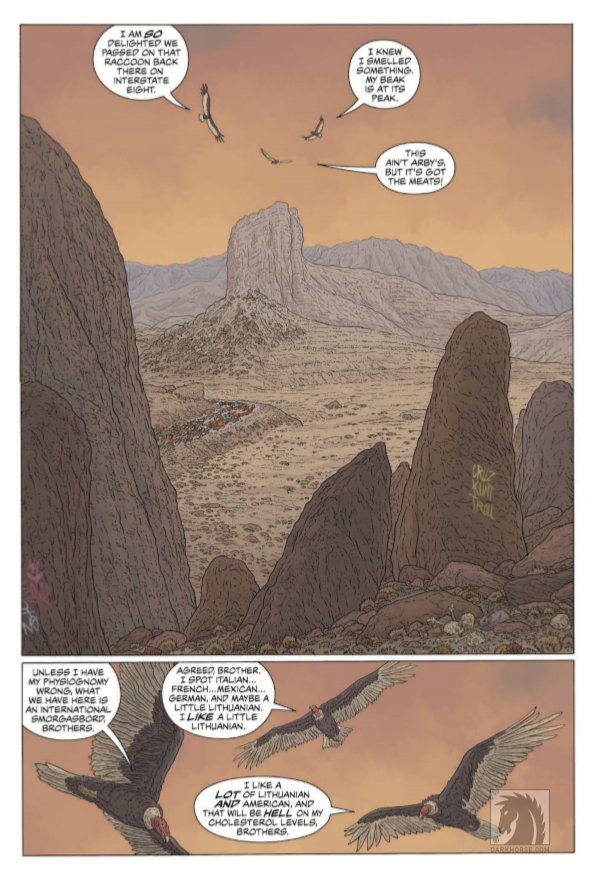 Wow, it's great to have Geof Darrow's Shaolin Cowboy back! There is so much about this comic that I love. It's absolutely absurd and weird but in the most fantastic way. I always find that it takes me so long to finish one of Darrow's comics, mainly because of the amazing detail of his art. There is always so much going on in every page and I don't want to miss anything, not one single disgusting hybrid monster, random orgy or festering garbage heap. I always enjoy Darrow's use of humour, as he parodies modern society, making fun of the sad state that the world is in. Subtly referencing topical current affairs in the background is a clever way to indirectly poke fun of these things in a tongue-in-cheek kind of way and it all feels like a nightmarish reflection on the gross and tacky world we live in today. It's all very dry, incredibly funny and works perfectly with balancing the dark and sinister elements of the story.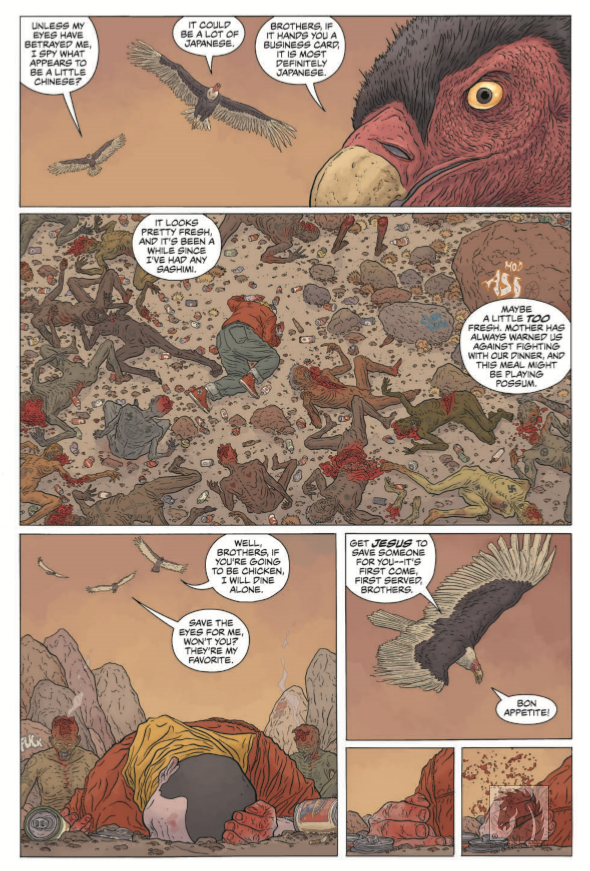 The art is incredible but you don't need me to tell you that. It's hard not to fall in love with Darrow's unique and instantly recognisable drawings. Highly detailed and filled with a cornucopia of insane creatures and wild concepts, the pages are buzzing with energy as chaotic scenes fill every nook and cranny. Filled with the epic visuals we've come to expect from Darrow, this issue delivers a visually diverse narrative that is both entertaining and disturbing. Colourist, Dave Stewart, reinforces the tone of the story, giving everything a somewhat dirty and soiled appearance by using muted tones and an almost grimy palette. I found this to be effective in giving everything a very worn and filthy appearance.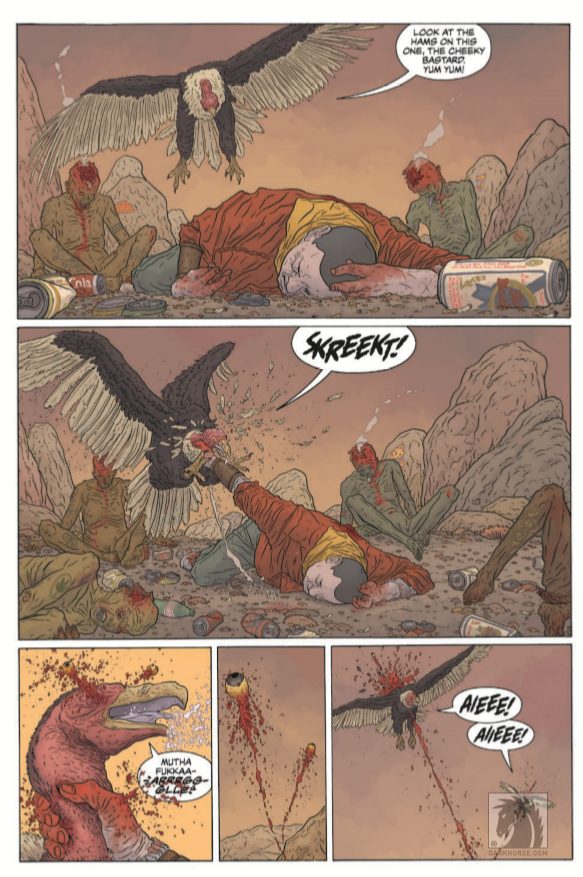 The Shaolin Cowboy: Who'll Stop the Reign? #1 is a great introduction to this new story arc. Intense, wild and absurd, this issue is the beginning of something I'm excited to see unfold. Do yourself a favour and grab a copy ASAP, even if it's just to see Darrow's epic and amazing art. It really is something special.
I'm giving this issue 5 out of 5 stars!
COMIC DETAILS
WRITER: Geof Darrow
ARTIST: Geof Darrow
COLOURIST: Dave Stewart
PUBLISHER: Dark Horse Comics
PUBLICATION DATE: April 19, 2017
REVIEWER: Dana Folkard