Comics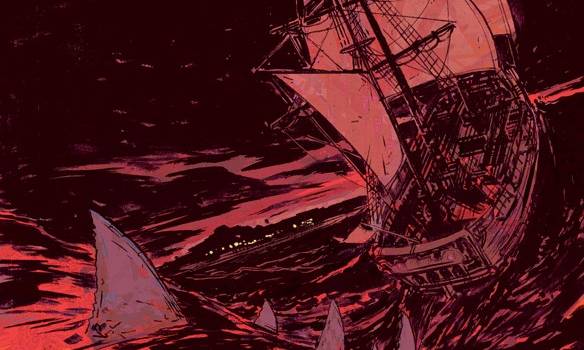 Published on June 13th, 2018 | by Dana Folkard
SHANGHAI RED #1 REVIEW
Summary: Mutiny on the Bellwood!
Shanghai Red is a compelling revenge tale about a young woman who was shanghaied out of Portland during the late 1800's. This gritty and revealing story is penned by Eisner-nominated writer Christopher Sebela, with art by the talented Josh Hixson and Hassan Otsmane-Elhaou.
The story begins on the high seas, aboard a ship called the Bellwood where we see a group of shanghaied men about to be offered a life-changing choice. They are given an offer to either stay and sign a contract, officially becoming a sailor and earning a wage, or be dropped off at the next port to make their own way without a single copper to their name. However, one of the shanghaied men – a young fella named Jack – has a different plan, instead rising up in mutiny, killing every last member of the ship that abducted and enslaved them. with the ship in their possession and the massacre complete, Jack reveals that he is in fact a she and that her name is Molly, a.k.a. Red. With her sights set on Portland, she sets sail to find her estranged family and to find the men responsible for stealing her life out from under her, no matter how high the cost!
Finally, a shanghaied story I can sink my teeth into. As a kid, I used to love hearing these tales of desperate men who were ploughed with booze, abducted and blackmailed into signing a contract that sold them into slavery on a ship. Tragic tales of loss and servitude that often ended in death. However, there is more to this story than just being a cool shanghaied tale, with Christopher Sebela venturing forth to explore the complexities of identity, abandonment and loss. The main protagonist, Red, is a woman who has lived most of her adult life as a man, forced to keep her true identity a secret. Red herself is a complex and layered character, a testament to Sebela's writing and clever character craftsmanship. In this first issue we learn a lot about Red's past and how she was forced to become her family's protector and main bread winner after her father departed. Through the retelling of her past, we discover how she adopted the Jack persona, not only as a way to get work but also a way to feel like she could finally belong to something as she struggles with being an outsider and her self-identity. There is also an incredibly dark side to Red, forced to kill in order to survive and protect her family, she is tormented by the faces of those she has murdered. Clearly troubled by guilt over the ghosts from her past, Red is a character I believe will grow and develop as the arc progresses.
The art by Josh Hixson is emotive and expressive, with a lovely textured quality to it. I especially like his use of heavy inking, which lends an atmospheric and gritty quality to the unfolding drama. Faces frozen in haunting grimaces as they are being murdered perfectly captures the sense of horror during the mutiny scenes. I also loved the wonderful expansive cityscape of Portland that we get to see as Bellwood pulls into the harbour. There is something beautiful and somewhat romantic about the lights reflecting on the surface of the water. The colouring is absolutely spot on, heightening the various tonal shifts of the story. From splashes of intense red to deep cooling blues, the palette is both beautiful, dramatic and ambient. I also thought the muted palette during the flashback scenes was effective in reinforcing that these scenes unfolded in the past.
Overall, I thought this to be a bloody crackin' first issue. The story is clever and well-crafted and this along with the gorgeous art has me hooked. I love Red, finding her layered personality to be an interesting and complex one. I'm looking forward to digging into this story and seeing where the turbulent seas will take us.
I'm giving this issue 5 out of 5 stars!
---
COMIC DETAILS
CREATIVE TEAM: Christopher Sebela, Josh Hixson and Hassan Otsmane-Elhaou.
PUBLISHER: Image Comics
GENRE: Historical Fiction/Drama
PUBLICATION DATE: June 20, 2018
REVIEWER: Dana Folkard