Events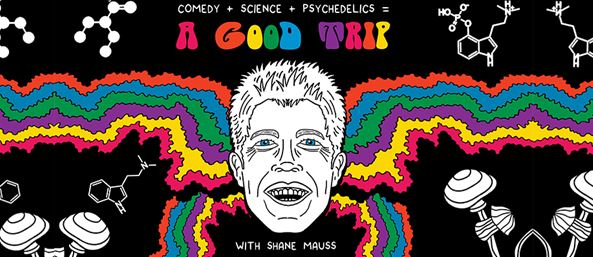 Published on August 14th, 2017 | by Admin
SHANE MAUSS | US comedian brings acclaimed psychedelic-comedy show A Good Trip to Australia this October!
Frontier Comedy are pleased to announce the return of US comedian Shane Mauss, performing his acclaimed comedy show about psychedelics A Good Trip at Melbourne's Comics Lounge and Sydney's Comedy Store this October, after taking the show on a 100+ city tour across the US.
Part stand-up, part storytelling, and part TED Talk combine for one of the most unique, informative, and funny comedy shows you will ever see (no psychedelic experience required!) In A Good Trip Mauss takes his audience on a funny journey through the stigma, history, laws, and science of psychedelics; sharing personal experiences and discussing the effects of hallucinogens such as mushrooms, LSD, and DMT.  Don't worry if you aren't familiar, he's worked hard to articulate the experience for all.
'As deep and fascinating as it gets, this is a gut-busting piece of stand-up comedy' – The Austin Chronicle (US)
'Mauss blends personal narrative, standup, and science to demystify and disentangle psychedelics from decades of stigma and misinformation. Whether you're "experienced" or not, the show promises to be both informative and entertaining.' – Miami New Times (US)
The Wisconsin-born comic was awarded 'Best Stand-Up' at The HBO US Comedy Arts Festival in 2007, leading to his TV debut and first of five appearances on Conan. Since then Mauss has appeared on Jimmy Kimmel, Showtime, Comedy Central and starred in his own Netflix special Mating Season.
Mauss most recently released an album inspired by breaking both of his feet in a hiking mishap called My Big Break which hit  #1 on the comedy iTunes charts. He's appeared on numerous podcasts including You Made It Weird, Bertcast, WTF with Marc Maron, Duncan Trussell's Family Hour, TOFOP, Crabfeast, Never Not Funny, Keith and The Girl and in 2016 he travelled across the US interviewing scientists about the meaning of life for his own podcast Here We Are.
'Evocative stand-up comedy, hilarious anecdotes, and educational snippets on the theme of psychedelics.' – EU Jacksonville (US)
'Mauss is intelligent, likable and sharp…he's taking audiences inside the mind and experiences of a man who loves drugs and the neuroscience behind them. In the process, he's helping to normalise psychedelics for audiences who, like him, may lack dreadlocks but carry open minds toward what may be a revolutionary tool for bettering lives. ' – VICE
Mauss, a self-described 'psychonaut' and advocate for psychedelic studies and rights, has been using psychedelics to gain a deeper understanding of the mind for the last 20 years, and credit them as the source of some of the most hilarious, thought-provoking, and well-received material of his career. He's created this one-of-a-kind show for the open-minded, insightful, inquisitive, curious weirdos among us, in order to both destigmatize and demystify psychedelics in a fun way.
Shane Mauss answers A Good Trip FAQs:
Q:  Isn't drug humour cliché?  
A:  It often is, but this is not a bunch of dumb pot jokes.  This is some of the most thoughtful and unique humour you will ever see.
Q:  Will you be on drugs while performing?
A:  No.  Who does psychedelics and then goes to work?  What a waste of good drugs.
Q:  Are you going to pass psychedelics out to everybody?
A:  Umm NO.  Obviously.  But if you come and support this kind of message, meet like-minded people at the show, and help keep the conversation going; maybe one day these outrageous drug laws will change.  I'm in no way encouraging everyone to do them.  They aren't for everybody. They just happen to be for me! Regardless, we're all going to have a good trip.  
Don't miss your chance to catch this acclaimed, hilarious and thought-provoking show in Melbourne and Sydney this October!
HANE MAUSS – A GOOD TRIP TOUR DATES
Presented by Frontier Comedy
FRONTIER MEMBERS PRE-SALE via frontiercomedy.com/shanemauss
Begins: Wednesday 16 August (2pm AEST)
Ends: Thursday 17 August (2pm AEST)
(or ends earlier if pre-sale allocation exhausted)
GENERAL PUBLIC ON-SALE
Begins: Friday 18 August (10am AEST)
Thu 19 Oct (8:00pm)
Fri 20 Oct (8:00pm)
Sat 21 Oct (8:00pm)
Comics Lounge, Melbourne, VIC (18+)
trybooking.com
Sat 28 Oct (7:15pm)
Comedy Store, Sydney, NSW (18+*)
ticketek.com.au | Ph: 13 28 49
comedystore.com.au | Ph: 02 9357 1419
This event is recommended for patrons aged 18+
*Under 18s must be accompanied by a parent or guardian