Comics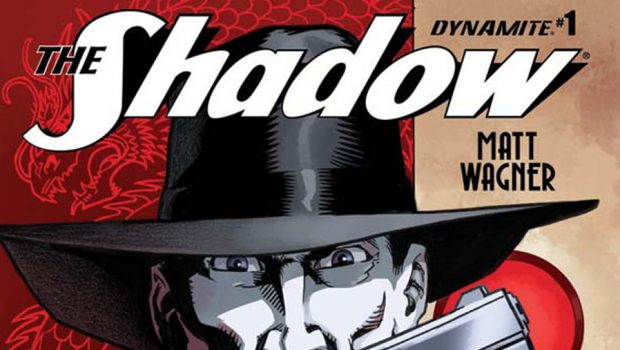 Published on November 22nd, 2016 | by Chris O'Connor
The Shadow: The Death of Margot Lane Comic Book Review
Summary: Mystical crime fighting from the enduring Pulp Hero.
I should probably start with a confession… I like the Alec Baldwin Shadow movie! I'm not ashamed of it either I think it's a good fun film and particularly like the line "Psychically I'm very well endowed". It is reasonable to say that this comic does not contain much humour… but it certainly does contain mystery and intrigue and is a lot of fun. The Shadow's long standing friend and companion Margot Lane gets closer to the action than usual and the consequences are shocking!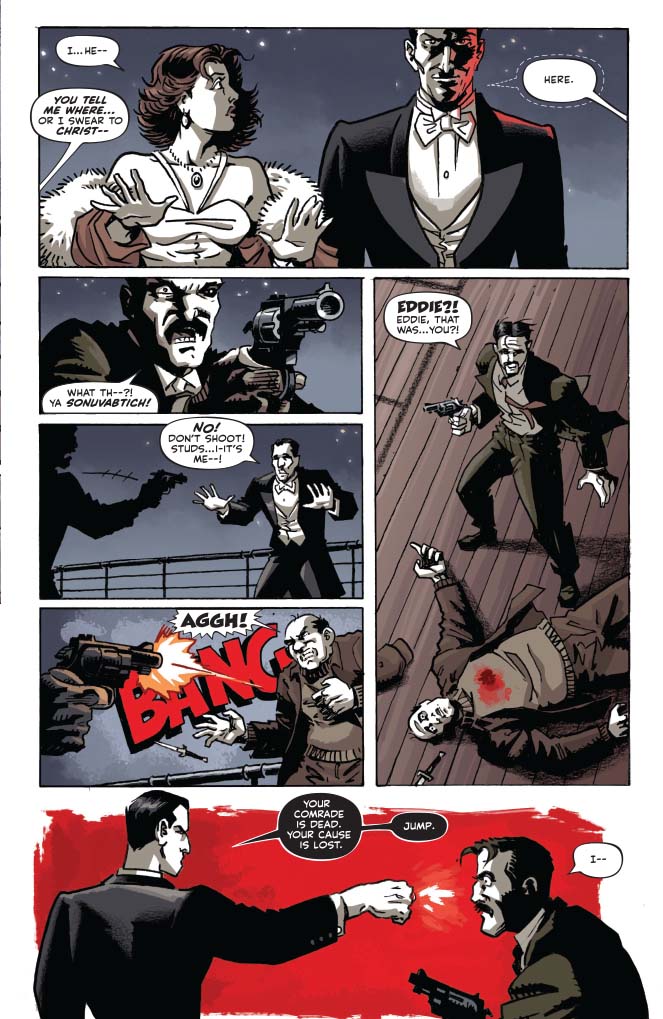 Writing
Matt Wagner weaves a lovely tale of loss and determination as The Shadow has to deal with not only his emotions for Margot but how to go about uncovering who is responsible for her fate. It would be easy to just depict The Shadow as a brooding force charging headlong into danger and destroying evil left right and center… but in The Death of Margot Lane Matt turns that famous phrase "who knows what evil lurks in the hearts of men" and asks "what lurks in the heart of the Shadow?" The man known for being resolute in his efforts to thwart evil suddenly doubts himself when someone close is lost… can he continue and if so, how?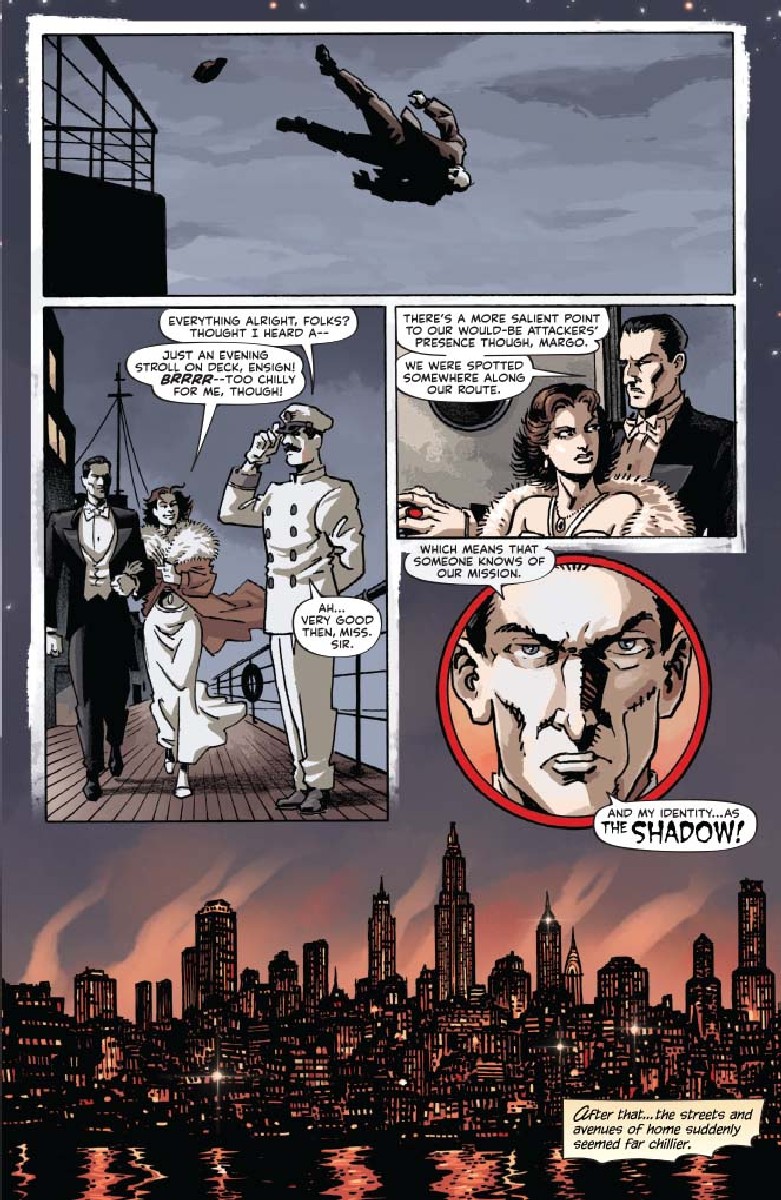 Artwork
There's a lovely style to Matt's artwork that certainly does throw the reader back to the Pulp Fiction era… the menace in The Shadow's stare is indeed "palpable". The rendering of the scenery and the outfits… it all just takes you right back to that point in history when suits were standard wear. There's a romance to the locations a certain charm that fills the story and puts everything in context.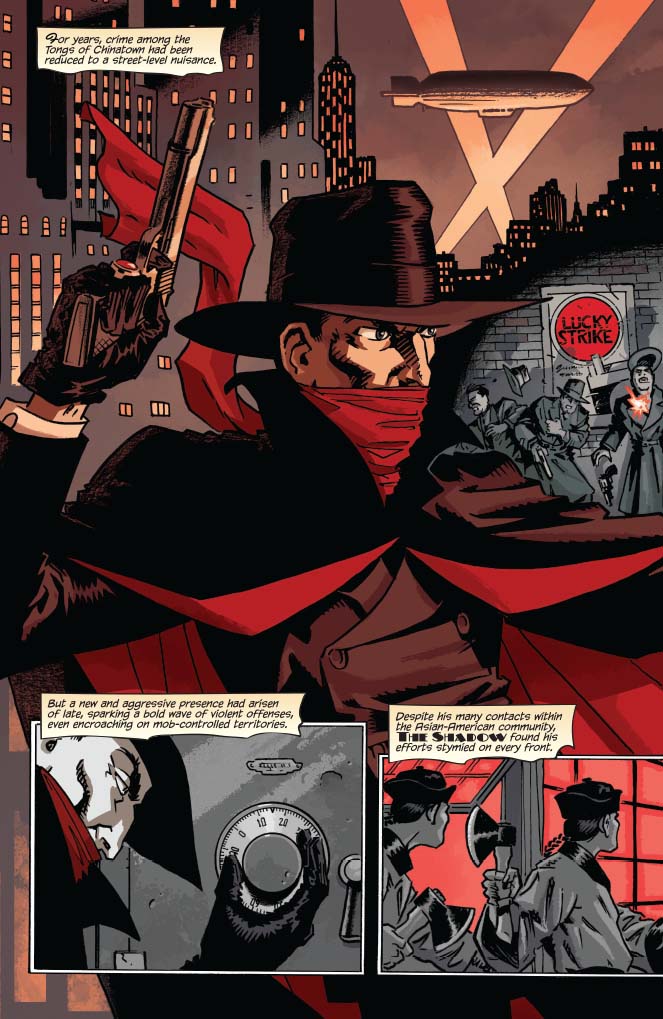 Final Thoughts
As much as I love the film telling of The Shadow… I quite like the comic version as well. There's a great appeal to a character whose strength is his ability to influence his enemies by force of his mind. There are no powers of flight or powerful mutations. There is a man and his ability to control how he is perceived by abilities gained through intense training. A fascinating character… touches of Dick Tracey and Batman. If you haven't read any stories of The Shadow and you haven't seen the film then this might be a bit confusing to start with. But if you have any idea of who The Shadow is and what he is capable of then this is a great story to continue following his adventures with. It also has a very poignant end too… an interesting thing to consider about what it means to work for/with The Shadow.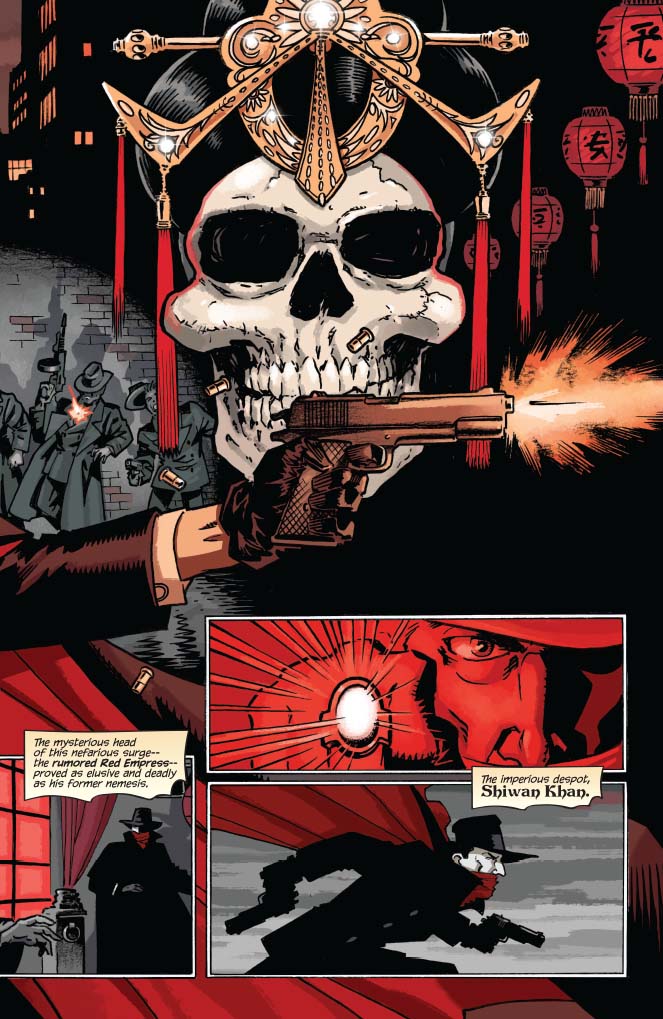 Publisher: Dynamite
Writer: Matt Wagner
Artist: Matt Wagner
Colourist: Brennan Wagner
Cover Artist: Matt Wagner
Genre: Action, Adventure
Format: 128 pages, HC FC.
Release Date: 19 October 2016