Comics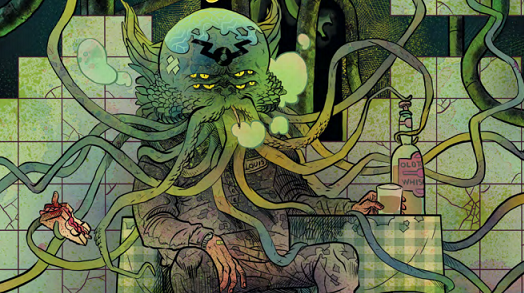 Published on November 23rd, 2017 | by Dana Folkard
SHERLOCK FRANKENSTEIN & THE LEGION OF EVIL #2 REVIEW
Summary: Lucy's next lead takes her to the home of ex-super villain, Lou Kaminski, a.k.a. Cthu-Lou
4
The origin story of Cthu-Lou!
Lucy Weber is still searching for the whereabouts of Sherlock Frankenstein. As she continues to search for answers, Lucy uncovers the secret origins of Spiral City's greatest villains with her next lead takes her to the home of ex-super villain, Lou Kaminski, a.k.a. Cthu-Lou, emissary of the Great Old One!
We begin this issue in Spiral City, thirteen-years ago. Plumber, Lou Kaminski, arrives at the house of an elderly woman, who demands that he fixes the blockage in her kitchen sink. After what appears to be a routine job, Lou leaves the house but is troubled by a strange voice calling his name. He follows the sound, which leads him underneath Spiral City, and into the dank sewers. A possessed rat informs Lou that he has been summoned by the "Many-Angled One", a Cthulhu-like god who is seeking a new Lou to be its emissary on Earth. Struck with fear, Lou makes a run for it, but before he is able to escape, he is consumed by the mighty beast and transformed into the green tentacle-faced Cthu-Lou. We then jump to the present, where we see Lucy Weber arriving at the house of Lou Kaminski. She wishes to speak to him about Sherlock Frankenstein, hoping to unlock more clues to the cryptic puzzle that she is piecing together.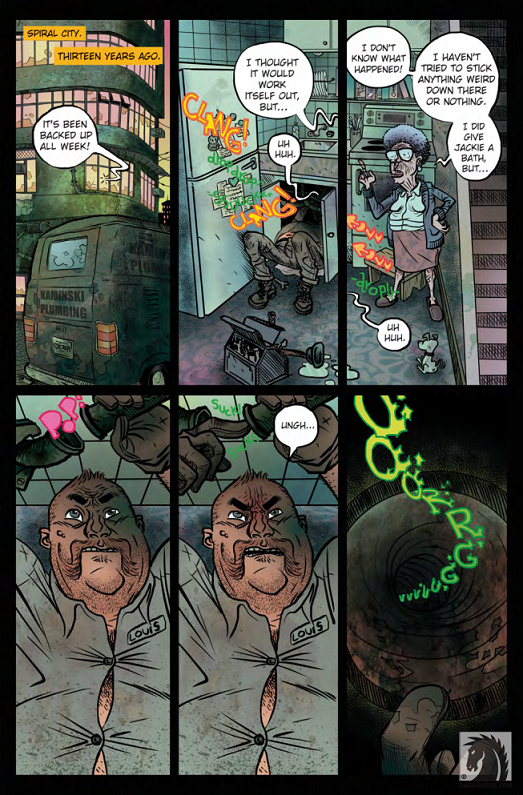 This issue of Sherlock Frankenstein focuses less on Lucy Weber, and more on the newest villain that she is probing for questions. I feel kind of sorry for ol' Cthu-Lou, as he states that he never really wanted to be one of the bad guys, or the emissary of Cthulhu. These choices were taken out of his hands, and made for him, forcing him into a role that he never wanted. He then retires, and now has to deal with being treated like dirt by his wife, who hides him away in the cellar. We are also introduced to Cthu-Louise, Cthu-Lou's daughter, who also has the same green tentacled face as he does. This poor little creature has never left the house, as her mother also hides her away from the public. I find that a lot of these "villains" that Jeff Lemire creates are quite complex and interesting, in that they aren't entirely bad or evil. Things aren't that black and white, with the border between good and evil overlapping and blurring. One can't help but feel sorry for a lot of these villains, as many of them appear to have been dealt a bad hand. Like I mentioned earlier, whilst this is more a story about Cthu-Lou, we still do follow Lucy through her investigations, and there is an interesting plot development at the end of the issue, which has me incredibly intrigued and looking forward to what is about to unfold.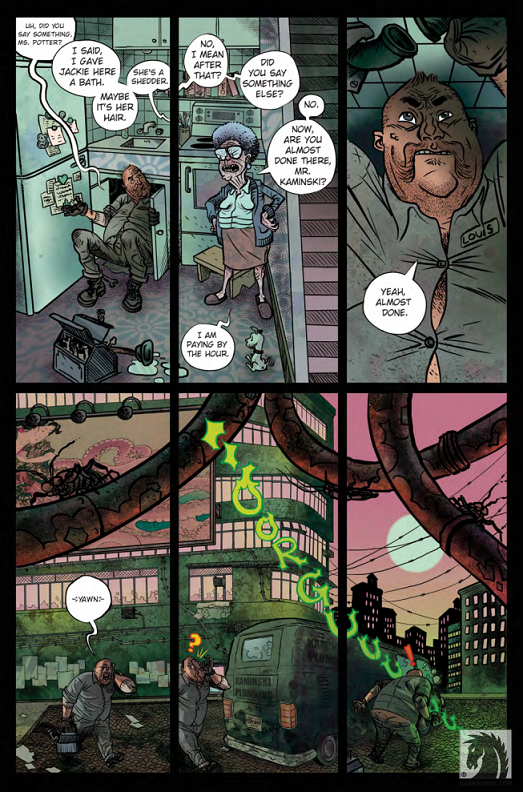 I loved the way Cthu-Lou and his daughter look, and thought that David Rubin did a great job at capturing their personalities through their emotional and animated faces. I actually found Cthu-Lou to look a bit comical, and seeing him sitting on his chair in the cellar, with his tentacles grabbing all sorts of things was a funny sight to see. There is also a moment, during his origin story, where he initially goes through his metamorphosis, changing into the creature he is now. It's all torn flesh, green bile spewing forth and general bodily much. Oh man, does it look painful, and it's a bit ghastly and hectic to look at, but I thought it was excellent. I also really like Rubin's vibrant and technicolour palette. This issue is awash in vivid splashes of colour that really pop on the page. Bright purples, and intense acid greens dominate, bringing Cthu-Lou's story to life. Overall, I love the playful tone that the art and colour bring to this story, and I find it enjoyable and fun to look at.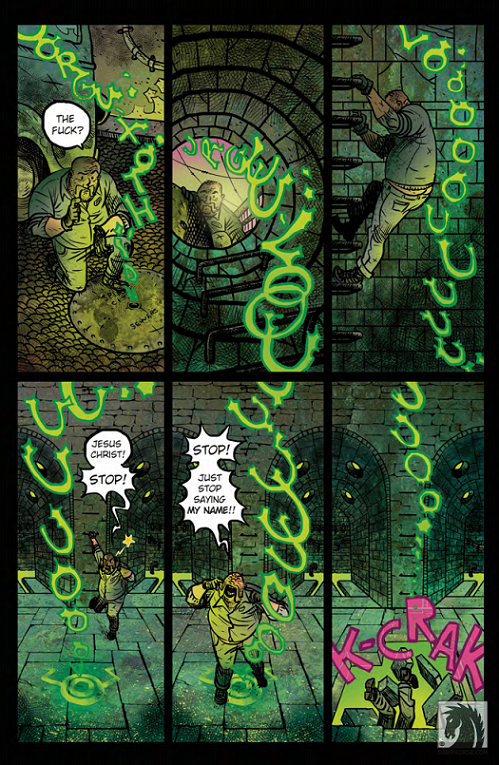 Sherlock Frankenstein #2 is a slower-paced, yet revealing issue, as we delve into the origin story of Cthu-Lou. I'm really enjoying how Lemire is introducing us to some pretty wild and new characters, all with their own sad story to tell. I'm looking forward to what the next issue brings and being introduced to the next Spiral City villain.
I'm giving this issue 4 out of 5 stars!
---
COMIC DETAILS
CREATIVE TEAM: Jeff Lemire and David Rubin
PUBLISHER: Dark Horse Comics
PUBLICATION DATE: November 22, 2017
REVIEWER: Dana Folkard